Here are some of the best beaches in Colombia:
Cabo San Juan del Guia (Tayrona Park)
Cabo San Juan del Guía beach has a false Seychelles look. Located in the natural park of Tayrona in Santa Marta, this beach is a real paradise for swimming and sunbathing. It seduces by its clear and warm water: 28°C all year long.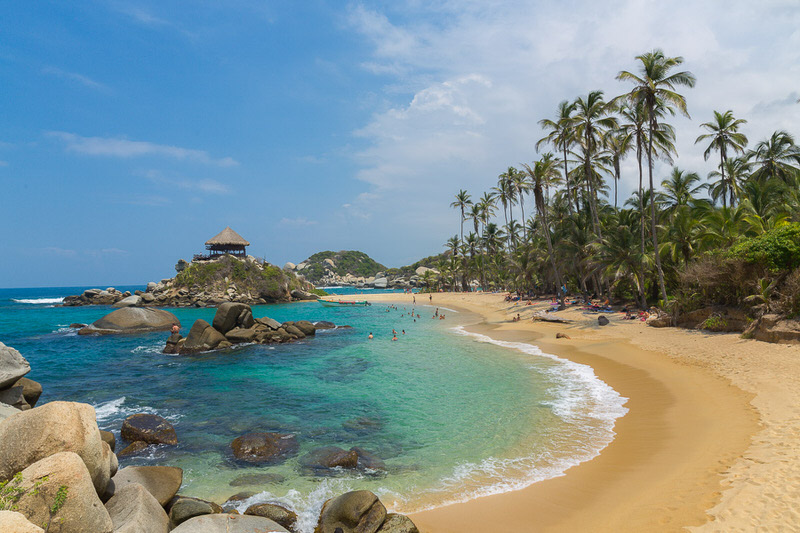 Playa Cristal in Colombia, Santa Marta
Playa Cristal is located in Tayrona National Natural Park and has the calmest waters in all of Santa Marta and the surrounding area.
You can enjoy white sand that sinks delicately into the crystal blue water, with a variety of marine fish that come in and out of the coral reefs.
This beach is so special that it only allows 300 people per day, in order to preserve the natural beauty. If you like peace and tranquility, this is one of the best beaches in Colombia.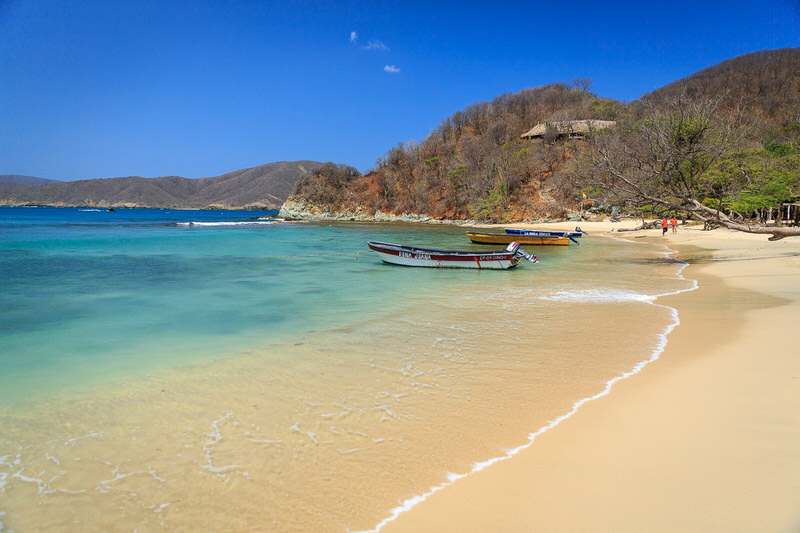 Guachalito – Nuquí Chocó
Nuquí is a tropical place hidden on the edge of the densest jungle in Colombia, on the shores of the Pacific Ocean. Here you will find a very different kind of beach, here the land seems to join the sea.
On and around this beach you will see orchids of all colors and ferns that are scattered throughout the area.
While in the ocean you can see humpback whales that come to breed in the bay from June to October.
To discover the Guachalito beach and its Waterfall of Love, take a motorboat from the town of Nuquí.
Pilon de Azucar, Cabo de la Vela (Guajira)
Located in the north of the Caribbean coast of Colombia, specifically in the Guajira peninsula in Colombia, this is a beach quite different from the others.
You might think that, like the other beaches in Colombia it is also surrounded by jungle, but the truth is that this beach is surrounded by desert with little or no vegetation.
Besides the beach, you will love the dunes of Punta Gallinas. This is a place to relax, enjoy the scenery, read a book and eat the local lobster which is quite cheap.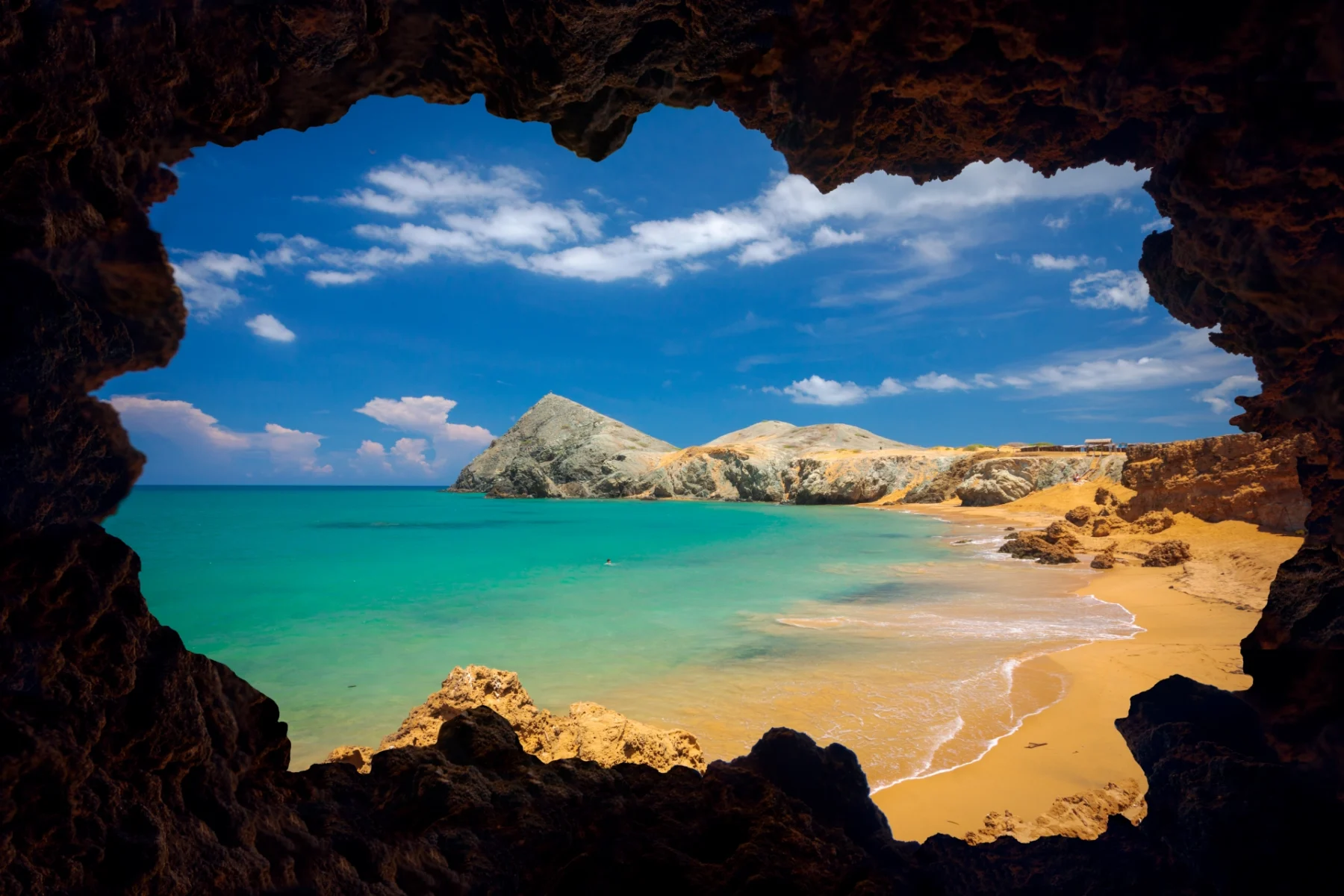 Trigana Beach
Trigana is located on the Caribbean coast in Acandí, Chocó. It is an incredible place that often goes unnoticed by tourists. It is a place with a variety of contrasts that will enchant you with the variations of sand and water.
In addition to the beaches, here you will also find impressive botanical gardens, hot springs and national parks.
For the more adventurous, you can take kayaking trips through the mangroves and visit the surrounding waterfalls.
Punta Faro – Múcura Island (San Bernardo Archipelago)
Colombia has 10 small islands located in the Gulf of Morrosquillo in the Caribbean Sea called San Bernardo Islands. If you love white sand, blue ocean and few tourists, this place is for you.
Why Few Tourists? The islands are south of Cartagena de Indias, but despite all the tourists the walled city receives every year, the San Bernardo archipelago is hardly visited.
This is a good thing, since the islands retain their charm and beauty, and now you know of their existence.
The most populated island is Santa Cruz del Islote, it is a man-made island and it is the most populated. It is a typical Caribbean island with blue waters, beautiful coral reefs and white sand. On the island you will find exotic fauna such as iguanas, various birds and even sloths. Here you can spend your vacation snorkeling, diving, island hopping or just relaxing while enjoying the view and tasting the typical food.
El Aquario – San Andres
If you are looking for the perfect beach in Colombia, this is the right place. Of course, the right beach depends on your tastes, but the islands of San Andres and Providencia will not disappoint you. The Caribbean island is perfect with clean white sand beaches, calm and clear waters and the 3rd largest barrier reef in the world.
Once you visit San Andres, you will know that heaven is on a small Colombian island in the Caribbean Sea, between Jamaica and Costa Rica. Here you will find the best beaches in Colombia.
Playa Grande (Taganga)
Another of the beaches that can be found in Santa Marta is called Playa Grande, one of the most visited beaches in the region. The beach is accessed from the small town of Taganga, walking along an ecological trail or by boat.
In this beach we will be able to enjoy impressive blue waters that we will find after the sands of the beaches; and it also has a series of restaurants that will allow us to enjoy the view accompanied by a delicious typical dish of the region.
If you are a budget traveler looking for a great vacation on a Colombian beach, Taganga is the option you might be looking for. Taganga is popular for its cheap accommodation, its reputation for partying and because many young people visit this welcoming fishing village.
Just a short cab or bus ride from Santa Marta, Taganga offers accommodations for all travelers, although if you are looking for peace and quiet this is not the place for you.
Playa Blanca on Baru Island Cartagena
Playa Blanca located on Baru Island is one of the most beautiful beaches in Colombia, only 45 minutes by boat from the port of Cartagena, or 1 or 2 hours by car from the main city.
The crystal clear waters cover the white sand and visitors can spend the day relaxing and enjoying one of Colombia's paradises. If this is not enough, they can also spend the night, enjoying the silence and tranquility when the tourists leave. Taste an exquisite fresh fish accompanied by coconut rice. This beach is a must if you visit Cartagena.
Capurgana
Capurganá has some of the most beautiful and bucolic beaches in all of Colombia.
In Capurganá you can enjoy scuba diving, snorkeling, turtle watching, waterfalls, tourist trails and, of course, dream beaches like La Coquerita or Playa Aguacate.
This small village, located very close to Panama, is only accessible by boat or plane.
Islas del Rosario
This archipelago is made up of 27 small islands of great beauty and relative proximity to each other. It is located about 35 kilometers from Cartagena and is another of those priority destinations for many of the maritime tours in the area.
That said, Islas del Rosario still keeps some of its charm intact. Please note that some private islands are for rent.
If you have a budget and choose well you will enjoy a small and lonely coral sanctuary in the middle of the Caribbean Sea for yourself.
Cayo Cangrejo Beach (Providencia)
Another of Colombia's most beautiful beaches is located on the island of Providencia, close to San Andres but somewhat more inaccessible.
This small island is located in the McBean Lagoon National Park, occupying about two hectares partially covered by palm and coconut trees.
That's why its beaches seem even more virgin than those of San Andrés, emanating that adventurous and evocative air of the most remote islands.
To reach Providencia Island you must take a catamaran or a small plane from San Andrés Island.
Bahía Concha Beach (Santa Marta)
Bahía Concha is a paradisiacal beach of white sand and crystal clear waters in Santa Marta, Colombia. These beaches are surrounded by unique mountains that embrace you. It is definitely another beach in Colombia ideal to connect with nature and relax.
Punta Gallinas
Punta Gallinas is located at the farthest point or end of the department of La Guajira, in the north of the peninsula.
The great charm of this place lies in its landscape. Dunes, cliffs, rocky areas and the mark of one of the most important indigenous ethnic groups in the country: the Wayús or Wayúu.
We are in front of one of the wildest and most remote coasts of all Colombia. Majestic landscapes in which to relax, walk, enjoy the sunrise and sunset or walk to the Punta Gallinas lighthouse, located at the northernmost tip of all South America.
A few kilometres from Tayrona Park, the village of Palomino is located at the confluence of the Magdalena River and the Caribbean Sea. The long stretches of sand are bordered by rows of coconut palms and straw huts. In the background, the snowy peaks of the Sierra Nevada.
Palomino hides a paradise of lush vegetation which have made it a refuge for the rest of foreigners.
It is located very close to Riohacha, Palomino is extensive, is very well maintained and thanks to its strong waves is perfect for surfing. But if your plan includes more than sun and sand, very close you will find the Palomino River where you can go tubing and let yourself be carried away by the river current.
There are many other attractions that are close to the resort, for example, the National Natural Park, a few meters from Bahía Tayrona, Colombia.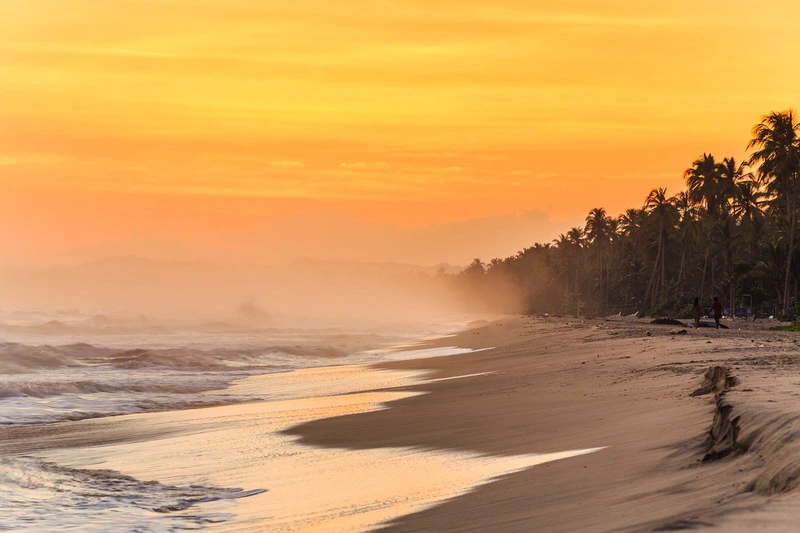 El Valle Bahia Solano (Choco)
When you go to Colombia, you must visit my beach of Bahia Solano located in Choco. It offers a magnificent landscape with a breathtaking vegetation.
If you dream of meeting whales and dolphins, observing the tropical fauna and flora, exploring the seabed but also hiking in the natural reserves, then do not hesitate, this beach is made for you!
In May, you can see flying fish. If you go between the end of June and the end of October, you will also have the chance to see humpback whales!
Johnny Cay, San Andres
Located on the archipelago of San Andres, Johnny Cay is one of the most beautiful beaches in Colombia. It offers a splendid strip of white sand and blue water. Armed with a mask and a snorkel, you will be able to see the aquatic fauna and flora only a few meters away: sea urchins, fish and coral bays. A beach that looks like a real postcard!
La Piscina
La Piscina (swimming pool) is one of the safest beaches within Tayrona Park, since its coral reef makes the waves stop. It is located between Arrecifes beach and Cabo San Juan del Guía. The characteristics of this resort honor its name, since it is an authentic natural pool.
Its waters are very calm and peaceful and this is also of the crystalline beaches in Colombia. In addition, it has an intimate atmosphere surrounded by vegetation, although it is advisable to take a good insect repellent by the presence of mosquitoes, especially in the afternoon. The sunsets at Playa La Piscina are quite a spectacle.
Rincón del Mar
Rincón del Mar is a small fishing village located in the municipality of San Onofre, Sucre, and is a place we recommend visiting before going to the islands of San Bernardo.
The beach of Rincón del Mar, although it is not very long, is one of the quietest you can find in the Colombian Caribbean.
In this place you will be able to enjoy the beach not only during the day while enjoying the sun's rays, but you can also enjoy the beach at night, and since the water is warm and completely calm you can swim even at night; also consider that there are many businesses installed on the beach, so you will not lack light, even at night.
Casa en El Agua
The House on the Water has a very descriptive name, because it is literally a construction that is located in the sea, so to get there it is recommended to rent a boat.
This attraction contains a restaurant in this house in the water, making it an ideal place to enjoy typical dishes in the company of an extremely cheerful atmosphere, and with the most impressive views you can imagine.
The House on the Water is in high demand by tourists and its capacity is limited, so it is advisable to book well in advance to enjoy it.
Santa Cruz Islet
This islet is one of the most interesting, because beyond being in the Caribbean, it is the island with the highest population density in the world, 500 people on the island. It also has an aquarium that you can visit and where you can admire a shark up close.