Tayrona Park Hotels – Tips & Advices
Best Location Hotels in Tayrona Park : Camping Cabo San Juan
Best Luxury Hotels near Tayrona Park : Villa Maria, Cayena Beach
Best hotel near Tayrona Park for Chilling : Bohemia Beach
Best hotel near Tayrona Park for Honey Moon : Maloka Barlovento
Cheapest hotel in Tayrona Park : Camping Jacobo
Cleanest Hotels in Tayrona Park : Yuluka
Best Hotels near Tayrona Park for Backpacker : Bohemia Beach, and the Journey Hostel
Map of Tayrona Park
Tayrona Park is divided in 4 areas. You can only sleep in El Zaino sector and Calabazo.
There are also many good options outside Tayrona Park
Where to Stay in Tayrona Park ? Best hotels : Full List
We are now going to detail the campsites according to the sectors seen previously :
Sector El Zaino :
Sector Calabazo
Best Hotels Near Tayrona Park

Sector el Zaino
Camping Castillete
Camping Castillete offers hammocks or tents (provided). It has a private beach, a bar and a mini shop. Ideal for relaxing 2-3 days.
Tel: 313 653 18 30 | 300 405 55 47
Web: www.campingcastilletespnntayrona.blogspot.com
Price : 20000 Cop | 30000 Cop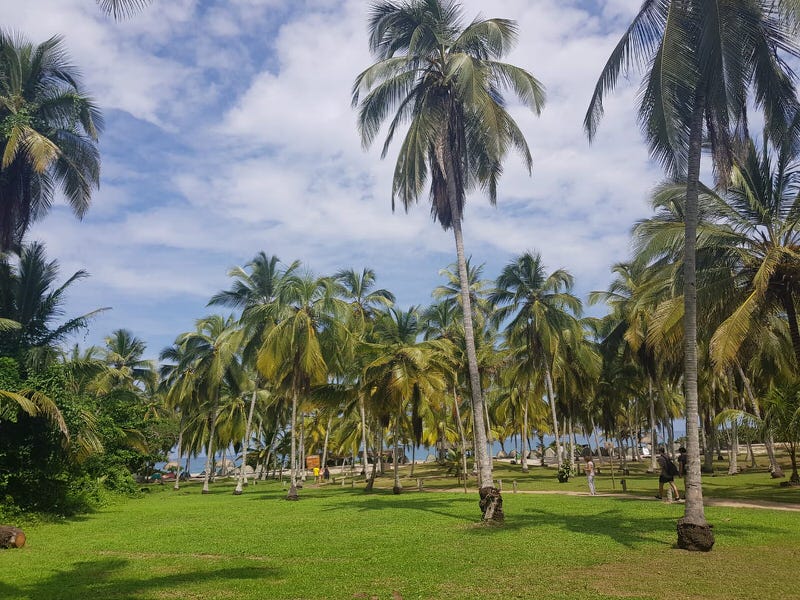 Cañaveral
Ecohabs
If you have the budget, this hotel is for you: 400€ per night!
14 luxurious cabins with sea view.
There is a restaurant, a private beach, a bar and an irreproachable quality of service.
This is the best accommodation option.
Possibility of access by taxi, 5 min from the main car park.
Price : 400€.
Tel: 5 344 27 48
Web: www.aviaturecoturismo.com
Arrecifes Sector
You will find several accommodation options in Arrecifes.
If you are looking for peace and quiet, this option is for you. The disadvantage is that you will have to walk min 15-20 min to swim.
Don't forget, it takes 1 hour walk to reach the area.
Camping Yuluka
The campsite has huge green areas for camping, has its own sanitary shower area as well as a restaurant with typical and good quality cuisine (a little expensive though).
This campsite is located only 45 minutes walk from the Cañaveral area,
There are hammocks and camping area, restaurant, bathrooms and showers.
It is halfway between the beaches of Cañaveral and Cabo San Juan del Guía.
For those on a budget, the campsite has modest cabins at 180€ per night in low season with breakfast included.
A little extra that I really appreciated:
The lockers are all equipped with 2 electric sockets inside the lockers, which allows you to charge your phones and other accessories and keep them safely under lock and key when you are out and about.
Don Pedro
This campsite is hidden in the middle of the forest. When you arrive in Arrecifes, you have to turn left…
This is probably the most pleasant place in the Tayrona park.
Hammock : 15 000
Tent : 20 000
Cabins : 60.000 Cop Breakfast included
Tel : 315 320 80 01 | 317 253 30 21
Email: campingdonpedro@hotmail.com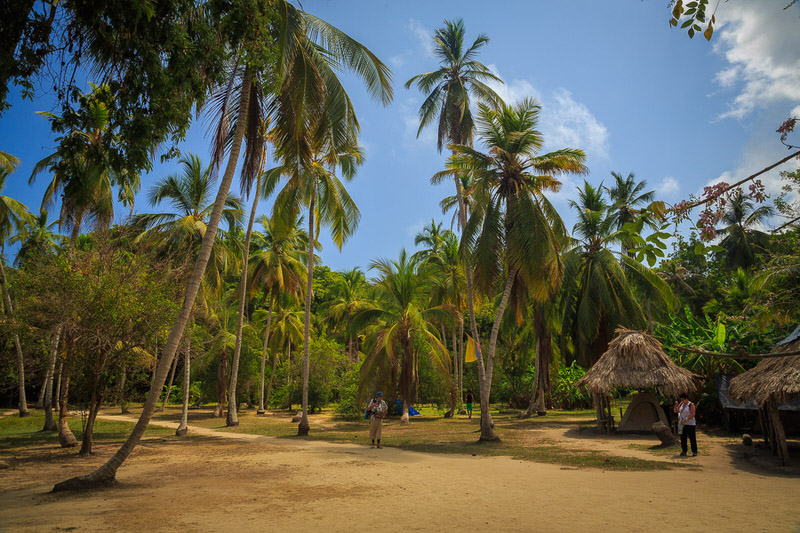 Pro Tip
You can contact Camping Don Pedro via Facebook, they will answer you very quickly.
Jacobo B
it's the cheapest option in the park.
With your own tent, it's 3€ per person per night, but the campsite looks more like a vaguely cleared land than a camping site .
Cabo San Juan Sector
Cabo San Juan del Guia
It is the most popular campsite in the whole park where all the backpackers want to sleep, and for good reason, it is the most enchanting setting in the whole park.
It looks like a music festival campground in high season, there are long queues at all the posts
Catering: quality is fine, but more expensive than elsewhere (around 10 usd the meal)
There is a small shop with basic things to buy
Hammock: 50.000 Cop
Tent: 30.000 Cop
Vip room: 200.000 Cop
Website : www.cabosanjuantayrona.com
Tel: 333 356 99 12
Pro Tip 1
Ask to sleep in the famous emblematic pavilion overlooking the beach of Cabo San Juan.
Lulled by the waves, it houses about 20 hammocks and is the most coveted place to sleep in the entire park, offering fantastic views of the sea, beaches and mountains.
There are also two private double rooms on the top floor of the viewpoint.
Drawbacks : the lockers are smaller, and there are people who spend the whole day enjoying themselves on the terrace
Pro Tip 2
If you want to sleep in Cabo San Juan, I strongly advise you to arrive as soon as possible.
First of all, because the sun is very strong between 11am and 3pm, it will be unbearably hot,
Second, there's a good chance that after 3:00 p.m, everything will be full, especiallu in december / january
Now you know…
Pro Tip 3
In high season, make sure you have a place by booking in advance on the cabosanjuandelguia.com website.
Take your food with you if you want to save
Bringing a tent will save you money and you will also have a quieter corner.
Think about the return by boat from Cabo to Taganga, departure around 15h30-16h.
Remember to sleep at night in the hut on the headland!
After 10am, when the beach becomes too crowded, consider the nudist beach, where there will be almost nobody !!!
Sanitation
The facilities are rudimentary, but sufficient.
There may be queues during rush hour.
The shower is only open during certain hours and there is only cold water,
So, Sleeping in Cabo San Juan: is it worth it or not?
For years I have advised against spending the night there, being the type to prefer rather remote places.
I confess I was wrong!
In fact, I had only seen it crowded during the day, and thought it was the same at night.
But in reality,
Sleeping there allows you to have privileged moments.
Between 06h and 10h in the morning and after 16h, there's hardly anyone around!
We then enjoy an idyllic calm and tranquillity
Advantages:
– It is the beach that offers the closest proximity between the accommodation area and the beach. In the morning, you only have 100m to do for your swim.
– If you're looking to disconnect Cabo is perfect !
– Easy and pleasant swimming
Disadvantages:
The prices are relatively high in Cabo San Juan, count 40.000 Cop in hammock and 30.000 Cop for a meal.
Avoid the high season: long queues at the restaurant
Calabazo Area
Playa Brava Teyumakke
This is the beach for real adventurers not you find yourself on the beach, alone in the world, in a setting made of wooden huts and palm roofs, rudimentary but perfect for disconnection! (No wifi… obviously)
Best Hotels near Tayrona Park
If you are looking for accommodation before or a few days after Tayrona Park, here are the best recommendations:
Finca Barlovento
Finca Barlovento may well be the most beautiful place in the area, and is located just outside Tayrona NP, on the beach of Playa Los Naranjos.
Here, where the Río Piedras gushes out of the Sierra Nevada and flows into the Caribbean, you will find this architecturally unique house, clinging to a cliff.
The property is divided into two parts: the original house and the maloka, a thatched structure in indigenous style divided into private rooms.
The properties have outdoor beds overlooking the sea.
The meals are relatively good.
Tel: 314 626 97 89
Web: http://barloventotayrona.com
Adress : Km 33 Via Riohacha
Price : 330,000 Cop | 450,000 Cop | 695,000 Cop
Cayena Beach
at 10 min from the park the Cayena Beach is a private villa, for those who want to treat themselves to a little luxury.
Located on the seafront, you still keep the impression of being in the jungle.
You will be tempted to languish in the fabulous pool with a good Cocktail. pool.
Spacious and quiet rooms, of ecological construction.
Tel: 314 800 54 71
Website: www.cayenabeachvilla.com
Address: KM 39 Villa Troncal Caribe
Price : 500000 Cop in half board
Bohemia Beach
I fell in love with this hotel. Ideally located a few minutes from the tayrona park, the rooms are charming, and made with many tastes.
Aymeric the owner will be pleased to welcome you.
Quiet time on the beach, excellent food, ping pong table, Yoga classes, sunrise from the rough top, and especially a beautiful walk at the mouth of the river.
FAQ about Tayrona Park hotels
When should I book my hotel?
For camping Cabo San Juan you only need to book in advance for high season mid december to January
For luxury hotels like Barlovento, the earlier you can book the better.
For hotels in Costeño beach area, you can book only few days before
What are the best Tayrona Park hotels for privacy, quiet, and solitude?
The best hotels to be quiet are the Barlovento Suite, wich have a private access.
But all the hotels around Tayrona Park are quiet.
What are the best places to visit around Tayrona Park ?
You can visit Quebrada Valencia waterfall, but it is quite busy.
Also consider visiting and tubing on Don Diego River
After Tayrona Park you may spend few days in Palomino, or head right for a tour in Guajira
What hotel has the best views in Tayrona Park ?
Inside Tayrona Park, of course Camping Cabo San Juan offers the best view and is at 50m from the sea.
Barlovento Suite offers one of the most heavenly beautiful view.
In lower budget Journey Hostal has an amzing view and sunset.
What hotel has the best views in Tayrona Park ?
If you have time, take both. Barlovento has the privilege to have both views.

Can you recommend some hotels to stay near Tayrona Park that aren't quite so expensive?
Have a look to to Bohemia Beach which is our favorite pick from all these hotels.

How do you get to Tayrona Park ?
You can get a bus from santa Marta's main market,
or take a private taxi for around 80.000 Cop.