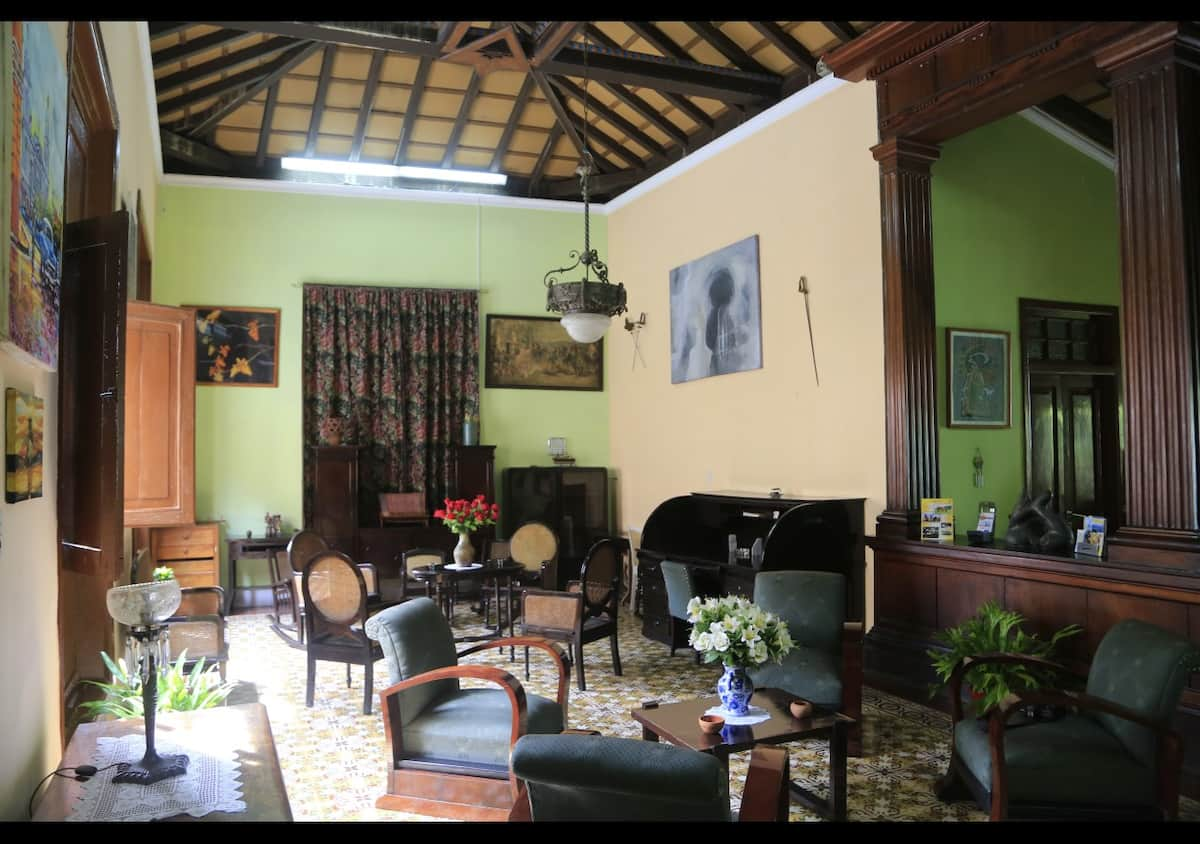 Cuba at home: everything you need to know about casas particulares in Cuba
The casas particulares are the ideal solution for small budgets and for travelers who like to stay with friends.
Do you have to book in advance? How to make a reservation? How to choose a casa particular? We tell you everything!
A casa particular : what is it ?
Typically Cuban concept, a casa particular is an accommodation in the inhabitant's house.
While some casas particulares offer only one room to visitors, others are real hotels in miniature.
They are identified by a distinctive blue logo, under which appears the inscription "arrendador divisa".
The infrastructure is often somewhat rudimentary, but all casa particular rooms normally include:
Two beds (at least one of which is double)
A refrigerator
A private bathroom with hot water
Air-conditioning (or if not available, fans).
On site, you will be required to provide your passport.
The owners of a casa particular are indeed required to declare any guest staying in their property within 24 hours.
They are also subject to heavy taxation.
You will also see establishments with the casas particulares logo, but in red color. These are casas particulares reserved for Cubans. The casas with the blue logo are specifically dedicated to tourists, and Cubans cannot stay there.
Why stay in a casa particular?
The casas particulares are the cheapest accommodation in Cuba.
Count on an average of 20-25 CUC, including breakfast, for one night, almost everywhere on the island.
Prices are a little higher in Havana.
This is also the most common type of accommodation in Cuba.
You will find plenty of casas particulares, especially in the most touristy places of the island.
If you are on a tight budget and you like to be flexible, casas particulares are the best accommodation for you! This is the option chosen by the vast majority of independent travelers.
Do you have to book your casas particulares in advance?
In the capital and in Viñales, we recommend that you book your casa particular in advance, especially if you travel to Cuba during the high season.
In the rest of the island, there is no need to take such precautions, unless you wish to sleep in a specific casa particular.
The establishments listed in the tourist guides are rarely available, but the owners will be happy to provide you with other addresses.
Casas particulares are easily identified by their characteristic blue signs.
Don't hesitate to knock on the door of the casas particulares that inspire you and visit them.
How to book your casas particulares?
If you speak Spanish well, you can call the casas particulares directly to make your reservations.
Otherwise, don't panic! Booking and Airbnb also allow you to make your reservations in Cuba: these two sites have the great advantage of being available in French and very easy to use.
Dining at a casa particular
The vast majority of casas particulares offer their clients the possibility to stay for dinner.
Count between 10 and 15 CUC per person.
This is a significant financial complement for the owners, as the nights are heavily taxed by the government.
The dinner served in a casa particular is often gargantuan: guacamole, banana chips, raw vegetables, avocado, meat or fish, rice, beans, dessert… As for the quality, it's a bit hit or miss! In some casas, the dinner is very good, in others it is disappointing.
If you have access to the internet, you can check TripAdvisor's comments before deciding whether or not to eat at the casa particular.
We still recommend you to try it at least once or twice!
Casa particular: our favorites in Cuba
Casa particular in Havana
La Estrella is a casa particular located in the Habana Vieja district.
Ana and Stéphane, the owners, are French-speaking, extremely friendly and have very good advice! The casa is modern, pleasant and very well located.
Moreover, the breakfast is excellent! What more could you ask for?
Casa particular in Viñales
In Viñales, we recommend Casa Remedio.
It is located in a quiet and pretty yellow and green house, about 10 minutes walk from the center.
The hosts are very welcoming.
They will gladly help you plan your stay in the Viñales Valley.
And as a bonus, they cook very well!
Casa particular in Trinidad
Casa de Norberto y Acelia If your trip to Cuba takes you to Trinidad, we warmly recommend Casa de Norberto y Acelia.
I might as well say it right away, the casa is rather rudimentary and the hot water is not always available.
But Norberto and Acelia are so welcoming that it compensates well for the relative lack of comfort! Norberto is the former mayor of the city and will gladly tell you all kinds of anecdotes (with signs if you don't understand Spanish!).
Acelia is an excellent cook and will prepare delicious meals for you! Coordinates: Francisco Peterssen (Coco) #1O4 between Colón and Franciso Javier Zerquera streets / tel.
: (+53) 41 994802 / mobile: (+53) 53 809059 – Casa Zenia Ana An unbeatable quality/price ratio, a neat decoration and cozy beds: what more could you ask for? Casa Zenia Ana is an address that we highly recommend in Trinidad.
It is located a few steps from the Plaza Mayor, in a quiet street.
The most: its magnificent terrace where you can peacefully sip a cocktail at the end of the day!
Casa particular in Santiago de Cuba
If you plan to stay in the capital of Oriente, Casa Dulce Domenech is the ideal place to stay! It is very well located, a few blocks from Parque Cespédes.
From the terrace, the view of the city is magnificent.
Moreover, the owner is a very good cook!
Casa particular in Baracoa
Few tourists venture to the east of the island, yet it is a real little paradise for nature lovers.
If you are tempted by a trip to Baracoa, we recommend the Casa Colonial! It is run by a very nice couple.
The rooms are spacious and comfortable and the casa has several terraces where you can lounge around with a mango juice in your hand!
Casa particular in Soroa
Soroa is a must for ecotourism and hiking enthusiasts.
If you go there, know that the Casa Don Agapito is a very good address.
The owners are charming and the rooms are pleasant.
To relax after a hard day of hiking in the sierra, there is nothing like a break in the rocking chairs in front of the casa.
We also recommend you to have dinner there in the evening: we loved it!
Casa particular in Pinar el Rio
If you venture to discover the tobacco culture in Pinar del Rio, we advise you to put your bags at Villa Manuela! It's a beautiful colonial house, with terraces and a garden with trees as a bonus.
Moreover, the owner, Manuela, speaks French and cooks perfectly!