The Peñon de Guatape is a 240 meters high rock that extends over Guatape's land and at its highest point you can see all the beautiful landscape that surrounds it, full of water from the dam and the forest reserve in the area.
To reach its peak it is necessary to climb more than 700 steps. It may seem like a lot but I assure you that it is worth it to climb each step because from the moment you start the ascent you will begin to observe a beautiful landscape and at its highest point you will find a truly impressive 360º view.
Rock of Guatapé Wiki
Max Height : 220m
Volume : 22 millions m3
Density : 3000 Kg / m3
Total Weight : 66 Million Tons
Altitud over sea Level : 2137
Temperature : 18°C in avarege
Location : Guatapé
Composition : It shows granite, quartz and fedelspato, rocky aspect totally surrounded by the reservoir of the river Nare, which allow to deduces that it is production of a volcanic erosion
Perimeter : 770mt
Steps : 659
Minimum height 137m
First climbing on July 16, 1954 by Luis Villegas Lopoez, Ramon Diaz and Pedro Nel Ramirez
How to get to Peñon de Guatapé from Medellin
To get to La Piedra del Peñol you must first get to the city of Medellín. (if you come from the east you have to find the entrance through Marinilla).

Once in Medellin you have to get to the north terminal which is easily accessible by subway or bus. Once at the terminal you will find a direct bus to Guatapé, this bus has a cost of $13.500 per person and the trip takes approximately 2 hours. (90 kilometers)

If you arrive at the Rio Negro airport an economical route is to take the bus to the Municipality of Rio Negro (bus 2.000 COP), then take a cab to the Belen Bridge on the Medellin – Bogota highway (cab 10.000 COP for 1 or 4 people).

At the bridge of Belen take the bus to Guatape (7.000 COP). If you arrive by bus it is important to tell the driver to drop you off at the entrance of the stone.
Getting to Guatapé Renting a car
If you want to take a road trip in Colombia and have the freedom to visit the area at your own pace, a good idea is to rent a car. Here you can compare the available offers and rent a car at the best price.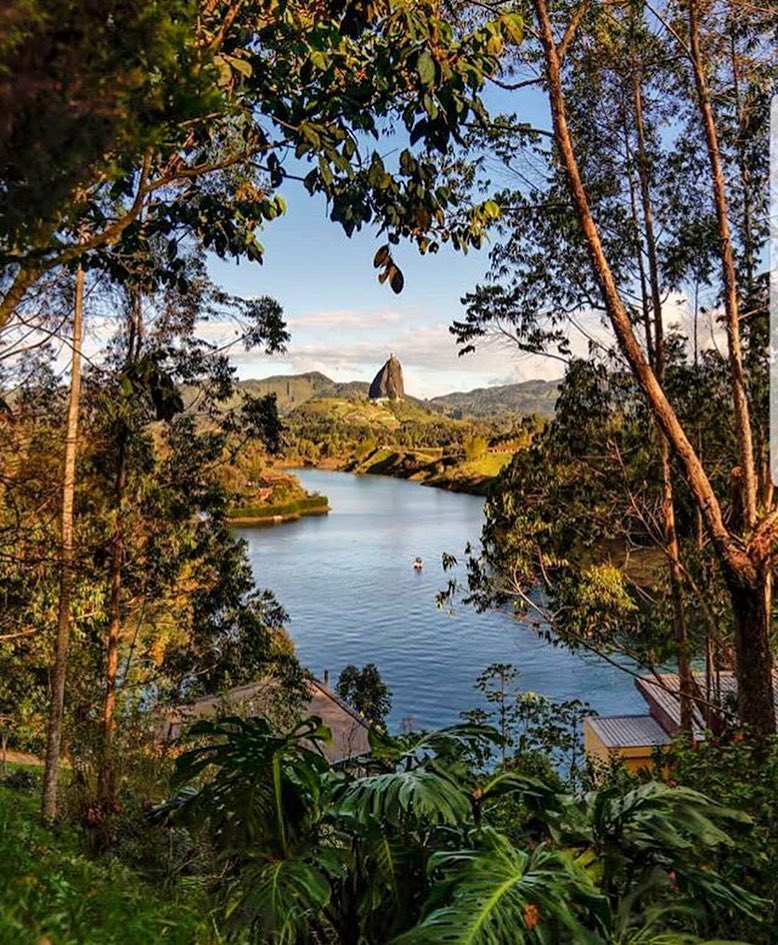 How to get from Guatapé to Peñol's Rock : Tuk Tuk
To reach La Piedra del Peñol, you can stop a little before Guatapé at "La Bomba", the gas station where the road to the rock starts.

The climb takes 20 minutes (on foot or on horseback).

Motochivas (tuk-tuk) connect the village of Guatapé and the rock for about $10-12,000 (1 or 2 people), $5-6,000 between Guatapé and "La Bomba".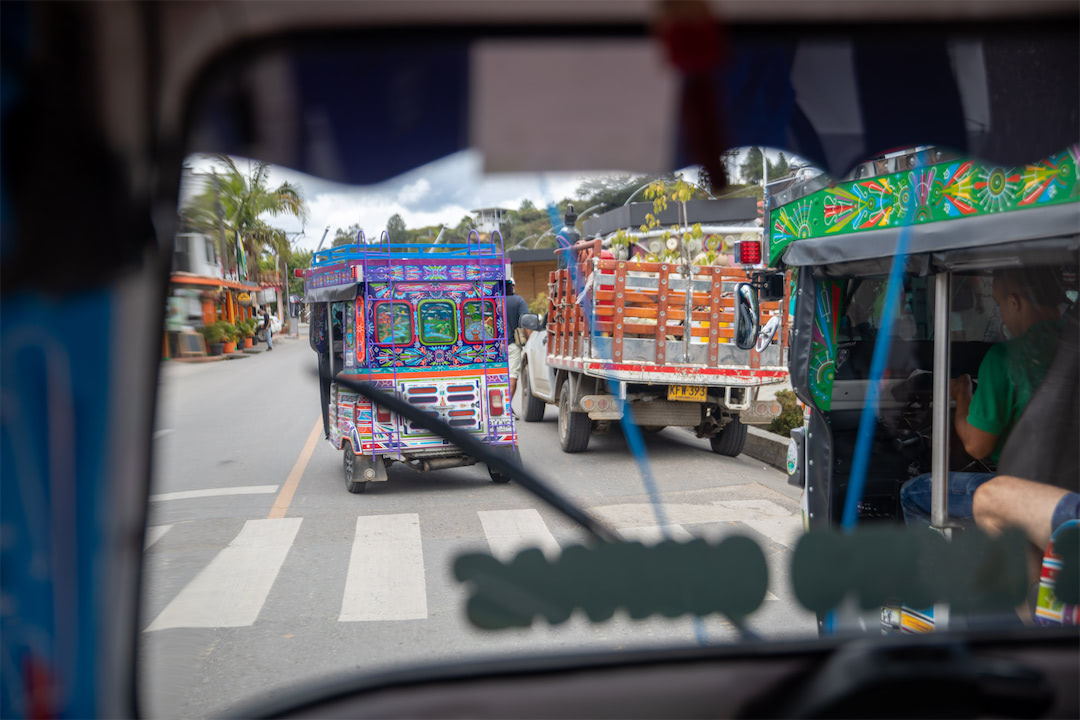 How to Get from Peñol's Rock to Guatapé ?
Easy and simple.

Once you finish the visit, and go down to the base of the Piedra del Peñón, you will see Moto Chivas (local Tuk-tuk) waiting for tourists to take to the village.

Price : 10.000 – 12.000 Cop per Tuk-tuk

But if you prefer walking, you can do it. It takes about half an hour, but beware, there is a stretch where everything is road, but you can go on it without any problem.
Entrance fee of La Roca del Peñol
The entrance to the Stone has a cost of $20.000 per person and from the ticket office we only have to climb more than 700 steps that lead to the place where you can enjoy one of the most beautiful views in the world.

To climb the rock it is recommended to bring a hat or cap, sunscreen and enough water to stay hydrated.

The climb is a little demanding but without a doubt the beautiful landscape that begins to be seen gives strength to reach the top, because from its highest point you can get a view of 360 degrees really impressive!
Time to climb the Stone
To reach the top of the rock and enjoy its 360° view, you have to climb 740 steps that take approximately 45 to 55 minutes, depending on the pace of each person.
Hours of entry to El Peñol de Guatapé
The stone is open every day of the year and is open from 8:00 am to 6:00 pm.
What to find at the Stone
Arriving at the stone in the lower area there are private parking lots that have a cost of 8,000 thousand pesos all day for cars and 10,000 pesos for buses. There are also a variety of restaurants that offer typical food of the area and sale of souvenirs representative of the stone and the paisa culture.
Recommendations to visit La Piedra del Peñol
The recommendation to visit the stone and stroll through the colorful streets of Guatape in one day is to travel early from Medellin (8 or 9 in the morning).

Arrive at the stone, climb it and enjoy the beautiful scenery.

Then take a moto chiva to Guatape which is 5 minutes away to eat a delicious bandeja paisa or a delicious trout with garlic.

For lunch it is recommended to take a boat or boat that has a value of 15,000 thousand pesos for a ride of 1 hour by the dam and the wonderful places that are in it and finally locate the park of the zocalos where you can enjoy a delicious coffee and a cultural exchange.
If you have any questions please leave us a comment and we will gladly help you in planning your trip.
Its history is also curious, geologists do not know exactly how La Piedra del Peñol was formed.

It's thought that it was due to a great collision of tectonic plates, giving rise to this magnificent rock.

There are other, crazier theories that say it was aliens who put it there to land UFOs, or even those who believe there is a secret military base inside it, really?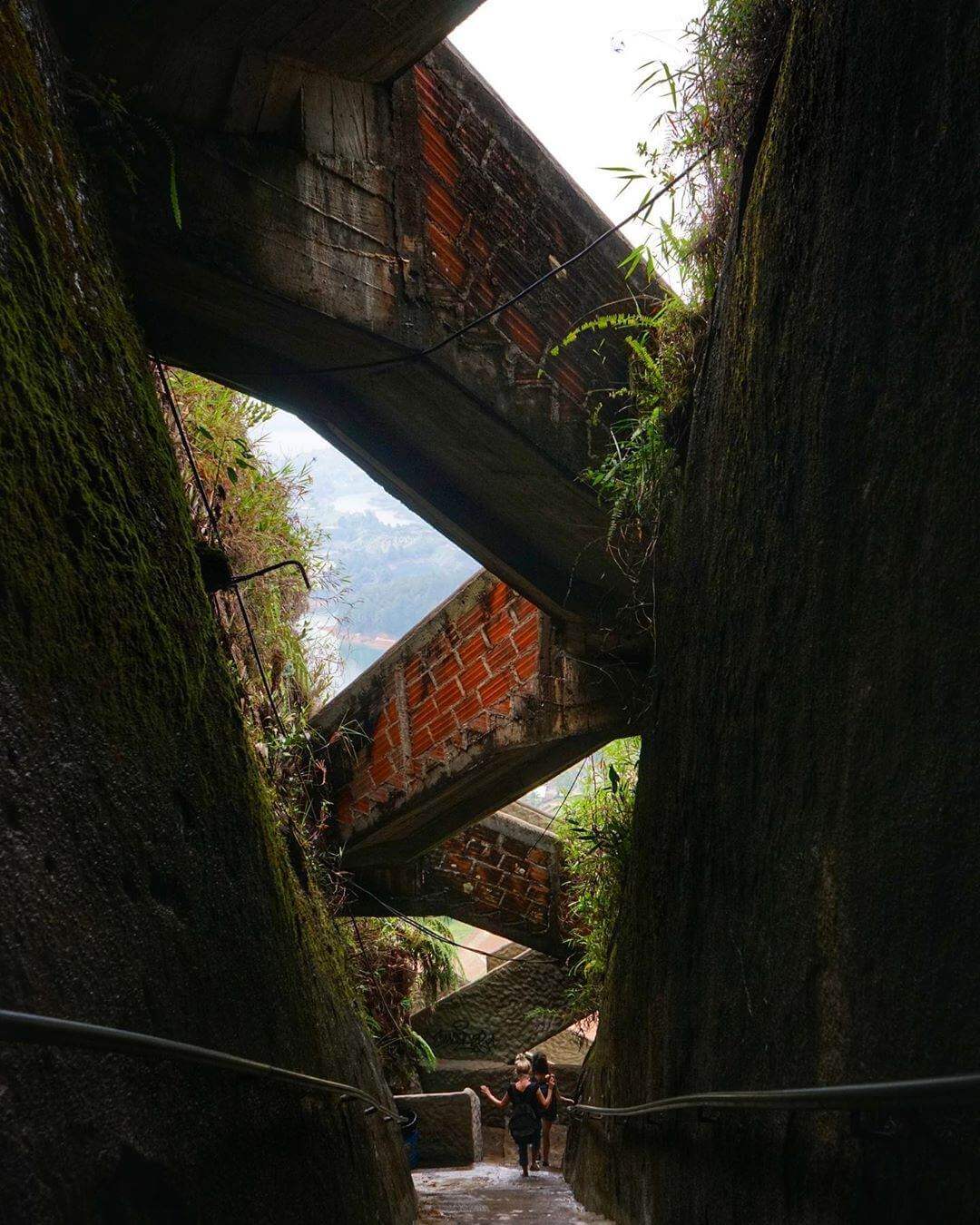 The first person who climbed this rock was Luis Eduardo Villegas (don't forget this last name).

He did it on July 16, 1954, and since then, there have been and are thousands of people who climb its 649 steps every year to reach its two hundred meters of height.

Before, I told you not to forget the surname Villegas, because when you go to pay for the entrance (20000 Cop), you will see that the company that manages the Peñón de Guatape is Inversiones Villegas Hincapie y Otros, S.A.S.

Well, although it seems a lie, it is this family that has been getting gold for years by a large rock that belongs to them, since it sits on their land.