Bogotá
Bogotá is the capital of Colombia, and also, in most cases, the gateway to the country. It has a really vibrant atmosphere, in constant movement. It is a cold city, by Colombian standards, and because it is surrounded by mountains and its height, the clouds are almost always present.
In Bogota, you need to visit the Candelaria neighborhood, the origin of the city, and probably the place where you'll be staying. It's beautiful and colorful, besides having at hand the most interesting places of the city like Plaza de Bolívar with its Metropolitan Cathedral, the Justice Palace and the Colombian Parliament. Also near La Candelaria you can climb Cerro de Monserrate where you can enjoy some of the most impressive views of Bogotá.
You won't see where it ends, almost. If you want to go beyond the center and surroundings of La Candelaria, we recommend you take the Transmilenio towards Usaquén, if possible on a Sunday, so you can enjoy its flea market.
The best way to get to know Bogotá is through a Tour with a Local. You will go hand in hand with people who live in and know Bogota better than anyone else, as well as giving you advice that will be very useful.
Musée de l'or
From the Gold Museum in Bogotá I had read about everything, from those who said it was wonderful, to others who didn't give it any importance, to those who said that visiting it was a waste of time. As opinions are for all tastes, you will see that I have not put it next to Bogota, but in its own section.
And I have done so because I believe that the Gold Museum deserves a separate mention, and of course my recommendation is that you go and enjoy a unique collection. And not only that, but through this collection of gold, you will know much more about the history of Colombie, the pre-Hispanic and later.
Personnellement, j'ai adoré.
From Salento, a town in the heart of the Eje Cafetero, they say it is the most beautiful town in Colombia, more than enough reason to include it in the list of places to see in Colombia. Colorful, quiet, friendly people and a hub for moving around the rest of the Eje Cafetero. You can stay in Salento during the days you will visit the Eje Cafeteroet il est très facile de se rendre partout à partir de là.
The Cocora Valley, is the great treasure of the Eje Cafetero, along with coffee. Here you will find the symbol tree of Colombia, the wax palm. This huge tree rises to infinity and beyond. Well, it's really not that much, they reach up to 70 meters high, which is not little. Here you can enjoy the presence of these trees, but you can also do a trekking that is really worthwhile, and a lot.
Go into a foggy forest, visit the Casa de los Colobríes, cross bridges over the Quindío River. In short, enjoy nature in the Eje Cafetero. Visit a coffee plantation It seems obvious that you can't go to a place where the star is coffee, and not visit a coffee farm. And besides, I tell you what, it's worth it. It is highly recommended to visit one near Salento, the Don Elias Coffee Farm. It is a small family farm, where the third generation is already working on it. The whole production process is natural and with natural products, and the result, I can assure you, is delicious.
The best coffee you will ever tasted in your life will be in this coffee farm. And best of all, you can buy an exceptional coffee at a really low price. In addition to enjoying a very beautiful environment. Some coffee farms offer the possibility of staying in them, it can be a very good option, start the day with a beautiful view and the best coffee in the world in your breakfast.
Without a doubt, traveling to the Amazon, besides realizing a dream that I had been looking for a long time, has marked me a lot, and for good. The Colombian entrance to the Amazon is in the city of Leticia, which can only be reached by plane. We wanted to make a stay in the Amazon different, beyond the excursions, we wanted to be closer to the indigenous communities and their culture. A spectacular trip in itself, and a place to see in Colombia that you can't miss.
The Amazon is the lung of our planet, knowing it, immersing myself in it, has made me even more aware of how important it is to preserve the nature of our mother nature. If you want to know more about our adventure in the Amazon, you can take a look at this article we wrote, Leticia, gateway to the Amazon in Colombia.
Medellin
You're going to Medellin? This is the question they asked me before I went to Colombia. Some out of fear, others because of the attraction that a series of Netflix has created about the narcos. Let's see, Medellin until not many years ago, was synonymous with death, violence, drug trafficking and hell on earth. Today, fortunately for its inhabitants, this has changed a lot.
Maintenant Medellin is a place to see in Colombia that you shouldn't miss. Get lost in the Poblado neighborhood, and if possible, stay there. In this neighborhood you will find restaurants of all kinds, you can enjoy the night for sure, rumba! Enjoy the centre and see sculptures by Botero, many of them in the Plaza Botero, and don't miss the Museum of Antioquia. We leave you in this article What to see in Medellín.
The Comuna 13 is one of these places that not so many years ago, nobody would have imagined would be one of the most visited places in Medellin. Let's say that if Medellín was dangerous, Commune 13 was the epicenter of the most brutal and savage violence. The death was companion of trip of its inhabitants, terrible.
However, today this has changed a lot, and it is possible to visit his particular outdoor graffiti museum, it is very worthwhile. It's not just visiting and seeing that graffiti, it's also learning first-hand from one of the neighbors what was going on there, and how that commune has become what it is today.
We did a Free Tour with a guy who lives there. It was a real luck to be able to walk through those streets, today colorful and happy, and understand through the graffiti the history of the place. A sample that indicates that you can get out of the spiral of violence. We tell you everything you need to know before you go to Commune 13.
Not far from Medellín, two hours by bus, you can make one of the best day trips, to reach the Piedra del Peñol. There are many theories about the origin of this huge rock, even aliens are talked about. In any case, climbing its 649 steps, and enjoying the beautiful views, is really worth it. This is another place not to be missed in Colombia.
Guatapé is the town that is not far from El Peñol, in fact, you can walk there, although it takes about half an hour. Or by taking a shared willy at a good price. This is another of the most beautiful villages in Colombia, known for its colorful baseboards, and for being very close to El Peñol. You can get lost in the streets by guessing what the inhabitants of these streets do, deciphering the drawings on their plinths.
Comme le Salento, Guatapé vous attrape pour sa beauté, pour l'envie de vous y promener et, pourquoi pas, de déguster un plateau de paisa (cholestérol dans les veines) dans l'un de ses restaurants.
It is worthwhile to go to Guatapé, and taking into account that you can make a previous stop at Peñol, as it is an excursion you can do on your own, as you get a two in one. You can take a look at the article where we tell you in detail how to get to these two places, Guatapé and Piedra del Peñol, what to see and what to do.
The Tayrona National Park is another of the many crown jewels to be seen in Colombia, and of course, you can't miss it. It is on the Caribbean coast, next to the city of Santa Marta, which in this case is its gateway. You can go trekking, swim in the crystal-clear waters of the Caribbean (be careful!! not all beaches are suitable for swimming) and perhaps see some of the indigenous people who live in this sacred place. And as a sacred place that is, respect it.
We went there in the month of October and enjoyed a beach just for us for three days. Another thing you should know is that, the Tayrona National Park is closed several times a year, so before you go make sure it will be open. I think you can't plan a trip to Colombia and not go to the Tayrona National Park.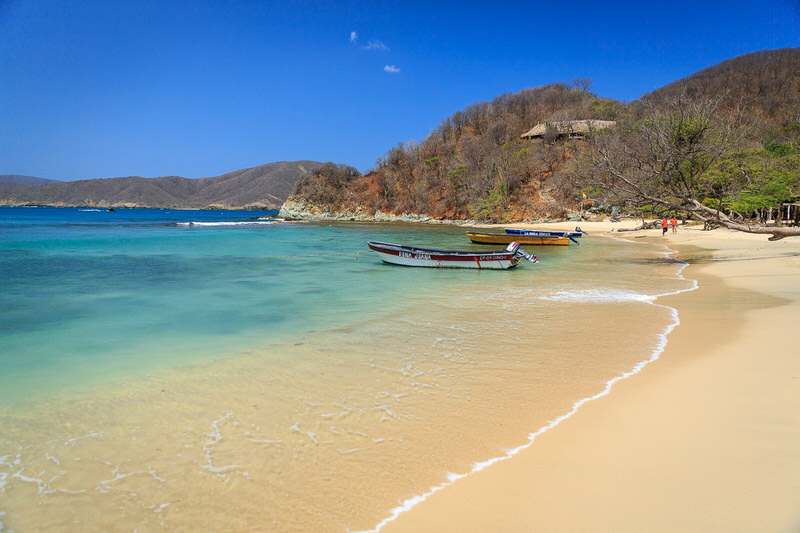 The Guajira is one of these places to see in Colombia, let's say, lost in the hand of God. It is located on a peninsula in northern Colombia, bordering Venezuela. It is an inhospitable territory, far from the rest of Colombia. A desert near the Tayrona National Park. Territory of the Wayuu Indians, we wanted to get to Cabo de Vela, and sleep in one of its ranches.
Elle fait de plus en plus partie des itinéraires de voyage en Colombie, mais la difficulté est que vous devez louer une voiture avec chauffeur pour vous emmener dans cette Guajira colombienne.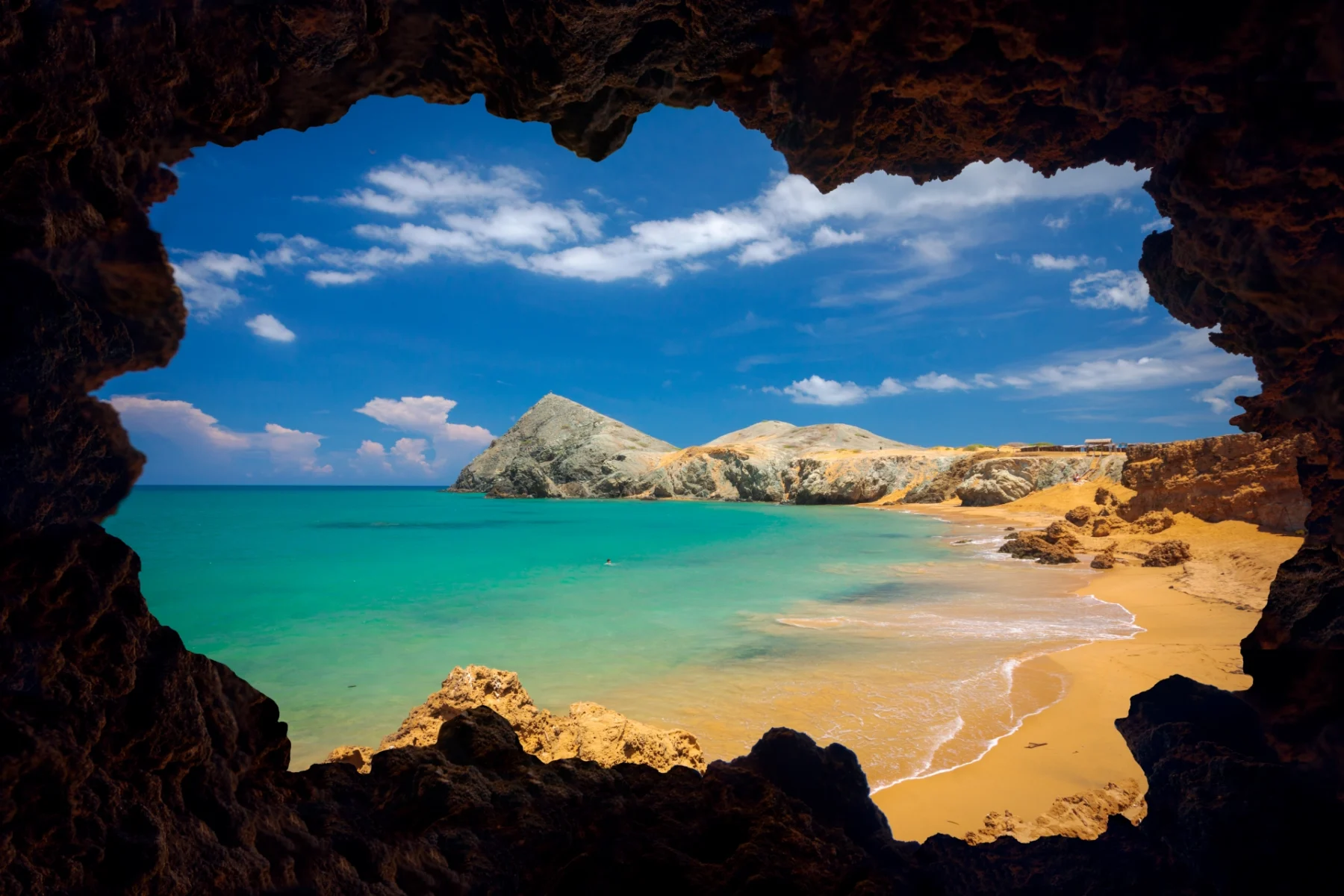 Île de Providence
There are two islands in Colombia that are closer to Nicaragua than to Colombia, since they are off the Nicaraguan coast. These are the islands of San Andres and Providencia. Both are said to be a kind of paradise. And the truth is that it is not difficult to find real paradises in the Caribbean. In many cases what is more difficult is to find paradises that are not overcrowded. Why Providence and not San Andres?
Well, because we prefer tranquility, to be able to get in touch with the local people, and we avoid overcrowding, or islands with a lot of resorts, discos, etc. And that's why in our wish list of places to see in Colombia, we had added Providencia and not San Andrés. The latter is just that, a place with a lot of tourists, where resorts and discos are the queens of salsa. And of course, its beaches full of people.
But if you like that atmosphere, then San Andrés is the right place. And Providencia is just the opposite, an island where its people have prevented hotel chains from entering, and it's they who manage tourism. It's not like the San Blas archipelago in Panama, where the Guna Yala manage absolutely everything, and that's why it's the PARADISE in the Caribbean, with a capital M.
The atmosphere is very local, very authentic, colorful houses. And as a curiosity, the language is Creole, a mixture of Spanish, English, French and other African mixtures. We saw the same thing in Bocas del Toro, in Panama, in the small town of Old Bank, Bastimentos. You can only get to these two islands by plane, from Bogota and from Medellin there are direct flights.
Cartagena de Indias
Cartagena de Indias is said to be the most beautiful colonial city in all of Latin America. And if so many people say so, there's a reason why. We also had Cartagena de Indias on our list of places to see in Colombia, but we had to make a difficult decision, either to spend one more day in Tayrona, or to visit Cartagena de Indias. We finally decided on Tayrona, and that decision is one more reason to return to Colombia. Its historical center and the neighborhood of Getsemaní, are turning Cartagena de Indias into a destination that you cannot skip.
You don't hear much about the Lost City in Colombia, in fact, few travelers decide to go trekking until they reach that lost place, that hidden city. The first time I heard about it, I was told that it was like visiting Machu Pichu, but more intense, more difficult and with a lot of people less. I have it on my wish list for when we return to Colombia.
Visiting the Lost City, land of the Koguis, who are the descendants of the Tayrona, means five days of intense trekking until we reach our destination. A hard trek, and not exactly comfortable, but what awaits you at the top seems to be well worth the effort.
Récapitulatif : Meilleurs endroits à visiter en Colombie par intérêt
Les meilleurs endroits à visiter en Colombie pour la culture
All around Colombia. Bogota, Villa de Leyva, Barichara,
Les meilleurs endroits à visiter pour l'archéologie
Les meilleurs sites archéologiques de Colombie sont : San Agustin et ses statues mystérieuses, Tierradentro et ses tombeaux, Guaviare qui abrite l'une des plus anciennes fresques préhistoriques du monde, Lost City le joyau de la Colombie, 700 ans plus vieux que Macchu Picchu.
Les meilleurs endroits à visiter pour la nature
Les meilleurs endroits à visiter pour la nature :
Amazon
pour observer une faune et une flore incroyables,
Eje Cafetero
pour ses randonnées dans la vallée de Cocora et le parc Nevados, La côte Pacifique et sa nature exubérante, où les baleines viennent danser, La Sierra Nevada de Santa Marta pour ses montagnes préservées, Guaviare, le royaume du dauphin rose et les portes de l'Amazonie.
Les meilleurs endroits à visiter pour l'architecture
Les meilleurs endroits à visiter pour l'architecture : Carthagène la perle des Caraïbes, et probablement la plus belle ville d'Amérique latine, Salento pour ses portes colorées, Villa de Leyva une des plus grandes Plaza Mayor d'Amérique latine, Barichara une œuvre d'art géante, Mompox la ville où le temps s'est arrêté, Jardin pour découvrir l'architecture typique Paisa et la vie authentique colombienne.
Les meilleurs endroits à visiter pour la randonnée
Le site meilleures randonnées en Colombie sont dans le
Parc national de Cocuy, Parc des Nevados et Vallée de Cocora, Trek de la Cité perdue, Ibagué (Boyaca), Cerro Kennedy et Guajira.
Les meilleurs endroits à visiter en Colombie pour l'etnotourisme
Les meilleurs endroits pourLes meilleurs endroits à visiter pour les plages : Tayrona Park, Islas del Rosario, Guajira, Choco, Providencia & San Andres
Les meilleurs endroits à visiter pour les sports extrêmes
Les meilleurs endroits à visiter pour le sport : San Agustin (Horseback riding & Rafting), San Gil & Canyon de Chicamocha (Paragliding, Rafting & Canyoning), Medellin (Rafting), Choco (Surf & Diving wth sharks), Cabo de la Vela (Kite Surf)
Best Places to visit for Nightlife & Parties
Les meilleurs endroits à visiter pour faire la fête : Bogota, Medellin, Cartagena, Santa Mart, Costeño Beach & Taganga
Les meilleurs endroits à visiter en famille
Les meilleurs endroits à visiter en famille : Eje Cafetero, Guatapé, Cartagena, Minca, Santander
Les meilleurs endroits à visiter pour se détendre
Les meilleurs endroits à visiter pour se détendre : Plage de Costeño, Palomino, Minca, Capurgana, Rincon del Mar