Denigrated by many, Santiago de Cuba is often presented as a dangerous and licentious city.
These negative echoes in mind, it is a little bit backwards that we headed to the capital of the Oriente.
What a surprise to discover a colonial city full of charm! Don't listen to the bad tongues.
We tell you everything about Santiago de Cuba!
Is Santiago de Cuba Worth Visiting ?
Bordered by the sea and the mountains of the Sierra Maestra, as soon as you set foot in Santiago de Cuba, you will notice that you arrive in a city that has its own rhythm, imbued with a natural and human warmth that distinguishes it from other places in the country.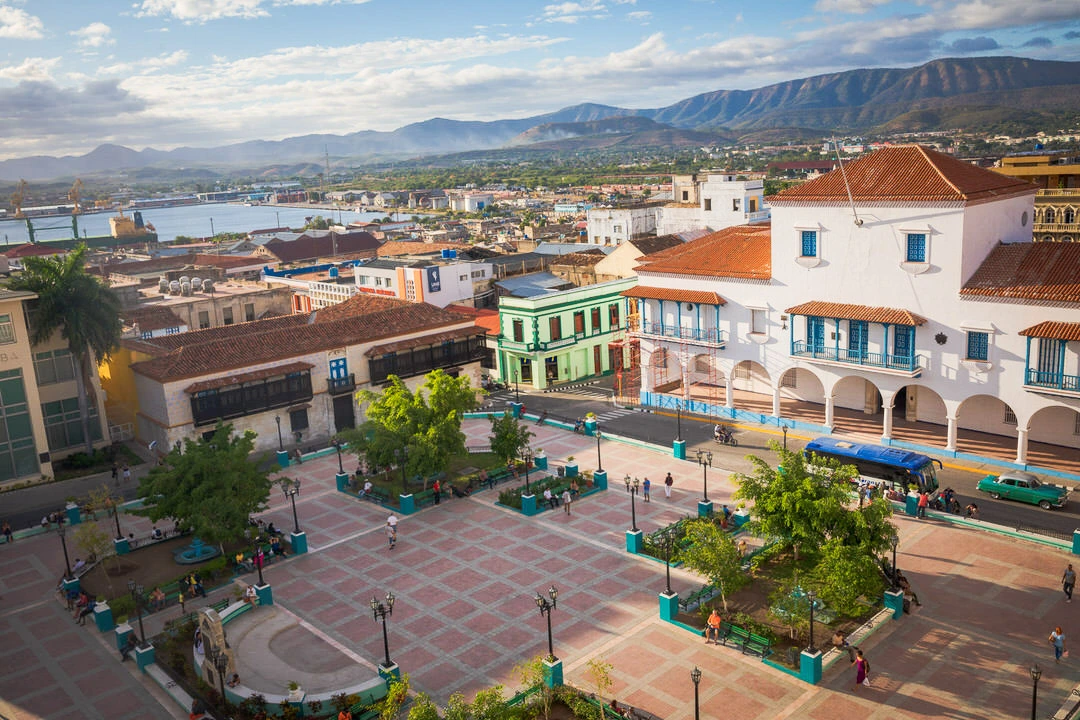 It is the most Caribbean of Cuban cities, not only because of its geographical location but also because of its mixed origins, a mixture of Spanish, African and French, With Haitian, Jamaican, Guadeloupean and Martiniquan touches far more important than elsewhere on the island.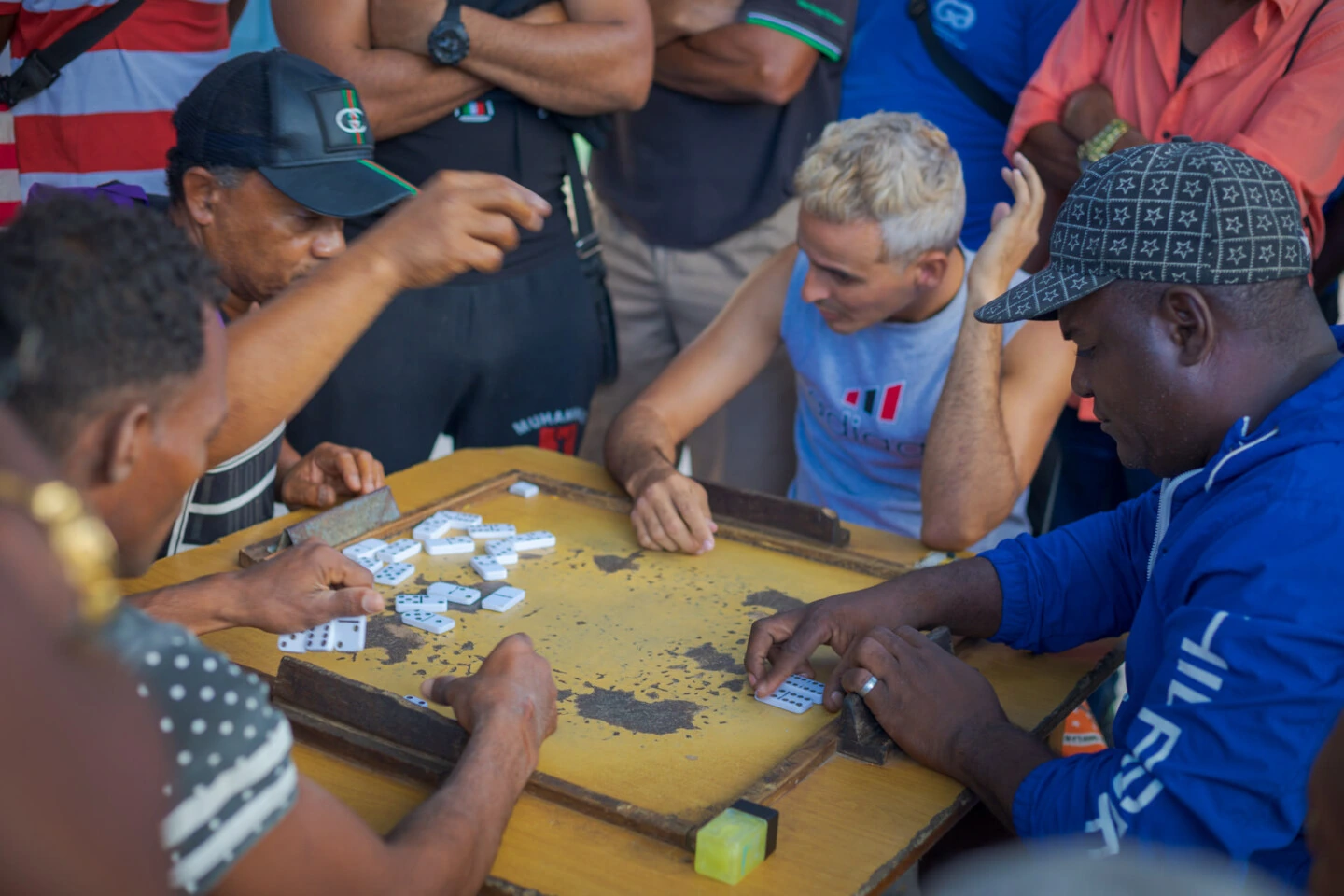 Coming to Santiago de Cuba is not just about coming to see the best musicians from the island, but probably from all over the world. Cradle of Cuban music, Afro-Cuban traditions remain strong and are reflected in the carnival as well as in the 100 daily concerts.

Walk in any street the musical notes emanate from everywhere.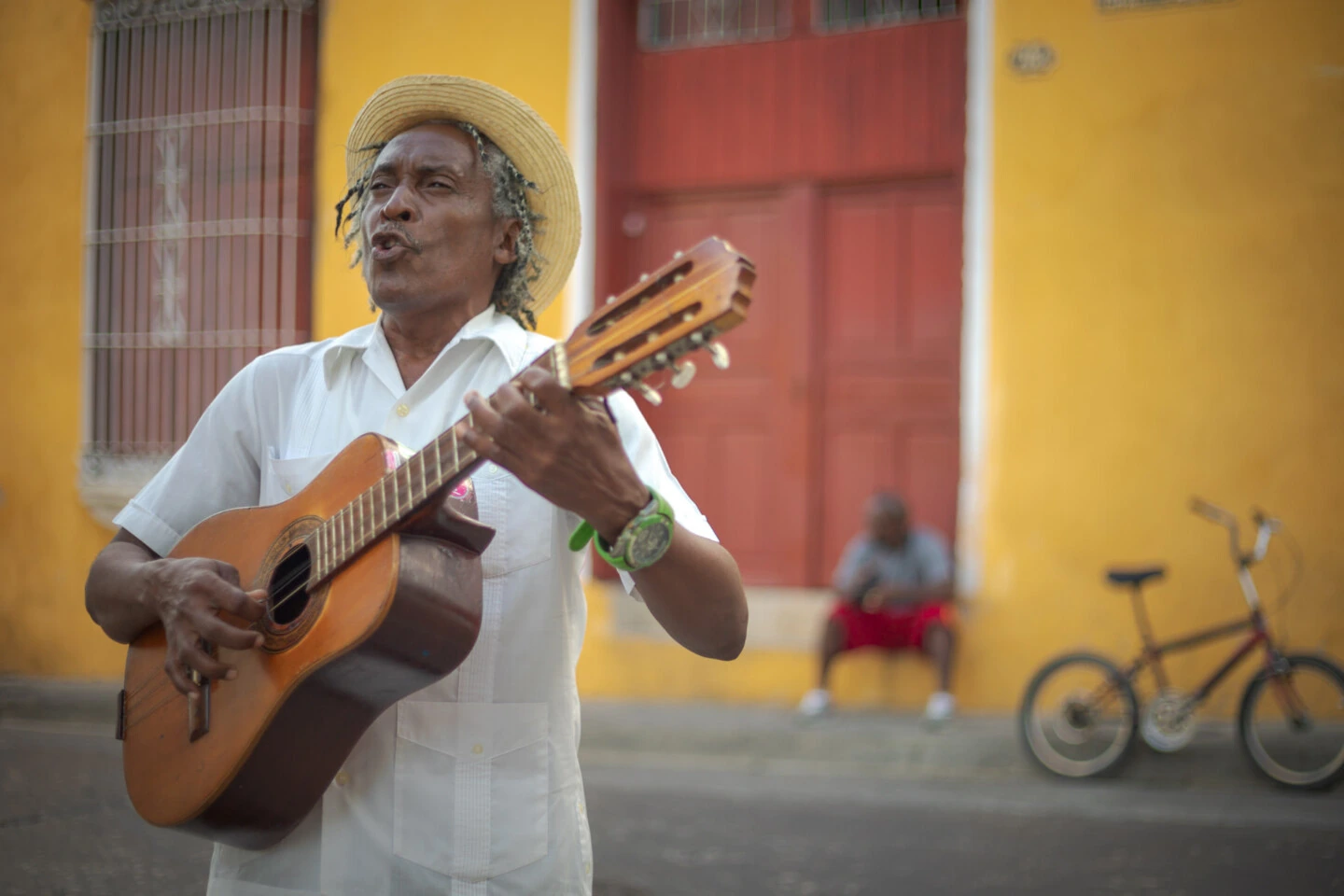 How to Get to Santiago de Cuba
Flights from US or Europe
If the vast majority of tourists prefer to land in Havana, Varadero or Cayo Coco, you should know that there are also flights to Santiago de Cuba.
This is an interesting option:
if you only want to visit the eastern part of country (Santiago de Cuba, Baracoa…).
to visit Cuba from east to west, and thus explore the whole country by landing at Santiago de Cuba and leaving from Havana (or vice-versa).
The companies Air Caraïbes and Cubana offer flights to Santiago de Cuba from Paris Orly.
To book your flights and find THE good deal, we highly recommend the following two comparators: -eBookers -Skyscanner
Administrative formalities on arrival
Once your plane has landed at Santiago de Cuba airport, Cuban customs officers will check that you have completed the administrative formalities for entering the country (tourist card and insurance).
Keep these documents in a safe place: you will be asked for them again when you leave the country.
Administrative formalities on departure
When you leave the country, you will have to go through customs at the airport in Santiago de Cuba.
The customs officers will then check that you respect the limitations concerning the quantities of cigars and rum that can be taken out of the country.
Antonio Maceo Airport in Santiago de Cuba
Santiago de Cuba airport is located on the Morro road, 7km southwest of Santiago de Cuba.
The airport has only one passenger terminal (and one cargo terminal).
Car rental agencies (Cubacar, Rex, Havanautos, Via Transgaviota) are located in the arrivals hall and in the parking lot.
Short-term (56 spaces) and long-term (50 spaces) paid parking spaces are available at the airport.
A currency exchange office and travel agencies are located in the arrivals hall.
The departure hall has a post office, restaurants and stores (don't get carried away, the infrastructure is very limited!).
Flights from Havana
From Havana, it takes about 2 hours to reach the capital of Oriente.
Flights are also available from some of the country's other major cities, including Cayo Coco.
If you would like more information about Santiago de Cuba airport, please take a look at our detailed article on Santiago de Cuba airport.
You can also book your transfer from the airport to the city center in advance.
For more information, click here.
Getting to the center of Santiago de Cuba from the airport
Santiago de Cuba airport is not served by public transportation but cabs are available at the exit of the terminal.
Count 10 CUC and about 15 minutes of travel to reach the city.
If you want to travel with peace of mind, you can already book your transfer here.
From Havana or other cities in Cuba
Santiago de Cuba is located in the Oriente, in the southeast of the island.
Most visitors unfortunately limit themselves to the west of the island and do not go as far as the second largest city of the country.
However, Santiago is relatively easy to reach from the rest of Cuba.
By bus
Many Viazul buses also connect Santiago de Cuba to the main cities of the country:
Baracoa, Bayamo, Camagüey, Guantánamo, Havana, Holguín, Sancti Spíritus, Santa Clara, Trinidad or Varadero.
The journeys can however be very long…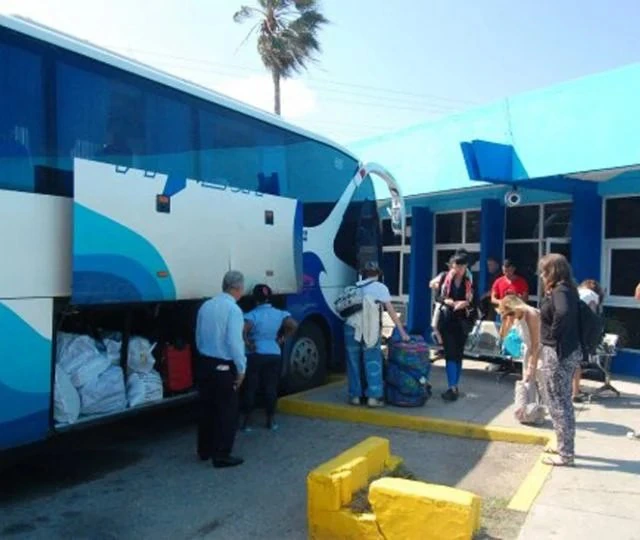 By collective cab
You can also try to book a collective cab at your casa particular.
Be warned, however, that there are far fewer tourists in the east of the country, and therefore far fewer collective cabs available to make this trip.
On the other hand, it is easier to find bus places than in the west.
Best things to do in Santiago de Cuba
So If you don't have much time in Santiago de Cuba, here's what you shouldn't miss:
If you don't have much time to visit the city, here is a selection of places to visit in the center of Santiago
Parque Cespedes
Surrounded by colonial architecture, this square is a permanent spectacle, day and night.
Here you will find all the diversity and beauty of Cuban culture coming together to chat, play music or just watch the world go by.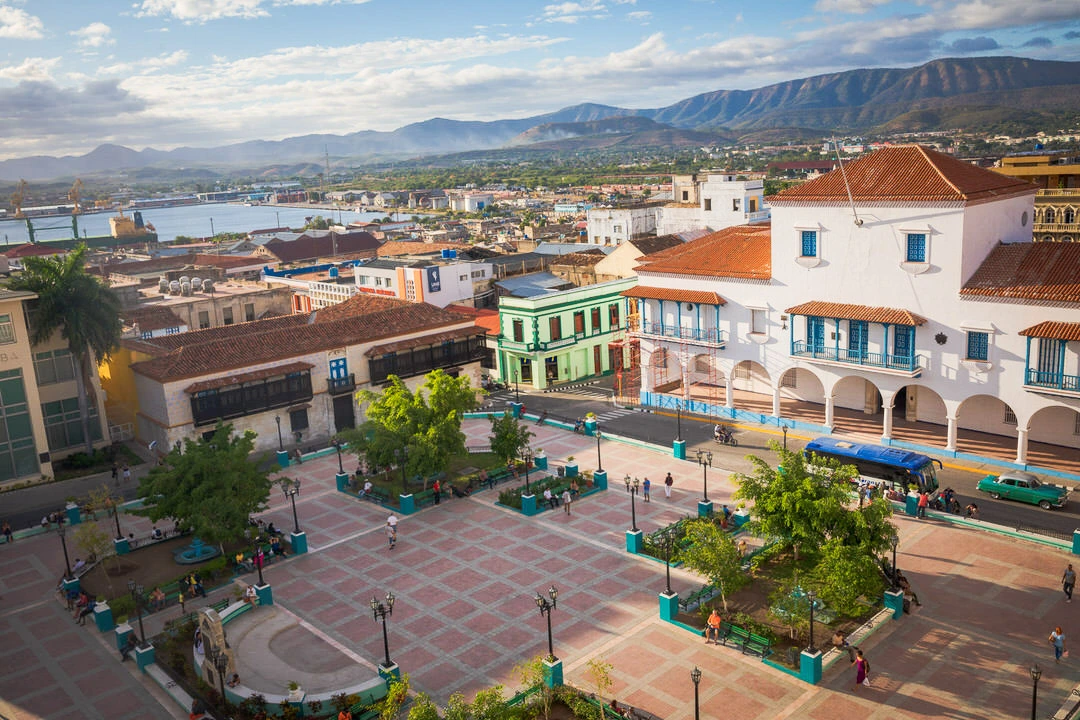 Habits have now evolved and there is less talk than before because of the arrival of the wi-fi signal.
In the centre of the park is a large statue of Carlos Manuel de Céspedes, whose Grito de Yara declared Cuba's independence from Spain in 1868 and the beginning of the Ten Years War.
In Cespedes Park we also find the finest collection of Jineteros.
(hustlers) from Santiago. Each of them is specialized in a particular field and they watch the tourists to ask them for soap, money, clothes, change of clothes, etc…
Although the square is a must in Santiago, it is difficult to sit quietly there.
Do not miss the folklore groups that pass by on Sunday morning, as well as the Santiago orchestra that comes to play there on Saturday or Sunday evening around 7pm.
Parc Cespedes Hurricane Sandy uprooted most of the trees in the park in 2012; the inhabitants here are waiting patiently for the vegetation to grow back.
Buildings in Place Cespedes
The Parque Céspedes is dominated by its cathedral with two towers.
A basilica was built here in 1528, but what you see was rebuilt in the early 19th century after a series of earthquakes and fires.
Many of the city's most venerable buildings stand in the square, many of which were repaired and renovated in 2013-14, in part to mark the 55th anniversary of the Revolution.
Although it was first built on this site in 1523, the present building dates mainly from 1922.
The church was restored inside and out for the fifteenth anniversary of Santiago in 2015.
Expect to see intricate ceiling frescoes, hand-carved choir stalls and a polished altar in honor of the venerated Virgen de la Caridad.
A two-room museum near the entrance displays objects relating to the history of the Catholic Church in Cuba.
The remains of the first colonial governor, Diego Velázquez, are believed to be buried underneath.
The City Hall
Just in front of the cathedral stands a splendid white building with blue doors: it is the Town Hall.
The Ayuntamiento, in neoclassical style, was erected in the 1950s based on a drawing from 1783 and was the seat of Hernán Cortés' Town Hall.
Fidel Castro appeared on the balcony of the present building on the night of 2 January 1959, trumpeting the triumph of the Revolution.
La Casa Granda
The elegant Casa Granda Hotel is also located in the square.
The interior, restored in the mid-1990s, has an air of faded grandeur and it is pleasant to have a drink on the roof terrace at sunset.
The hotel used to be a high society place where the Cuban elite would gather on the roof terrace to sip rum, dance and smoke cigars.
Famous guests included many movie stars, singers and sports champions, including baseball legend Babe Ruth.
However, in the 1950s, the place became sinister and teeming with American spies and Cuban rebels.
Enjoying a drink on the roof terrace at sunset is still enjoyable, while a drink, snack or lunch at the ground floor café is a good way to look out over the square without being disturbed.
Casa de Diego Velázquez
This house, built between 1516 and 1530, is considered the oldest house in Cuba.
Restored at the end of the 1960s, the Andalusian-style façade with fine wooden lattice windows was inaugurated as a museum in 1970.
It is one of the most visited places in Santiago.
In the 16th century it was the official residence of the first governor of the island, and founder of Santiago: Diego Velázquez.
It is a massive stone structure with Moorish-style balconies, glorious cedar ceilings (alfarjes), floor-to-ceiling shutters and two beautiful courtyards,. ceramics and antiques.
Inside you will find period beds, desks, chests and other furniture, as well as a patio with its well and container, the "tinajón", which is used to collect rain.
On the first floor there is a gold foundry.
An adjacent house is filled with antiques designed to convey the French and English decorative message and architectural influences – such as the radial stained glass window above the courtyard doors – at the end of the 19th century.
Peñas (musical performances) are sometimes held here, and musicians can often be heard practicing in the courtyards.
Entrance: 2 Cuc
Telephone: 22 65 2 6 52
Hours: 9am-5pm Monday to Sunday
Guides: multilingual tour
Camera fees
Calle Heredia
The music never stops on Heredia Street. It is THE nerve center of art and music in Santiago: Here you can see some of the best musicians in Cuba, and in the world.
Buildings in Heredia Street:
Casa de la Trova
Artex Patio
Casa de la Cultura
La Trovita
UNEAC
Carnival Museum
Casa del Queso
Casa Granda
Balcón de Velázquez
This terrace is all that remains of a fort and was once used by the Spaniards to monitor ship traffic.
This balcony offers a magnificent view of the port and the tiled roofs of the Tivoli district.
Ideal place to take pictures at sunset.
Small concerts and other events are often held here, especially on weekend evenings.
Price: Free Admission
Photo Permit: 1 Cuc
Video License: 5 Cuc
Hours: 9H00-21H00 from Tuesday to Sunday
Tivoli & Calle Padre Pico
This old French quarter was once colonized by rich families fleeing the slave revolution in Haiti in the late 18th and early 19th centuries.
Its inhabitants gather on its shady edges to chat or play dominoes.
Calle Padre Pico
In the heart of the Tivoli district, Calle Padre Pico has one of the most famous staircases in the city of Santiago de Cuba.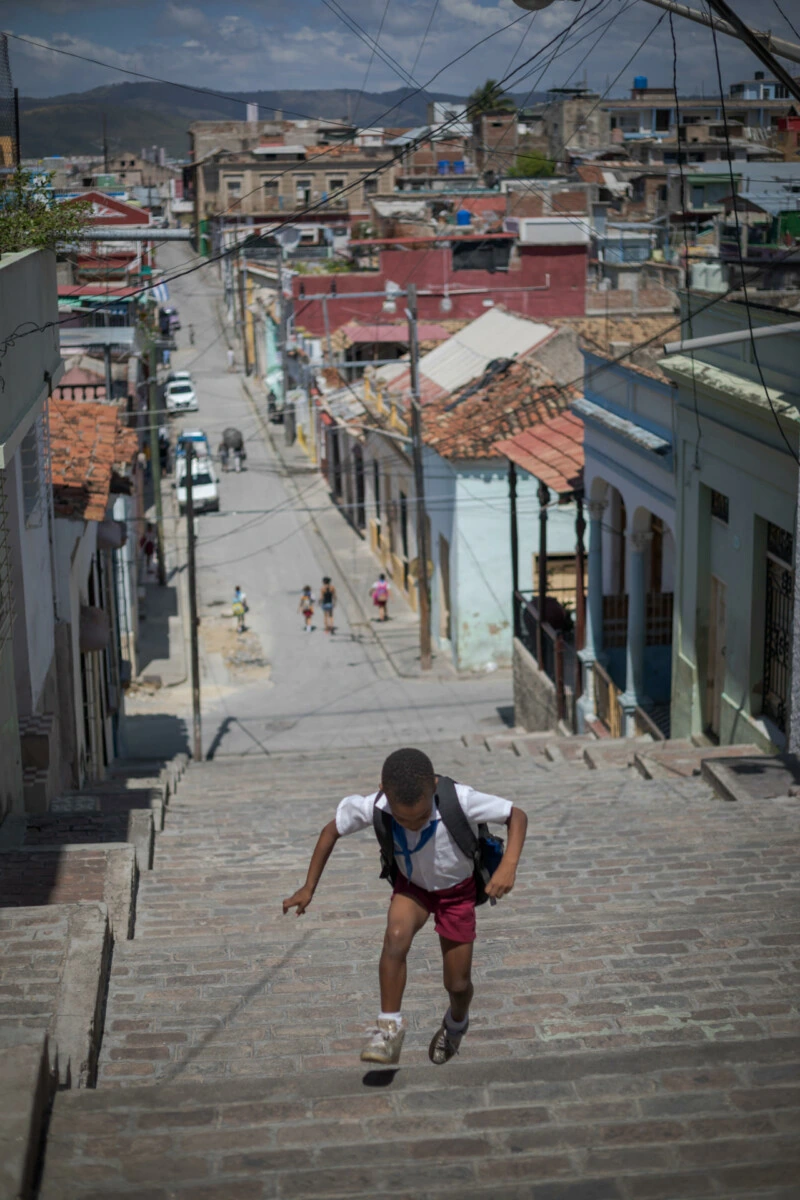 Climbing the stone steps of this street will reward you with one of the most beautiful views of the city.
For the anecdote
When Emilio Bacardí was mayor, he had the street and its steps renovated and baptized them with the name of Bernardo del Pico, a priest who had helped the poor. Fidel Castro used their strategic location to fire on Batista's forces during the Revolution.
Plaza de Dolores
This pleasant shady square is surrounded by cafés and open-air restaurants.
Formerly an old market square, it takes its name from the Nuestra Señora de los Dolores church that dominates it, which has been renovated and turned into a concert hall.
It is one of the busiest areas in the historic centre.
In the centre, on a high pedestal of Carrara marble, stands a statue of the entire body of independence fighter Francisco Vicente Aguilera, a native of the nearby town of Bayamo.
Enramada Street
The emblematic Enramada street is a shopkeeper who has become a pedestrian in recent years.
It crosses the historic centre, joining the high area of Plaza de Marte with Paseo Alameda, on the seafront.
Here you can enjoy the timeless splendour of the city with its hotels, cinemas, department stores and restaurants.
Bordered by a pleasant shade, the street is very busy during the day by the Santiagueros who stroll through its shops and restaurants.
Walking up and down the street is a spectacle in its own right.
Take the time to stroll around, taste an ice cream, watch a game of dominoes, have a coffee in Marylin, or a local pizza, served ecologically on a piece of recycled cardboard.
Buying souvenirs
To make your stroll more pleasant, make a detour to the pedestrian street "Callejon del Carmen", a three-block area between Felix Peña and Pío Rosado where you will find craft and souvenir stands.
Plaza de Marte
Guarding the entrance to the casco histórico, this 5000m2 square is one of the Santiagueros' favourites and the most authentic in the city.
If you want to capture the real life of Santiago, meet on weekends from 18h there is often a fair (feria) and local entertainment, children's rides, candy vendors and others.
It has a public wi-fi signal.
The solemn column topped with a Phrygian hat symbolizes freedom.
It's also a great place to take natural pictures of life scenes.
Learn more about it
The Plaza de Marte, once served as a macabre parade ground for the Spaniards in the 19th century, where prisoners were publicly executed for revolutionary activities.
Like most city squares, most of the trees here were uprooted by Hurricane Sandy in 2012.
Replanting has begun, but it will take some time before the park regains its cool shade.
Malecón and Parque Alameda
The new malecón is a pleasant place to walk or sit by the water.
This district was elegantly renovated and redeveloped in 2015 by the Chinese to celebrate the 500th anniversary of the city's foundation.
You can also admire the old clock tower, the aduana (customs) and the cigar factory.
You will also find a playground, shaded areas and public wi-fi.
It is an ideal place to walk around.
To get there you just have to go straight down the Enramada street that goes from the Plaza de Marte to the sea.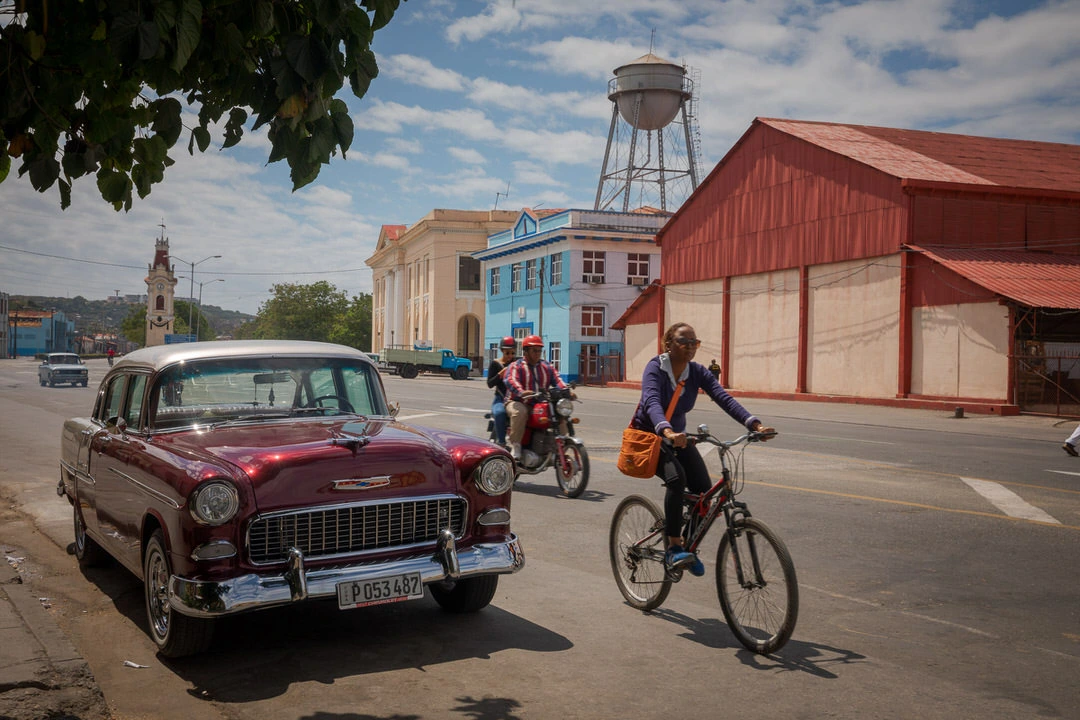 Fábrica de Ron Caney
The oldest rum distillery in Cuba, the former Bacardí family business, today produces Caney, Santiago and Varadero brand rums. The shop has a bar, live music and free samples. Unfortunately, there are no factory tours. Address: Av. Jesús Menéndez y Calle Gonzalo de Quesada
Tel: 26 62 55 76
Price: Free
Hours: 9am – 6pm Monday – Saturday
Bacardí Rum Factory
Recommendation of the chief
Don't hesitate to drink a draft beer or enjoy a good meal at the Cerverceria Puerto del rey.
Cuartel Moncada
If you are interested in everything revolutionary, it is imperative to visit the Cuartel de Moncada, because that is where the whole Cuban revolution began.
On July 26, 1953, Castro and 100 men attempted to storm this former army barracks.It is one of the country's most complete museums of revolutionary history.
Tip: To better understand and feel the history of this place, take a local guide available at the entrance of the museum…
Address: Av. General Portuondo (Trinidad) y Av. Moncada, Reparto Sueño
Tel: 22 66 11 57
Price: 2 Cuc
Hours: 9am-8pm Tuesday to Saturday, 9am-1pm on Sunday
More info : History of the Cuartel Moncada
Santiago Museums
Casa Natal de José María HerediaThis Spanish colonial house is the birthplace of the poet José María Heredia, one of the first Cuban poets to defend national independence.
Like many defenders of Cuban independence, Heredia was forced into exile and died in Mexico in 1839 at the age of 36.The house displays period objects, furniture and some of the poet's works and possessions.Poetry workshops are held occasionally in the courtyard.
Address: Calle Heredia
Price: 1 Cuc
Hours: 9am – 5pm Tuesday to Saturday, 9am – 1pm Sunday
Museo Provincial Bacardí Moreau
A must-see in Santiago de Cuba.Founded in 1899, the museum houses a vast collection of art and curiosities gathered by the Bacardi family.
Emilio Bacardí Moreau, was the former mayor of Santiago whose family of rum makers took refuge in Puerto Rico after the Revolution.
On the first floor, colonial artefacts are on display, antique weapons and brutal remains of the slave trade are especially thought-provoking.
Attention,Although the museum is called Bacardí, it is not the Rum Museum of Santiago.
Address: Calle Pío Rosado (Carnicería) y Calle Aguilera
Tel : 22 62 84 02
Price: 2 Cuc
Timetable :13h – 16h30 Monday, 09h – 16h30 Tuesday – Saturday, 9h – 12h30 Sunday
Carnival Museum
This cultural institution was created in 1983 with the aim of showing the traditions and memories of the carnivals that are celebrated every year in July in the city.
The evolution of this event is shown here through photographic sequences with explanatory texts, chronologies, objects and musical instruments used for its realization.
One can admire beautiful costumes and cabezudos (big-headed carnival figures) as well as faded photographs illustrating the history of the carnival.
In the inner courtyard, you can attend Afro-Cuban music and dance sessions every day (except Saturdays) at 4 pm.
Tel: 22 62 69 55
Address: Heredia No. 303
Price : 1 Cuc – 5 Cuc photo permit
Hours: 09h – 17h
Museum of Clandestine Wrestling
Every Cuban city, regardless of its size, has a museum dedicated to the Revolution.
This being said, this Museo de la Lucha Clandestina is one of the best in the country, being housed in a beautifully restored colonial mansion, with magnificent views of the Bay of Santiago.
Dedicated to the heroes of the July 26th Movement, you will get a complete overview of the struggle.
The museum was actually a former police station attacked by M-26-7 militants on 30 November 1956, to distract attention from the arrival of the late yacht Granma, carrying Fidel Castro and 81 other people.
Adress : Calle General Jesús Rabí 1
Tel: 22 62 46 89
Price: 1 Cuc
Opening hours: 09h – 17h Tuesday – Saturday, 9h – 12h Sunday
Maqueta de la Ciudad
Cuba is obsessed with model cities and Santiago, with this incredibly detailed model, is no exception.Interesting historical and architectural information is presented on illustrated wall panels and you can climb up a mezzanine gallery to get a real overview.
Address: Mariano Corona no. 704
Price: 1 Cuc
Timetable: 9am-5pm Monday – Saturday
Museo de la Imagen
A short but fascinating journey through the history of Cuban photography, from Kodak to Korda, with small CIA spy cameras and many old and contemporary photos.The museum also houses a library of rare films and documentaries.
Tel: 22 64 22 34
Address: Calle 8 No 106
Price: Cuc
Hours : 9h 17h, Monday to Friday , 14h-17h Saturday to Sunday
Plaza de la Revolución
Almost every town on the island has a Revolution Square.
This one is presided over by two monumental sets of prestigious local artists: the equestrian statue of Lieutenant General Antonio Maceo, a remarkable Cuban independentist of all contests against the Spanish colonial regime, work of the sculptor Alberto Lezcay and, accompanying the hero, 23 enormous steel machetes, work of the plastic artist Guarionex Ferrer.
Beneath the giant mound is a small holographic museum about the life and work of the so-called Bronze Titan.
Other noteworthy buildings lining the square include the Teatro José María Heredia and the National Bus Station.
Loma de San Juan
It was here that the last battle of the Spanish-Cuban-American War took place, with the bloodiest actions recorded in June and July 1898.
Today it is a park, in the Reparto San Juan neighborhood, covered by the monuments left by the American and Cuban military, dedicated to the battle.
It is a beautiful passive place, with structures for small children in the Parque de Diversiones – identifiable by their big wheel – at the foot of the hill.
To know more about it : History of Loma de San Juan
Avenida Garzón
If you want to discover the real Santiago, head towards Avenida Victoria de Garzón. It is one of the main streets of the city.There are more activities and stalls on weekends, but it is also worth a visit during the week.Recommendations: Try street food such as roast suckling pig, ice cream or pizza.
Cementerio Santa Ifigenia
Created in 1868 to house the victims of the War of Independence and a simultaneous epidemic of yellow fever, Santa Ifigenia counts among its more than 8,000 tombs many great historical figures, including the mausoleum of José Martí and the final resting place of Fidel Castro.
Once separated by colour and social class, the cemetery has both massive mausoleums and unpretentious tombs.
Neighbouring that of José Marti, the tomb that attracts the most visitors today is that of Fidel Castro Ruz (1926-2016),Nestled peacefully at the western end of the city, the best way to get there is a bici-taxi from Alameda Avenue, or a regular taxi.
Horse carts also run along the avenue to the cemetery for 1 Cuban peso MN.
Good to Know
Although the entrance is technically free, you can only enter with a guide, which you have to pay for.
You will also have to pay a high photo fee, whether you take pictures or videos.
Address: Av. Crombet, Reparto Santa Ifigenia
Tel: 22 63 27 23
Hours: 8am-6pm
Price : Free (but only with a guide) | guide, 1 Cuc
Photo permit: $10 Cuc
To know more about it : History of the Cementerio Ifigenia and Fidel Castro's Tomb
Jardín de los Helechos
This peaceful garden is a lush haven of 350 types of ferns and 90 types of orchids.The former private collection of the santiaguero Manuel Caluff, donated in 1984 to the Academia de Ciencias de Cuba (Cuban Academy of Sciences), continues to make this 3,000 square meter garden bloom in a psychedelic way.For orchids, the best period is from November to January.The bus 5 (20 centavos) from Plaza de Marte, in the centre of Santiago, passes by here, or you can rent a taxi.It is 2 km from the center of Santiago de Cuba, on the road to El Caney.
Tel: 22 60 83 35
Address: Carretera de El Caney No. 129
Price: 2 Cuc
Hours: 9am – 5pm Monday to Friday
Fábrica de Ron Caney
The oldest rum distillery in Cuba, the former Bacardí family business, today produces Caney, Santiago and Varadero brand rums.The shop has a bar, live music and free samples.Unfortunately, there are no factory tours.Address: Av. Jesús Menéndez y Calle Gonzalo de Quesada
Tel: 26 62 55 76
Price: Free
Hours: 9am – 6pm Monday – Saturday
Bacardí Rum Factory
Although not as chic as its modern headquarters in Bermuda, the original Bacardí factory, opened in 1868, breathes history.
Spanish-born founder Don Facundo came up with the world-famous Bacardí bat symbol after discovering a colony of bats in the rafters of the factory.The Cuban government continues to make traditional rum there – the emblematic brand of Ron Caney, Ron Santiago and Ron Varadero.
The Bacardí family fled the island after the Revolution.In total, the factory produces nine million litres of rum a year, 70% of which is exported.There are currently no tours of the factory, but the Barrita de Ron Havana Club, a tourist bar attached to the factory, offers rum sales and tastings.
Tel: 22 65 12 12
Address: Av Jesús Menéndez, in front of the station
Schedule: 09h-18h
Vista Alegre neighbourhood
This elegant mansion district is a place of historical splendour.French-inspired plantation houses, majestic Spanish colonial mansions, even the jewels of Art Deco decay beautifully amidst lush vegetation under the clear Caribbean sun.

Chevy Bel Airs and Cadillacs of the late 1950s take place in the wide, quiet streets where time seems to have stood still four decades ago, just before the Revolution.The neighborhood, framed in bougainvillea and hibiscus, resembles the Vedado of Havana and more the residential areas of Miami.
Baseball
You like sports?Direction: Estadio Guillermón Moncada baseball stadium, home town stadium of the Santiago Orientales team.
Tel: 22 64 10 90
Address: Av. de las Américas, Reparto Sueño
Season: March to November. Games on Tuesday and Thursday at 7:30 pm,
Saturday at 1:30 pm and 7:30 pm, and Sunday at 1:30 pm.
Best things to do in Santiago in 1, 2, 3 or 4 Days
1 day in Santiago de Cuba : stroll in Cespedes Park, Enramada Street, have a Mojito at the Artex patio, visit the Tivoli neighborhood, enjoy a sunset on the roof of Casa Granda, and see a concert at La Trova in Calle Heredia.
2 days : Go to see a concert at the Casa de las Tradiciones, Ifigenia cemetery, stroll on the port Alameda, the Plaza de Marte, el Castillo del Moro…
3 days: del Moro, the Gran Piedra, the Virgen del Cobre, the Cartel de Moncada, the Revolution Square, Ferry to Cayo Granma, or the Casa del Caribe.
4 days : you are ready to marry a Cuban 😉
Best time to go to Santiago de Cuba
July is the key month in the cultural calendar of Santiago de Cuba, where the city is caliente (warm) in more ways than one and the streets are full of festivities.

The festivities begin with the vibrant Festival del Caribe and end with the famous Carnival, and rightly so.

The Festival Internacional de Trova, in March, offers another excellent musical event, when the city rediscovers its musical roots.

From March to June, the city is renowned for its clear waters, which provide excellent conditions for wreck diving off the south coast.

Book well in advance during these peak periods.

During the spring and fall off-season, prices are as much as 25% lower in some areas, but hotels may offer fewer services (some may even close completely).
Best Beaches in Santiago de Cuba
Swimming Pool Day in the Americas

Hotel las Amercias is one of the most renowned hotels in Santiago, and has a large swimming pool with a bar and good internet connection.

Ideal if you want to get away from the urban madness.

The 10 Cuc entrance gives you a 10 Cuc ticket to spend at the restaurant or bar.
Accommodations in Santiago de Cuba
If you don't have a place to stay in Santiago de Cuba, we highly recommend Casa Dulce Domenech (23 CUC per night, breakfast at 4 CUC per person).
The rooms are very good and the terrace overlooking Santiago is charming! Not to mention that the owner is a very good cook.
For travelers with a higher budget, we also recommend the Hotel E San Basilio.
It is located in an old colonial house full of charm.
Inside, you can lounge in rocking chairs in the middle of green plants: it's really Cuba as you imagine it!
Best Restaurant in Santiago de Cuba
If you dream of eating something else than the usual ropa vieja, the Rumba Café will make you happy! On the menu, international dishes: club sandwiches, spaghettis, milkshakes… A real pleasure after a few weeks in Cuba!
Between beaches, mountains, monuments, hikes, Santiago de Cuba will have something to delight you for days. Here is a selection of the most beautiful activities
Due to the US embargo, Cuba often has problems getting basic food supplies.

So take the waiters' "No hay" answer lightly when there are only 3 options available out of the 20 on the menu.

The cheapest restaurants are the state restaurants, called Paladar.

Private restaurants offer the finest cuisine, but prices are correspondingly higher.

A list of the best addresses in the city, classified by category.
Santiago 1900
This spectacular colonial house, former residence of Bacardi, has a beautiful courtyard and two terraces upstairs.

If you are lucky, you will even be treated to a piano concert during your meal.

The kitchen is of very basic quality, but the setting is well worth a visit, if only for a Mojito.
Attention, please: No shorts or T-shirts.
Bartolomé Masó, 354, between Hartmann y Pío Rosado
Tel: 22 623 507
Price: 2-8 Cuc
Service: daily midday to midnight
St. Pauli
The St Pauli has one of the finest kitchens in Santiago.
Professional service, accustomed to receiving groups.
Tel: 22 65 22 92
Address: Enramada #605 e/ Barnada y Plácido
Price: 12-20 Cuc
Email: stpauli.restaurant@gmail.com
Service: 12:00 – 23:00 Monday – Thursday, 12:00 – 00:00 Friday – Sunday
Facebook / TripAdvisor : stpaulirestaurantstgo
Restaurant Zunzún
Located in the Vista Alegre district, the Zunzun is housed in a period bourgeois house.
Address: 159 Manduley Avenue – Calle 7, Vista Alegre,
Tel: 22 64 15 28
Service: 12:00 noon to 10:00 p.m.
Price: 12 – 18 Cuc
House Specialty: Enchilado – Lobster
Restaurant El Barracón
El Barracón highlights Cuban culture and its African roots

The interior of the restaurant has a mixture of Santería and cimarrón (runaway slave) atmosphere.

State Restaurant
Address: Avenida Garzón between Calle 1ra. y Aponte.
Telephone: 22 66 18 77
Service: 11:00 a.m. to 11:00 p.m.
Meals: 3 – 9 Cuc
Specialty: Afro-Cuban food.
Speciality of the house: El caldero
Restaurant Don Antonio
Located in Plaza Dolores, the restaurant Don antonio offers dishes of Cuban standards at reasonable prices in national currency. The wait can be long
Address: Aguilera S/N, Calvario y Reloj,Manzana de La Plaza Dolores
Phone : 22 65 22 05 | 22 65 16 03
Hours of service: 12:00 to 12:00.
Specialty: Cuban Dishes
Specialty of the house: Chicken Rice Chorrera
El Holandes
This magnificent restaurant in one of the oldest houses is ideally located one block away from Parc Céspedes.

You can eat indoors in the large dining room, or on the balcony overlooking the Casa de la Trova.

The food is typically Cuban, and the service is friendly.
Address: Heredia n° 251 between San Félix y el Callejón
Tel: 22 62 48 78
Service: 12h – 23h every day
Meals: 6 – 15 Cuc
Cerverceria Puerto del Rey
On the Alameda, in a converted warehouse among the port buildings. The place to go for a variety of beers brewed according to Austrian technology. You can also get ice cream upstairs, while downstairs food is served and there is music until midnight.
Address: Avenida Jesús Menéndez esquina Duvergel
Tel : 22 66 93 04
Hours: 4pm – 00am Monday, 12pm – 00am Tuesday to Sunday
Bodeguita del Medio
Located on Enramada Street, the main artery of Santiago, the Bodeguita del Medio sums up the reputation of its big sister in Havana.
High quality service, Creole food and typical dishes from the south-eastern region. But also a quality bar with great live music in the evening.
Ideal for groups.
Address: Enramadas Street, San Pedro and Corona.
Tel: 22 65 27 55 ext. 215, 22 65 16 03
Price: 6 – 10 Cuc
Service: 11:30 a.m. to 12:00 p.m.
Specialty: Creole food.
Speciality of the house: roast pork à la santiaguera.
Matamoros Restaurant
Excellent food. This restaurant is one of the oldest in Santiago paying homage to one of the greatest singer-songwriters in Cuba: Matamoros.
There is often live music to liven up the meal.
Address: Calvario Street, at the esquina d'Aguilera, in the city center (Plaza Dolores)
Price: 5 – 15 Cuc
Telephone: 22 68 6459
Hours: 11:00 a.m. to 11:00 p.m.
Specialty: Creole food
Restaurant Hotel Casa Granda
Overlooking Parque Céspedes, the terrace café of Casa Granda, must be one of the best places to watch people in Cuba. In terms of food, we are talking about snacks (hamburgers, hot dogs, sandwiches, etc.).
Tel: 22 65 30 21
Address: Heredia No 201, Casa Granda
Snacks: 2 – 8 Cuc
Schedule : 09h – 00h
Restaurant Hotel Enramadas
If you are looking for a little luxury, this is one of the most elegant restaurants in the city, located at the bottom of Enramada street, near the Malecon.
Price: 2-3 Cuc
Compay Gallo
Upstairs, in a typical narrow street in Santiago, on the edge of the city centre, Compay Gallo makes classic Cuban cuisine with mixed results.
Tel: 22 65 83 95
Address: Máximo Gómez No 503 altos
Price: 4-10 Cuc
Hours: 12h – 23h
Cafeteria Hotel Imperial
Very well located, 1 block from Parc Cespedes, the place is clean, quiet.
Various salads, sandwiches, hamburgers and pizzas. Ideal for lunch

Price: 2 – 7 Cuc
The Juliana
Very good cooking in a colonial period house
El Tren
Good hidden address. Excellent cuisine at a very reasonable price, in local currency.
You will find it going up the enramada street, before arriving at the Plaza de Marte.
Plaza de Armas
The place is beautiful, but unfortunately the restaurant can't afford to do well. The pizzas are not much better than the street pizzas, with a taste of microwave reheated.
Address: Esq. Aguilera and Parque Cespedes
La Fabada de Marieta
Located down enramada street a few blocks away from Parc Cespedes, this restaurant is one of Santiago's favorites.
Original and well-presented cuisine, accompanied by a sound group to liven up the meal.
Fish, Shrimp, Cerdo, etc…
Ideal for groups.
Price : 3,5 a 5 Cuc | 12 Cuc for the Langosta Enchilada
Address: Enramadas esq Padre Pico
Tel : 22 66 93 58
Email: marietas68@nauta.cu
Restaurant El Morro
Spectacular location on a cliffside with a breathtaking view of the sea.

It is very popular with travel agencies.

Ideal if you are planning a visit to Cayo GranMa because it is located right next to the Ciudadmar pier.

Dinner is available upon reservation.
Tel : 22 69 15 76
Address: Castillo del Morro
Price: 6-12 Cuc
Hours: 12:00 to 5:00 p.m.
Other Excellent Restaurants in Santiago :
Sabor Cubano
Ana's balcony
Enfokao
El Balcon de la Gorda
Nautico
El Baturrito
Rough Garden Casa Grande
Casa Grande Cafeteria
Casa de la Tradicion
La Careta
Acaa
Taberna de Dolores
Restaurant Hotel Imperial
Best places to visit near Santiago de Cuba
Basilica El Cobre
To discover the famous Basilica of Nuestra Señora del Cobre, about 20 km west of Santiago de Cuba! A multitude of pilgrims rush there every year to pay homage to the "Cachita", the Virgin of Charity.
After a drive through the countryside west of Santiago, you will see the red Tile tower of the Basilica of Nuestra Señora de la Caridad del Cobre- dedicated to Cuba's patron saint in 1926- before the copper mining town of El Cobre in which it is located.
A taxi is the fastest way out of here.
Most of the excursions in the region include a visit to the basilica…
Tel : 22 34 61 18
Address: Carretera Central, El Cobre | 20 km (12 miles) west of Santiago de Cuba
Opening Hours: Daily 6:30 am – 6 pm.
Taxi: about 50 Cuc the round trip
Read More : History of Basilica del Cobre
The Gran Piedra
Weighing more than 75,000 tons, and located 1,234 meters above sea level, the Gran Piedra is located northeast of the city of Santiago de Cuba.
Every bend in the road reveals a new view of the mountains and the sea,
On a clear night, you can even see the lights of Jamaica…
La Gran Piedra is an ideal place for climbing. The ascent of the steps of the Gran Piedra is not free (2 Cuc).
Lodging at La Gran Piedra
Most people come for the day, but you can stay at the Villa Gran Piedra, an "eco-lodge" with comfortable rustic cabins along the mountain ridge, and stunning views.Close to the Gran Piedra you should not miss the Jardín Ave de Paraíso (Garden of Birds of Paradise; daily from 8am to 5pm).
Castillo del Morro
To the south of the city, the Spanish fortress of Castillo del Morro rises majestically above the bay of Santiago, offering a breathtaking view of the bay and the city.
Built to keep the pirates at bay, the Morro now houses the Museo de la Piratería.
Signage is in Spanish only, but English-speaking guides can guide you for a voluntary tip.You can enjoy an excellent lunch in the restaurant or simply buy snacks and drinks (and souvenirs, of course) in the stands outside.
There is little shade: sunscreen and a hat on board are the musts.
Consider an early morning or late afternoon visit.
A cannon shooting ceremony is held every day at sunset.
Learn More : Castillo del Moro
How to get to Castillo del Morro ?
A taxi from Parque Céspedes costs around 25 Cuc for the round trip, with a waiting time of
It is best to get there by taxi, unless you have a rental car.
The Ruta Turística runs along the bank of the Bahía de Santiago from the city, passing through the Punta Gorda marina and the port of Ciudadmar, near the fortress, from where the ferries to Cayo Granma and La Socapa in the estuary depart.
Address: Carretera del Morro, Km 7.5
Tel: 22 69 15 69
Price: 5 Cuc
Hours: Every day from 10am to 8pm
Chivirico
Located 75 kilometers from Cuba, the town of Chivirico has little interest in itself, but the road from Santiago de Cuba is worth the detour.
Hiking trails (for experts only; beginners refrain!) start from Chivirico and lead to the discovery of the Sierra Maestra.
In the vicinity of Chivirico, there are also a few beaches where you can take a refreshing dip.
Pico Turquino National Park
The park owes its name to Pico Turquino, the highest peak in Cuba (1974 meters).
Pico Turquino National Park is unanimously recognized as one of the most beautiful in Cuba.
Numerous hikes of varying duration and difficulty crisscross the park to the summit, located 130 km west of Santiago de Cuba.
The most adventurous will choose the long hike of 2-3 days (starting from Santo Domingo or Alto del Naranjo in Granma Province).
Those who are in a hurry will be satisfied with a 4 hour / 6 km hike (Province of Santiago de Cuba).
As far as prices are concerned, count 15 to 48 CUC per person depending on the hike you choose.
To prepare your hike, you can get information from the local agency Ecotur in Santiago de Cuba.
Be aware that in the Cuban natural parks, every hiker must be accompanied by a guide.
Baconao National Park
Baconao National Park is an unusual place to say the least! Classified as a biosphere reserve by Unesco, the 80,000 hectare park has, among other points of interest, a car museum, life-size reproductions of dinosaurs and an aquarium! Heteroclite, you may ask? Yes, without any doubt!
Cayo Granma
Cayo Granma is a charming fishermen island, to visit absolutely if you spend several days in Santiago.
As there are no cars or hotels on the island, the atmosphere is quiet, like in the good old days.It has a beautiful beach, a small park where locals gather to play dominoes, a school, a few shops and a good seafood restaurant.
You can walk up to the small, whitewashed Iglesia de San Rafael, at the highest point of the key, or walk around the island in 15 minutes.Many residents offer rooms, and the island is a pleasant and relaxing place to spend a night.
How to get to Cayo GranMa?
There are 3 docks for Cayo GranMa: Malecon de Santiago, CiudadMar or Punta Gorda.
The ferries leave about every hour and a half during the day and follow an itinerary with small stops on the shores of the bay
Malecón de Santiago: Departure every day at 1pm for 1 Cuc.
Ciudad Mar: The ferry to Cayo Granma leaves from the Ciudadmar pier, 1.6 km from the small beach at the foot of El Morro.
Punta Gorda:, Located below the Fort del Morro. 5 Cuc by taxi from the centre
Eating at Cayo GranMa
There is a unique restaurant that offers a magnificent view of the Bay.
Speciality: Fish and seafood. Speciality of the house: Filet du Cayo (Fish fillet with shrimps and cheese).
Possibility to reserve for dinner, only by reservation.
Tel : 22 69 71 09 | 22 65 27 55 ext. 215 | 22 65 16 03
Service: 10:00 a.m. to 5:00 p.m.
More Info
The island was once called Cayo Smith, after the rich English slave merchant who owned it, but the name was changed after the Revolution.Today, Cayo Granma has about 750 inhabitants, some of whom still fish and build boats for a living, although most of them travel by ferry to Santiago to work in factories or offices.
Parque Histórico Abel Santamaría
The Parque Histórico Abel Santamaría is a very busy place, where plants struggle to survive, boys play baseball and groups of elderly people take exercise classes.
The impressive monument in the park is dedicated to Abel Santamaría, Fidel Castro's second-in-command during the uprising and attack on the Moncada barracks in 1953.
Lean More
The rebels were captured and tortured, and most were executed.
It was Santamaría's responsibility to create a diversionary fire at the hospital, which he continued to do, unaware that the main assault had failed, until he was surrounded.
Batista's men gouged out Santamaría's eyes and presented them to her sister, Haydée, a revolutionary comrade, to make her speak, but she remained silent.
Ophthalmological hospitals in Cuba now bear the name Abel Santamaría.
Beaches of Santiago de Cuba
Santiago de Cuba is certainly not known for its beaches, but you will find nice places to swim near the city.
These beaches are very nice to enjoy the Cuban atmosphere. The idea is to arrive early to reserve a beach umbrella, and the beach team will be very attentive to your needs. They will offer you all kinds of services, drinks, massages. You will not be bored for a second. Possibility of eating very good lobster there
The most famous are Cazonal beach and Siboney beach in the Baconao National Park. Otherwise, the beaches along the Chivirico road are known to be the most pleasant in the area.
To go there, negotiate a cab from Santiago
The Carnival of Santiago de Cuba
It is the most famous carnival of the island, if not of the Caribbean! The Carnival of Santiago de Cuba is an unavoidable event of the year and the Santiagueros prepare it months in advance.
During the festivities, costumed processions parade through the streets of the city to the rhythm of the conga.
Best time to Visit Santiago de Cuba
July is the key month in the cultural calendar of Santiago de Cuba, where the city is caliente (warm) in more ways than one and the streets are full of festivities.
The festivities begin with the vibrant Festival del Caribe and end with the famous Carnival, and rightly so.
The Festival Internacional de Trova, in March, offers another excellent musical event, when the city rediscovers its musical roots.
From March to June, the city is renowned for its clear waters, which provide excellent conditions for wreck diving off the south coast.
Book well in advance during these peak periods.
During the spring and fall off-season, prices are as much as 25% lower in some areas, but hotels may offer fewer services (some may even close completely).
How to get to Santiago de Cuba
The fastest way to get to Santiago is by plane, but there are few international flights. The second best option is the Viazul bus or colectivo taxi.
Flights to Santiago de Cuba
The city's Antonio Maceo Airport offers daily flights to and from Havana, as well as direct connections to Canada (Montreal and Toronto) and Europe (Paris and Rome).
Flights from the USA have been discontinued since the arrival of Trump.
Within the country, Cubana operates non-stop flights from Havana to Santiago de Cuba two or three times a day (about 100 Cuc one way, 1½ hours).
The Aeropuerto Internacional Antonio Maceo de Santiago is 8 km south of the city centre; a taxi ride to the city costs about 20 Cuc.
Havanatur operates an airport shuttle service, but reservations must be made in advance.
Pro Tip:
You can also get to the airport by taking bus 212, which leaves from Avenida de los Libertadores, in front of the Hospital de Maternidad.

Bus 213 also goes to the airport from the same stop, but first visit Punta Gorda. Both buses stop just past the western end of the airport parking lot, to the left of the entrances.
Bus Havana to Santiago
Tourist buses such as Transtur can be booked at major hotels, Havanatur offices or other travel agencies.
Víazul has modern, air-conditioned buses that run from Santiago to Havana; trips cost 51 Cuc per person in each direction. Payment is accepted in cash and with major credit cards.
Prices and timetables of Departure Viazul from Santiago
Baracoa 15 4¾ 1h50, 8h
Havana 51 13-14½ 12:30, 6:30, 4pm
Trinidad 33 11½ 7:30 pm
Varadero 49 15 20h
Bus information
Rumbos. | Parque Céspedes | Santiago | 22 62 59 69.
The national bus station is 3 km northeast of the city center. Buses to Víazul leave from the same station.
In general, city buses, reserved for Cubans, are not recommended. They are crowded, relatively slow, and tickets are always in high demand.
Car Rental
The main roads connecting Santiago are well maintained, and once you leave the cities, traffic is light.
For a short trip, it is better to take a taxi, or even better, an old American chevrolet.
In high season there is often a lack of rental cars.
The airport offices usually have better availability than those in the city.
Please note:
The signage is bad and it is easy to make mistakes. Do not hesitate to ask for directions: Cubans will be happy to help you.
Gas stations in the state of Servi-Cupet line the main roads.
Many are open 24 hours and sell food and beverages. Stations are also plentiful in the cities.
Car Rental Agencies
Cubacar
Tel : 22 68 71 60
Hotel las Américas, Equina Avs de las Américas & General Cebreco
Schedule : 08h – 22h
Also rents mopeds for 25 Cuc per day.
Transtur
Address: Parque Céspedes, Centro Histórico | Santiago
Tel: 22 64 11 21
Routes and Distances
Distance Havana to Santiago: 860 km (534 miles).
Recommended route: Havana – Bayamo (127 km) then Bayamo – Holguín (140 km),
Around Santiago: The astonishing 200 km road that stretches west of Santiago de Cuba along the coast is wedged between the Sierra Maestra and the Caribbean Sea.
Santiago to Baracoa – 250 km : A beautiful road, called the Farola, runs along the coast before turning north through winding mountain roads. Count 5 hours plus your breaks.
Get to Santiago de Cuba by taxi colectivo
Modern and well-maintained tourist taxis, which charge in CUC, gather in front of hotels, transport centres and major tourist sites.
Private taxis with yellow plates are much cheaper, and you can rent them for a day's city driving for about 20 CUC.
Get to Santiago de Cuba by train
A night train runs between Havana and Santiago de Cuba, once a day in both directions, with stops in Camagüey, Ciego de Ávila and Santa Clara in central Cuba.
Check departure times in advance.
Another, slower motorized train (through the island) runs to Havana when a Tren Francés is not running, stopping at Las Tunas, Ciego de Ávila, Guayos and Matanzas.
The modern French-style train station is located near the rum distillery on the port, six blocks west of Céspedes Park.
Payment is only accepted in cash.
It is best to buy your ticket as far in advance as possible.
Address: Estación de Ferrocarriles – Av Jesús Menéndez & Martí
Tel: 22 62 28 36
Price Havana – Santiago: 50 Cuc aprox
Get to Santiago de Cuba by Truck colectivos
Intermittent passenger trucks leave from the Serrano Intercommunal Bus Station (Equina Av Jesús Menéndez & Sánchez Hechavarría; MN $ 5) near the train station to travel to Guantánamo and Bayamo throughout the day.
Prices are a few pesos and the best time to board is early in the morning. For these destinations, don't bother with the ticket office.
just find the truck parked in front going in your direction. Trucks for Caletón Blanco and Chivirico also leave from here.
The intercity bus station (Terminal Cuatro, Equina Av de los Libertadores & Calle 4; MN$1), 2 km northeast of Parque Céspedes, offers two buses a day to El Cobre.
Two buses per day also leave from here to Baconao.
How to get around in Santiago
In Santiago everything is close: you can walk almost everywhere. However the city is hilly, so get ready to pour a few drops of sweat.
And like everywhere in Cuba, there are taxis that will take you wherever you want.
Get around in Santiago de Cuba by Taxi
Taxis are waiting on Céspedes Park near the cathedral.
Always set the price before getting into a taxi.
At the airport, costs vary between 8-30 Cuc, depending on the duration and condition of the car.

There is also a Transtur taxi station (tel: 22 68 71 60) in front of Meliá Santiago de Cuba.

Proposed destinations: Castillo del Moro, Cementeria Santa Efigenia, Plaza de la Revolucion, Cuartel Moncada, Fábrica de Ron Bacardi, La Gran Piedra, Iglesia Caridad del Cobre, Loma de San Juan, Playas y otros

Here are some useful numbers:
Frank Alexis Cabrera Tel : 52 6874 82 | 22 65 73 83
Orlando 52 51 45 73
Pablo 52 07 30 97
Roberto Carlos 53630703 Whatsapp (o Argelio 52 98 22 00 )
Isidrio
Get around in Santiago de Cuba by Bus
Useful city buses are :
Bus 212 to the airport and Ciudamar (1 MN$),
Bus 213 to Punta Gorda (1 MN$) (these two buses leave from Av de los
Libertadores, in front of the Hospital de Maternidad, and go south to Felix Peña in the casco histórico),
Bus 214, 401 and 407 (1 MN$) to Siboney (near Av de los Libertadores n° 425).
Bus 5 for El Caney stops at the esquina northwest of Plaza de Marte and at General Cebreco and Calle 3 in Vista Alegre.
These buses run every hour; more frequent trucks serve the same routes.

Northbound trucks leave from Av de las Américas, near Calle M.

In trucks and buses, you should be careful of pickpockets and carry your backpack in front of them.
Get around in Santiago de Cuba by Picicore (Colectivos)
It's the newest fashionable transport.

Prices in national currency rarely cost more than 5 Cuban pesos MN
Get around in Santiago de Cuba by Moto Taxi
In principle they are forbidden to tourists.
Get around in Santiago de Cuba by Bici Taxi
The famous bicitaxis, or bike taxis, are a relaxing way to see the sights.

Always set the price before boarding a taxi.

Some will charge 5 Cuc per hour.

For Cubans a short trip often costs 5 pesos in national currency.
Get around in Santiago de Cuba : Bike Rental
You can also rent a bike
Music in Santiago de Cuba
The passion of the people of Santiago for music dates back to the very foundation of the city.

From the first centuries of colonization, music from Spain and that of African slaves were linked: drums and rattles were added to vihuelas and guitars to create new sounds and rhythms, typical of cultural crossbreeding.

Although the verified existence of the Sound begins in the twilight of the nineteenth century, many claim that the Sound of the Ma'Teodora was played in Santiago de Cuba at the end of the sixteenth century and was the starting point of a long musical evolution in the rural areas of eastern Cuba.

Later, this rhythm would spread throughout the country and become the musical genre that best represents Cuban idiosyncrasy and culture.
El Són
The trovador takes his guitar and sings to the woman, to the country, to love.

The lyrics of the traditional trova songs have a literary intention that generally takes on more importance than the melody itself, although they are inseparable.

Artists of the stature of Pepe Sánchez and Sindo Garay are among the most talented and expressive authors and performers.

The trova does not escape the cultural crossbreeding, it is above all the fruit of it.
The possibilities of courses abound in Santiago de Cuba, from architecture to music, official or not.
You can register in advance or take the train on your arrival.
Where to take dance classes or music classes in Santiago de Cuba ?
Ballet Folklórico Cutumba
Santiago's folklore groups are very open and can organize dance and percussion classes in groups or individually.
Start with the Cutumba, who often perform at the Hotel las Américas. The Conjunto Folklórico deOriente is also very useful.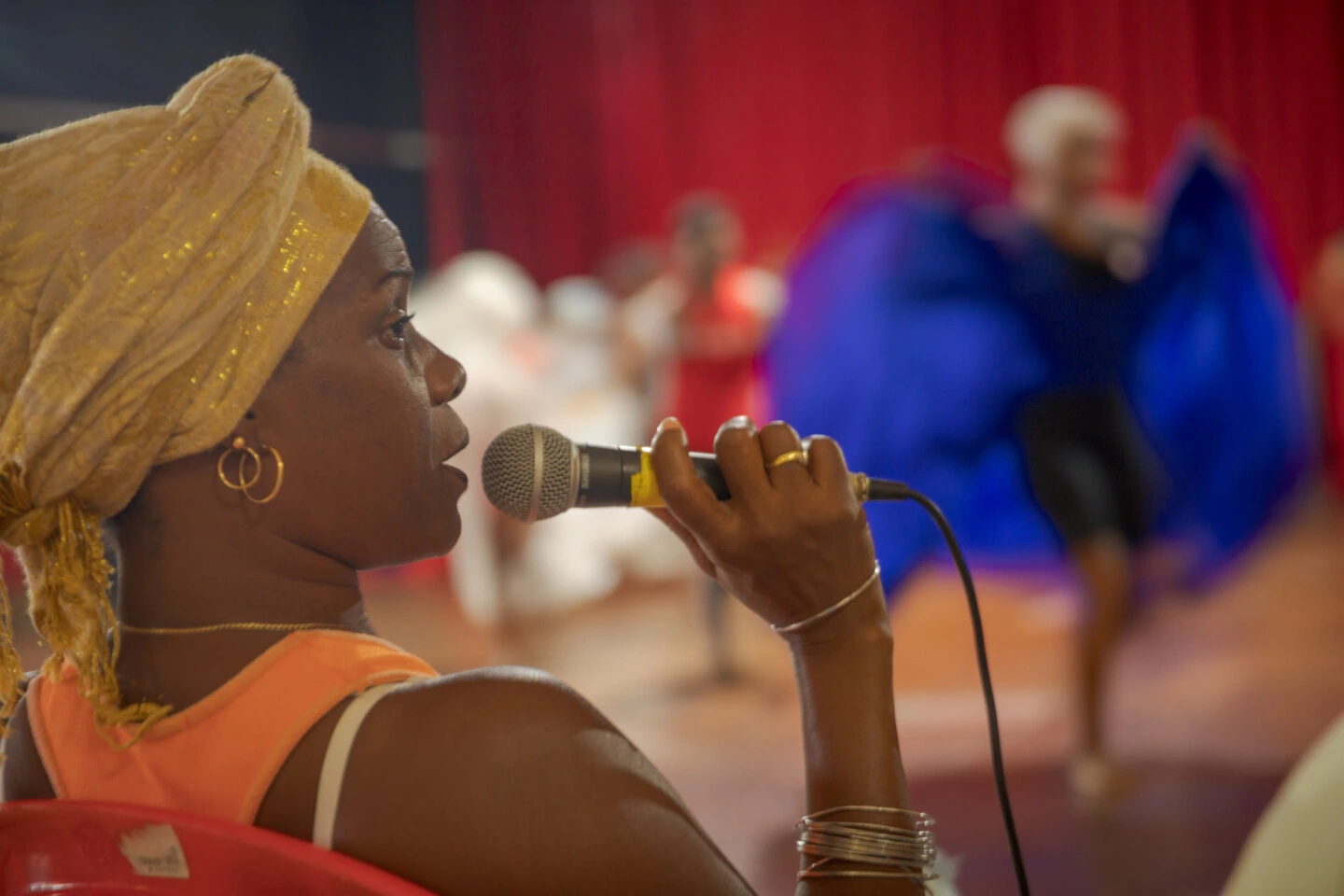 Casa del Caribe
Portal of Santería and Folklórico, this cultural institution can organize conga, son and salsa dance classes for 8 cuc per hour.
Resident staff member Juan Eduardo Castillo can also organize percussion classes.
Real amateurs can inquire about in-depth courses on Afro-Cuban religions and culture. They are experts and very flexible.
Private Lessons
If you wanna take private lessons when you arrive in Santiago, head to Artex, Casa del Queso, La Trova. The best recommendation would be la Claqueta where there are tons of amazing dancers ready to propose private lessons at affordable prices.
Since all travel agencies are government-run, they offer quality services and consistent prices.
Tours and Day Trips from Santiago de Cuba
Tours in Santiago de Cuba Provided by Cubatur
Sell all types of excursions
Heredia Agency
Address: Heredia No 701 Av Victoriano Garzón
Tel: 22 65 25 60
Hours: 08h – 20h
City Tour + Morro
Pick up at the hotel in an air-conditioned bus for a walk through the main streets of Santiago de Cuba and its places of interest such as the Loma de San Juan, the old residential areas, the Plaza de la Revolución, the Moncada, the entrance to the Ron Caney Bar (with a drink) and the Morro Castle (World Heritage Site).
Visit the Santa Ifigenia cemetery, the tour also includes a stay at the Céspedes Park (20mn optional).
All this with the attention of a specialized guide.
Time: 5:00 am Description 09:00-12:00 am
Meals: Lunch not included
Morro, Cayo, Cobre
Visit to the Sanctuary of the Virgin of Charity of El Cobre.
Visit to the Castle of Morro (World Heritage Site).
Transfer to the bay and crossing to Granma Key for lunch (drink included).
Duration: 6hrs – 09h00-15h00
Meals: Lunch included
History Sea and Religion
Pick up at the hotel in an air-conditioned bus for a walk through the main streets of Santiago de Cuba and its attractions such as the Loma de San Juan, the old residential areas, Plaza de la Revolución, the Moncada, the entrance to the Ron Caney Bar (with a drink) and the Morro Castle (World Heritage Site).
Departure for the visit of the Sanctuary of the Virgen de la Caridad in El Cobre.
Transfer to the bay and crossing of the bay to Granma Key for lunch (drink included).
Visit to the Santa Ifigenia Cemetery, the tour also includes a stay in the Céspedes Park (45min optional) and a visit to the historical center of the city.
All this with the attention of a specialized guide.
Duration: 8h
Time: 9:00 a.m. – 4:00 p.m.
Tours in Santiago de Cuba provided by Havana Tour
Excursion Santiago Colonial
Visit of the Loma de San Juan, scene of the Spanish-Cuban-American war.
Visit of the Ron Caney Bar (Cuban rum tasting).
Visit of the colonial historical center
Excursion Sea History and Religion
Walk through the main streets of Santiago and its places of interest, the Loma de San Juan, the Vista Alegre district, the Plaza de la Revolución and the old Moncada barracks.
Visit the Ron Caney Bar Museum and then the Castillo del Morro.
Ferry crossing to Cayo Granma.
Lunch at the Cayo restaurant with 1 drink included.
Departure for the Sanctuary of the Virgen de la Caridad del Cobre.
Always with the attention of a specialized guide.
Havana Tour Offices in Santiago de cuba
Oficina Central
Address: Calle B S/N entren M y 4ta Reparto Terrazas
Phone: 22 64 79 04 | 22 64 79 11 | 22 64 12 37
Buró Centro de Negocios
Address: Calle 4 esq. a 7. Reparto Vista Alegre
Tel: 22 64 3603
Oficina Aeropuerto Internacional Antonio Maceo Grajales
Buró Meliá Santiago de Cuba
Oficina San Pedro y Enramadas
Address: San Pedro esq. a Enramadas
Tel: 22 68 72 30
Infotur
Tel: 22 68 60 68
Address: Felix Peña 562
Hours: 08h-20pm
Cubanacán
Tel: 22 68 64 12
Address: Hotel Casa Granda
Hours: 8am-6pm
Tours In Santiago de Cuba provided by Ecotur
As their name suggests, they specialize in ecotourism, but they also offer the must-see attractions of Santiago.
Tel : 22 68 72 79
Address: Général Lacret n° 701, esquina Hartmann
Safari Comandancia de la Plata (Ecotur)
Departure from the city of Santiago de Cuba Panoramic tour passing through the towns of Contramaestre, Bayamo and multiple localities until arriving at the municipality of Bartolomé Masó.
You will begin steep ascents and descents through the Sierra Maestra, where you will enjoy the steepest slope in Cuba with 450 degrees of inclination.
Arrival at Alto del Naranjo, where you will receive information about the route and the different places of interest in the area.
Beginning of the trekking to the Comandancia de la Plata, discovery of the flora and fauna of our country and visit to the House of the Medina family, who supported the guerrillas with their silence and provisions.

Visit to the Commandancia, where you will be able to observe the installations of the site and appreciate the way of life of the guerrillas, as well as Fidel Castro's house and its history.

Return to the Alto del Naranjo at 3 km.
Arrival at Villa Santo Domingo for lunch.
Refreshing bath by the river near the Hotel Santo Domingo, departure for Santiago de Cuba.
Duration: 12 hours Departure time: 5:00 am
Excursion to the Gran Piedra
Panoramic trip along the road to Baconao. You will enjoy the 14 km ascent to the Gran Piedra.
Visit the Bird of Paradise Garden, a place perfumed by the pine of the cypresses and the scent of the flowers. Ascent to the viewpoint of La Gran Piedra.
You have to climb 459 steps enjoying the different types of ferns, listening to the singing of the birds and always accompanied by the butterfly Calysto Sybilla. Visit the La Isabelica Museum.
You will learn about the history of the place and the process of harvesting and preparing coffee.
Enjoy a Creole lunch at the Hotel de la Gran Piedra.

Return to the hotel.
Minimum excursion: 2 pax
Languages: English, French, Spanish Departure from the hotel 08:30 h.
Excursion Mountain Safari
Departure by jeep 4X4 to the Sanctuary of the Virgen de la Caridad del Cobre Arrival in Saltón, welcome cocktail, brief information about the hotel and visit of the trails.
Enjoy a Creole lunch with drink included.
Visit to the command of the 3rd Eastern Front, crossing the Sierra Maestra mountains towards the south coast. Weather at the beach.
Return to the hotel.
Duration: 09h00 hours
Minimum pax: 2
Tours provided by Cubamar
Excursion Saltón al Verde
Birdwatching, walking tour, visit of historical sites, visit of coffee plantations, visit of coffee factories, (Pulper), visit of the coffee experimental centre (Coffee Debut).
Sendero Fluvial Excursion
Birdwatching, walking tours, encountering the history and culture of the locality and appreciating the flora and fauna, visiting caves, ponds and cold and hot springs, as well as observing visuals of the pre-mountainous landscape of the region of Mafo, Contramaestre, Sierra Maestra.
Ascent of Pico Turquino
Bird watching, walking tour It is a cognitive excursion with guide service from the entrance of the caves with flora and fauna guide service.
You can go up and down the south side of the highest elevation of the island (1,974 m above sea level).
Dive Centers in Santiago de Cuba
Hotel Sierra Mar
Boats: Water taxis Courses: Resort, Open Water, Advanced and Rescue Diver It has oxygenation equipment, the area has 28 immersion points, among which we recommend Maze, Paraíso 1 and 2, La Pared and the sunken ship Colón.
Hotel Carisol – Los Corales
Boats: water taxis Courses: Resort, Open Water, Advanced and RescueDiver
It has oxygenation equipment, the area has 26 immersion points, among which we recommend El Ferry, the boat Sprint Carol, El Guarico, Coral
Garden and Morillo.
Reservation information :
Tel: 22 68 63 14 | 22 69 14 46 | 22 68 61 08
Email: mercado@marlin.scu.tur.cu
Website: www.nauticamarlin.com
Santiago de Cuba Nightlife
In Santiago, "the choice is difficult" would be an understatement. To find out what's going on, check out the biweekly Cartelera Cultural. The reception at the Casa Granda Hotel usually has copies.
Best Places to see Live Music
Casa de la Trova
One of Santiago de Cuba's Absolute musts is the Casa de la Trova.

For Cuban musicians it is an honour to be invited to play here, where all the greatest musicians of Cuba have performed, such as the musicians of Buena Vista Social Club.

Upstairs is a large hall known as the Salón de Grandes Personas.

Daytime concerts are organized downstairs for a minimal cost.

Travel agencies offer evening packages that include transportation, drinks and a CD, but it is cheaper to come on your own.

Evening concerts start at 10pm, but there are often daytime festivities in the downstairs living room.

Please note that you are not allowed to record the music.
Address: Heredia 208 entre . San Pedro y San Felix 208
Tel : 22 62 39 43 | 22 65 26 89
Price : 1 Cuc – 2 Cuc during the day | 5 Cuc in the evening
Schedules: 11:00 am – 1:00 am.
More info
La Casa is dedicated to the Cuban Trovador pioneer, José "Pepe" Sánchez (1856-1928) and opened his first trova (traditional poetic song) house in Cuba in March 1968.
The former Beatle Paul McCartney once visited; his autographed photo hangs on the wall
Bar la Claqueta
If you are passionate about Salsa Casino, this is a must.
You will find some of the best dancers in the city and even in the country.
There is live music here in the evenings and on weekends.
Address: Calle Santo Tomás between Heredia y San Basilio.
Telephone: 22 65 22 43
Schedule: 9:00 pm to 1:00 am Monday to Sunday
Casa de las Tradiciones
Smaller and more intimate than the Casa de la Trova, is the Casa de las Tradiciones, in a large colonial house with a central courtyard.
An ideal place to come in the evening for an authentic trova, concerts are organized there every evening.
They also have a restaurant for lunch.
Address: Rabí 154 entre José de Diego y García
Tel: 22 65 38 92
Timetable : 21h00 23h30
Casa del Queso
The Artex Patio
The patio of Artex is the first place you have to go if you want to see music in Santiago.
Excellent groups in a friendly and relaxed atmosphere every morning between 11h-13h and 17h-19h.
The program changes every day
If you want to take dance lessons, Leo gives dance classes in the late afternoon, on a voluntary basis.
They also have a restaurant service.
Address: Heredia 304 enters. Carnicería y Calvario
Tel: 22 65 48 14
Patio los Dos Abuelos
The Patio de los Abuelos was once one of the bastions of Live music in Santiago de Cuba.
More intimate than La Trova, there is always excellent live music throughout the week.
Tel : 22 62 32 67 | 22 62 33 02
Address: 5 Pérez Carbó Street, between l'Escario and Garzón Avenue.
Price: 2 Cuc
Hours: 21h-1h from Monday to Saturday
Casa del Caribe
Address: 13th Street / 8th Street and Manduley Ave. Vista Alegre
Phone : 22 64 86 09 | 22 64 48 46
Schedule: 18h00-21h00
Tumba francesa
Address: Carnicería 268 / Habana y Trinidad
Telephone: 22 66 94 43
Timetable: 21:00-12:00 Tuesday and Thursday
Hotel Casa Granda
At lunchtime, a music band plays in the bar-café under the porch of the Casa Granda Hotel.
Its rooftop bar occasionally offers live music shows and is also a great place to enjoy a drink.
Address: Calle Heredia 201, Parque Céspedes
Telephone: 22 65 30 21
Sala de Conciertos Dolores
Old church converted into a concert hall
The calendar of events is displayed externally.
Address: Plaza Dolores – Aguilera & Mayía Rodríguez
Tel : 22 62 46 23 | 22 65 23 56
Tropicana Santiago
Inspired by its big brother in Havana, Santiago de Cuba's cabaret offers a complete cabaret for an affordable price.
Hotels and travel agencies offer outings.
It is also possible to go there by taxi or rental car.
Address: Circunvalación, Reparto Sueño
Tel : 22 64 25 79
Price: 30 Cuc / pers the transport (includes transport, entrance, and a drink).
Timetable : From 10pm Wednesday to Sunday
Best Places to see rehearsals in Santiago de Cuba
Folklorico Cutumba
the highly renowned Afro-Cuban Ballet Folklórico Cutumba is the first Cuban Ballet, founded in 1959 as a symbol of the cultural triumph of the Cuban revolution.
It is undoubtedly the most prestigious in the whole country, rivaling the national ballet.
When they are not on tour, it is possible to attend rehearsals.
They present a show most Saturday nights at the Las Americas Hotel.
Address: Calle Trocha in Santa Ursula Centro Histórico
Tel: 22 65 51 73
Price: 7 Cuc to attend the rehearsal
Rehearsal times : 09h to 13h Tuesday to Friday
Comercial Management: Leydis E. Aldana Salazar ( Calle L #101 e/3ra y Ave Cespedes Rpto Sueño) 54 53 99 65 | 22 66 39 61 | 22 66 31 01 | Email : leydise@nauta.cu
Office Gestor Ventas : Jorge Jorge Movil 53 14 74 05 | 22 62 02 14 | Email : jorgejorgefernandez@nauta.cu | jorgejorge01@nauta.cu | paradisoscu@gmail.com
Conjunto Folklórico de Oriente
The Folklorico de Oriente is a branch of the Folklorico Cutumba.
They perform a wide range of Afro-Cuban dance genres, from gagá and bembé to tumba francesa.
Tel: 22 64 31 78
Address: Teatro José María Heredia – Esquina Avenue de las Américas & de los Desfiles
Casa de la Cultura
The Casa de la Cultura is another symbol of the cultural triumph of the Cuban revolution. Free courses are offered to the Cuban people.
In the morning you may have the chance to attend the rehearsals of the folklorico Cazumbi, children's shows or even santiagueros rappers.
Other Cultural Places
Teatro Heredia
Santiago's huge modern theatre and congress centre was built during the city's renovation in the early 1990s.
Rock and folk concerts are often held in the 2459-seat Sala Principal, while the 120-seat Café Cantante Niagara hosts more esoteric events.
The Conjunto Folklórico de Oriente is based here.
Address: Av. de las Américas y Av. de los Desfiles
Tel : 22 64 31 34 | 22 64 31 90
Opening hours: Friday to Sunday at 9 pm.
UNEAC
The local office of the Unión de Escritores y Artistas de Cuba (Union ofCuban Writers and Artists) organizes poetry readings, artistic performances, conferences and literary discussions.
Martí Theater
Shows for children are presented at 5 p.m. on Saturdays and Sundays in this theatre located near General Portuondo, opposite the Iglesia de Santo Tomás.
Tel: 22 62 05 07
Address: Félix Peña n° 313
Cinema Rialto
This cinema, located next to the cathedral, is one of the few currently operating in Santiago de Cuba. Occasional films in English.
Tel: 22 62 30 35
Address: Félix Peña No. 654
Events in Santiago de Cuba
Few cities can rival the variety and vivacity of Santiago de Cuba's annual festivals.
Festival de la Trova
Fiesta de San Juan
The summer season begins with the Fiesta de San Juan, celebrated with processions and conga dances by cultural associations called focos culturales.
Festival del Caribe
Festival of Caribbean culture held in July.
Together with the Fiesta del Fuego, it's a warm-up for Carnival.
Santiago de Cuba's Carnival
Synthesis of the identity of the Cuban population, it became the space that Africans found to express their religious faith, their customs and to add the dominant note of the drum.
This Carnival has its origins in the Festivals of Mamarrachos which took place at the beginning of the 17th century and which have evolved into the massive festival we know today and which takes place between the 21st and 27th of July.
If you are a photography enthusiast, this carnival is a great place to take beautiful pictures.
The Museo del Carnaval de Santiago offers a glimpse into the culture and history of the carnival.
Read more
Santeria
The city also has its own religious tendencies, with a significant number of inhabitants who continue to adhere to the Santeria faith, a combination of Spanish Catholic religious traditions and those of voodoo (or vodun) beliefs originating in West Africa.
Fiesta del Fuego
The literal carnival fire, this celebration in early July includes a ceremony where the devil is burned to the joy of the huge crowds on the Malecón.
Dates: July
Festival Internacional Matamoros Son
A tribute to one of the great musicians of Santiago de Cuba, Miguel Matamoros, begins at the end of October with dances, lectures, concerts and workshops. The main venues are the Casa de la Trova and the Teatro José María Heredia.
Shopping
Santiago and Cuba in general have allowed the best artists in the world from surrealist oil paintings to wood carvings.

The city's painters are particularly gifted
Important:
If you buy a work of art, don't forget to buy an 8 Cuc export permit from the artist.
Art Galleries
Arte Universal. Exhibitions and works of art are for sale at Arte Universal.
Tel: 22 65 73 99
Adress : Calle 1, between Calle M y Calle Terraza, Reparto Vista Alegre
Hours: 9am – 7pm Monday to Saturday, 9am – 5pm Sunday
Entrance: 1 Cuc.
Galería de Arte de Oriente
Probably the best gallery in Santiago de Cuba, the art is of high quality.
Tel: 22 65 38 57
Address: Général Lacret n° 656
Opening hours: 9.30am – 6pm Monday to Friday, 9.30am – 12pm Saturday, 10am – 10pm Sunday
Books
Casa del Caribe
This bookstore offers a good selection of books in Spanish with Cuban themes.
Address: Calle 13, No. 154, esq. de Calle 5, Reparto Vista Alegre
Tel: 22 64 22 85
Crafts
Cubartesania
Close to Parc Céspedes, this state-owned shop sells high quality paintings and a wide range of crafts.
Address: Calle Bartolomé Masó y Calle Félix Peña
Tobacco
Fábrica de Tabacos César Escalante.
If cigars are your passion, this small factory uses the traditional method to roll some of the best in the region.
Address: Av. Jesús Menéndez 703, esq. de Calle Bartolomé Masó (San Basilio)
Tel : 22 62 23 66
Opening hours: closed on Sundays.
La Escalera de Edy bookshop
A veritable museum of old and rare books stacked on the ceiling, plus vinyl records.
Trovadores dressed in sombreros often sit on the stairs and play music.
Address: Heredia No. 265
Hours: 10am – 10pm
ARTex
Focuses on musical memories, with a respectable selection of CDs and cassettes.
Tel: 22 65 48 14
Address: Patio ARTex Heredia No 208
Opening hours: 11am-7pm Tuesday to Sunday
Librería Internacional
On the south side of Parc Céspedes.
Decent selection of political titles in English; sells postcards and stamps.
Tel: 22 68 71 47
Address: Heredia, between General Lacret and de Félix Peña
Centro de Negocios Alameda
The latest project for the regeneration of the port consists in opening this
shopping centre in a colonial building : internet, a pharmacy, the immigration office and a Cuban office, plus shops.
Address: Av Jesus Menéndez esquina José A Saco
Hours: 08:30 – 16:30
Safety in Santiago de Cuba
There is much less crime outside the capital, but in Santiago de Cuba you have to take the same precautions as in Havana.
Be careful in the Tivoli district, especially if you come home late at night.
Jineteros
Being Jineteros is a sport in Santiago de Cuba, or rather a mode of survival.
Santiago is one of the cities with the most Jineteros in Cuba.
It's part of the local folklore, which makes people either love her or hate her.
Everyone will approach you with a different approach: cigars, girls, currency exchange, internet maps, books, excursions…
It can be very tiring after a few days to be seen only on a wallet on paste, but with a little humour it goes very well.
Also, if you go outside the perimeter of Cespedes Park to the Plaza Dolores and the adjacent streets, you can walk very quietly everywhere.
Traffic and Traffic
Always walk on the sidewalk. Cubans respect the signs, so do the same.
Beware of electric motorcycles !!! They are totally silent and you can't hear them coming.
Always look behind you before crossing, even if you don't hear anything.
Practical Information
Internet Access in Santiago de Cuba
There is wi-fi in most public squares, in the big hotels and in some private casas.
Buy wi-fi credit on scratch cards at Etecsa Telepunto centres,
There is usually a long queue, allow 1 hour to buy your refills.
Don't buy your cards from street vendors, it's a scam.
You can also change them in hotel lobbies such as Casa Granda or the Imperial Hotel.
If you plan to come back to Cuba several times, consider taking a phone line, at 30 Cuc le ship, it will avoid you to enter the long code at each connection.
Etecsa Multiservicios
Tel: 22 62 47 84
Adress : Esquina de la calle Heredia & Félix Peña (Small office in Plaza Céspedes)
Prices : internet for 1 hour 1 Cuc ;
Hours: 8:30 am – 7:30 pm
Etecsa Telepunto
Purchase of Internet card + purchase of Chip and Cuban 3g Internet line.
Tel: 22 65 75 21
Address: Esquina de la rue Hartmann & Tamayo Fleites
Timetable: 8:30 am – 7:30 pm
Medical Services in Santiago de Cuba
Santiago has the best access to medicine and related services in the region.
Clínica Internacional Cubanacán Servimed
Tel: 22 64 25 89
Adress : Esquina de l'Avenue Raúl Pujol & Calle 10, Vista Alegre
Hours: 24 hours a day
Farmacia Clínica Internacional
Tel: 22 64 25 89
Address : Esquina de l'Avenue Raúl Pujol & Calle 10
Hours: 24 hours a day
Farmacia Internacional
Meliá Santiago de Cuba
Address: Esquina de l'Avenue de las Américas & Calle M
Hours: 08h-18h
Banks
The city has many banks and exchange centres.
Banco de Crédito y Comercio
Tel : 22 62 80 06
Address : Felix Peña No 614 (In the modern building of Plaza Céspedes)
Hours: 09:00-17:00 Monday to Friday
Banco Financiero Internacional
Has an automatic cash dispenser.
Tel : 22 68 62 52
Address : Corner Av de las Américas & Calle I
Hours: 09:00-15:00 Monday to Friday
Bandec
Has an automatic cash dispenser.
Adress : A l'esquina de José A Saco & Mariano Corona
Hours : 09h-15h Monday to Friday
Changing money (Cadecas)
Cadecas are the official places to change money.
Recently the guests in Casas Particulares have been offering much more advantageous exchange rates than in Cadecas.
Aguilera
Tel: 22 65 13 83
Address: Aguilera No. 508;
8.30 am to 4 pm Monday to Friday, until 11.30 am on Saturday.
José A Saco
Address: José A Saco No. 409
Hours: from 8:30 am to 4 pm Monday to Friday, until 11:30 am on Saturday.
Post Office
Tel: 22 62 21 08
Address: Aguilera No. 519
Hours: 09h-17h
History of Santiago de Cuba
Founded by the Spaniards in 1514, Santiago was the capital of Cuba from 1524 to 1549.

Cuba's first cathedral was built there as early as 1528, and Santiago de Cuba actually served as the island's capital until 1589.

At the centre of the new Spanish colony in the 16th and early 17th centuries, Santiago de Cuba was the capital of Cuba until it was usurped by Havana in 1607.

Because of its deep natural harbour and Caribbean coast, it was also the centre of the island's prosperous slave trade in the 1700s and 1800s.

In 1898, the surrender of Spain to the United States took place in Santiago, but the city then gradually slipped to second-class status after the government moved to Havana.

The city began its multicultural boom with the influx of slaves from West Africa, bringing their own cultural practices and slowly blending them with those of the Spanish over the decades.

The sense that Santiago is a melting pot of cultures only increased in the late 1700s, with an influx of British and French immigrants seeking refuge in other Caribbean islands.

Cultural influences came mainly from Haiti, Jamaica, Barbados and Africa.

Today, Santiago is the only official "Hero City" on the island, revered as a bastion of Cuban nationalism and the cradle of the Revolution.

It was here, on July 26, 1953, that the Revolution began with the failed assault by Castro and his rebels on the garrison of the Moncada, then Cuba's second largest military post.

"It was also here that Castro accepted the surrender of Batista's army in 1959.

This is also where Castro's ashes were finally buried after his death in 2016.

The town's motto is "Rebelde Ayer, Hospitalaria Hoy, Heroico Siempre" – Rebellious yesterday, hospitable today, heroic forever.

The city was badly damaged by Hurricane Sandy in 2012, losing most of its trees as well as many buildings, but subsequent repairs and a facelift to celebrate its 500th anniversary in 2015 mean that the centre is now attractive again.

The slower pace of development that followed has undeniable advantages.

Travelling some 20 kilometres along the coast in both directions from the provincial capital, you find yourself on another planet of rugged coves, breaking waves, historic coffee plantations and emerald hills where endemism is rampant.
Cuba's true cultural capital?
This is a point that Havana would dispute, yet when you go to Santiago de Cuba, you might argue that the city is the true capital of Cuban culture.

There are things that are considered to be typically Cuban that actually began in Santiago de Cuba.

Some people say that the sound (which was the precursor of salsa) started in the Sierra Escambray mountains on the other side of the country, and others suggest that the music that gave birth to salsa really took off in Santiago de Cuba, popularized by African influences that were more present in the city than in other parts of the country.

Whatever story you choose to believe, there is no denying that your trip to Santiago de Cuba will be marked by a memorable soundtrack.

Music abounds during the city's annual carnival (which sends the city into a frenzy in the second half of July – avoid it if you're in the mood for rest and relaxation).

There are also an impressive number of concerts in different places in the city.

Don't miss the Casa de la Trova to listen to exceptional music that showcases the different styles for which the city is famous.
UNESO World Heritage Sites
Santiago de Cuba has the distinction of being the only province in Cuba that has three of the ten properties recognized by UNESCO as World Heritage to date.

These are the Castle of San Pedro de la Roca and the Archaeological Landscape of the First Coffee Plantations of South-East Cuba, both declared in the category of cultural property in 1997 and 2000 respectively, and the Tumba Francesa, "La Caridad de Oriente", classified as intangible property in 2003.
La Tumba Francesa
The Tumba francesa "La Charité d'Orient" was declared World Heritage by UNESCO in the category of Masterpieces of the Oral and Intangible Heritage of Humanity in 2003.

It arrived in Cuba with Haitian slaves, who were transferred to the eastern part of the country after the revolts that shook Haiti in 1790.

It is an authentic tradition that continues today, born of the fusion of the rhythms and songs of Dahomeyan Africa (Niger, Congo and Benin) with the French dances of the Caribbean, part of the best heritage of their slave ancestors and slave owners who bear witness to one of the most significant historical events of colonial America: the Haitian Revolution.

The Tumba Francesa originated in the eighteenth century, when French masters allowed their slave endowments to have fun at the time of the French Revolution.

It is called "tumba" because it has a rhythmic base given by the African drums, and "French" because the slave, owned by the French colonists, appropriated the dances, song lyrics and elements of the masters' clothing, with a great sense of refinement.

Among its peculiarities is the harmonious combination of the elegance of the French dance, the liturgy of African religious beliefs, the lyricism of the songs and the sound of the drum beats or the tombs, instruments carefully made according to the indigenous techniques of the communities that cultivate the French tumba and that have been handed down from father to son for centuries.
History of Santiago de Cuba's Carnival
Santiago's cultural complexity makes the July carnival one of the largest and most authentic in the Caribbean, with a kaleidoscope of costumes, numerous food stalls and enough music and noise to summon the dead.

Unlike most Latin American carnivals, the annual feast of Santiago de Cuba has not developed around a Lenten celebration of deep religious significance.

Rather, it was an amalgam of several days of entertainment and diversion called mamarrachos, which fell around the time of the feasts of St. John on June 24th or St. Anne's Day on July 26th (but had no other religious significance)These festivities allowed the workers to stop after the sugarcane harvest period from January to May.

At one time they were even called "festivales de las clases bajas" (festivities of the lower classes).

The Spanish authorities tolerated these festivities as a means of distracting the poor from other, more serious forms of rebellion, and the carnival soon became synonymous with debauchery and scandal.

With a delicious touch of modern irony, Carnival now culminates in the Día de la Rebeldía Nacional (26 July), which honours Cuba's most famous (though abortive) rebellion: the assault on the Moncada barracks.

Santiago de Cuba's carnivals flourished at the end of the nineteenth century, although the people of the time only knew them as mamarrachos: a synonym for festivities where anything goes.
History of Basilica del Cobre
The history of Santiago de Cuba would be incomplete without going back to the emergence and foundation of the city of Santiago del Prado, today El Cobre, a place where the exploitation of copper deposits has a tradition of more than 480 years.
It was here that the cult of the Virgin of Charity was born among black slaves and Indians.
After seeing her in the waters of the Bay of Nipe, she followed a long path to the mining town, whose highest point is home to the Basilica and Sanctuary, where today the most important image of the Patron Saint of Cuba is venerated.
The virgin dates from the early 1600s, when three men in a boat first saw her floating on the water during a storm.
Tradition has it that the Virgin saved one of the men from certain drownings.
Records show that the statue was most likely brought from Spain by order of the governor of Cuba at the time,Millions of followers believe she has miraculous powers…
Her image has also been mixed with that of Ochún, the orisha, or goddess of love in the religion of Santería.
El Cobre is also a symbol of the cimarronaje and the fights for freedom, because by real map from the beginning of 1800, the slaves of this region were considered free.
Every year in September, pilgrims come here, sometimes crawling or kneeling on the feast of the Virgin (8 September) to pay homage to their image housed in a glass case above the main altar.
Its shrine is filled with gifts from the faithful, including one from Ernest Hemingway in 1954, who gave his Nobel Prize medal, won in large part for his novel The Old Man and the Sea.
The Nobel Medal was stolen in 1986 but recovered.
It is no longer on display, except on special occasions.
A staircase at the back of the cathedral leads to the chapel containing the wooden image of the Virgin.
In front of the cathedral, there is a plaque commemorating the visit of Paul II here during his trip to Cuba in 1998.
The Cuartel Moncada
The attack took place on July 26, 1953.
It was carnival time in Santiago; the streets were full of revellers and Castro had hoped that security would be relaxed.
Unfortunately, his hopes were dashed and the rebels were either killed or captured.
Castro, who fled to the mountains, was eventually captured, tried and imprisoned on Isla la Juventud, off the southern coast of western Cuba.
Although unsuccessful, this attack symbolizes the beginnings of Castro's revolution.
He wrote his famous speech "La historia me absolverá" ("History will absolve me"), which was smuggled out of prison, printed and distributed throughout the island.
Although luck was not on his side in 1953, it was certainly on his side in 1955, when Batista granted freedom to many political prisoners.
Castro left for the United States, where he began to solicit support for his 26th July Movement (named after the unfortunate attack on the barracks) to rid Cuba of Batista's regime.
From there, he took his cause to Mexico.
In 1956, barely a year after his release from prison, Castro made his historic voyage from Mexico to Cuba aboard the Granma.
The barracks were converted into a school called Ciudad Escolar 26 de Julio, and in 1967 a museum was set up near Gate 3, where the main attack took place.
As Batista's soldiers had cemented the original bullet holes from the attack, Castro's government rebuilt them (this time unarmed) years later as a poignant reminder.
The museum (one of the best in Cuba) contains a model of the barracks, as well as interesting and sometimes macabre artifacts, diagrams and models of the attack, its planning and consequences.
Perhaps the most moving, perhaps, are the photographs of the 61 people who fell at the end of the attack.
The first barracks on this site was built by the Spanish in 1859, and is actually named after Guillermón Moncada, a fighter in the War of Independence who was held prisoner here in 1874.
El Castillo del Morro
The fort was designed in 1587 by the famous Italian military engineer Juan Bautista Antonelli (who also designed forts La Punta and El Morro in Havana and San Juan, Puerto Rico) to protect Santiago from the pirates who had managed to plunder the city in 1554.
Due to financial constraints, construction work did not begin until 1633 (17 years after Antonelli's death) and continued sporadically for the next 60 years.
In the meantime, British privateer Henry Morgan ransacked and partially destroyed the town in 1662.
It was then and rebuilt between 1690 and 1710.
El Morro has an elaborate labyrinth of drawbridges, moats, passageways, stairs and barracks, all executed with wonderfully precise esquinas and geometric beauty – many people think it is more impressive than the fort in Havana.
Its dark and damp interior cells, with their built-in iron chains, once housed African slaves in transit.
A small chapel still contains a wooden cross carved by a 16th century Spanish artist.
Look for the machine that was used to transport the powerful stone balls from the store to the cannon above.
The enormous batteries, bastions, stores and walls of El Morro have hardly served their true purpose.
With the era of piracy in decline, the fort was converted into a prison in the 1800s and remained so – with the exception of a brief interlude during the Spanish-Cuban-American War of 1898 – until Cuban architect Francisco Prat Puig drew up a restoration plan in the late 1960s.
Today the fort houses the Museo de Piratería, with another room dedicated to the Spanish-American naval battle that took place in the bay in 1898.

The fort, like Havana, holds a daily cañonazo (cannon firing) ceremony at sunset, during which the actors dress up as Mambises.
Declared a World Heritage Site by UNESCO in 1997, it is the largest, most complete and best-preserved example of Renaissance military engineering in the Caribbean.

Consisting of a complex of forts, stores, bastions and batteries, it was erected on top of a rocky promontory, making the most of the rugged terrain.
It recreates the different historical periods it witnessed, thus confirming its great historical, architectural and environmental value; for example: the development of the Hispanic fortification system in the Caribbean.
Loma de San Juan
There are several sculptures in the park: one depicts the American soldier, in full uniform and with period weapons, and another depicts the Mambi soldier.
There is also a monument dedicated to the courage and honor of the Spanish soldier.
The future American president Teddy Roosevelt forged his reputation on this small hill where, flanked by immortal rugged cavalrymen, he would have led a fearless cavalry charge against the Spaniards to seal a famous American victory.
In reality, it is doubtful that Roosevelt even rode his horse to Santiago, when the supposedly helpless Spanish garrison – ten times more numerous – managed to hold more than 6,000 American soldiers for 24 hours.
Guns, trenches and numerous American monuments, including a bronze cavalryman, enhance this classroom garden, while the only recognition of a Cuban presence is the rather discreet monument of the unknown soldier Mambí.
Cementerio Santa Ifigenia
The necropolis was inaugurated in February 1868 and was declared a National Monument on May 19, 1979, the date that coincided with the death of the national hero José Martí.
It has an area of about 9.
5 hectares and some 10,000 tombs.
The remains of many patriots and artistic personalities are buried here.
In addition to its spiritual values, the cemetery has the artistic value of funerary constructions with stylistic tendencies marked by the period of construction, showing a wide range of styles that blend into the whole cemetery, which is considered an open-air museum.
The Rebels of the Attack on the Moncada Barracks the graves of Carlos Manuel de Céspedes and the 38 rebels who died in the attack on the Moncada barracks, in a special wall right at the entrance to the cemetery.
The Tomb of José Marti (1853-1895). It is worth waiting for the changing of the guard every half hour, accompanied by martial music.
Many visitors come to pay homage to the quasi-religious mausoleum of the national hero José Martí (1853-95).
Erected in 1951 during the Batista era, the imposing hexagonal structure is positioned in such a way that Martí's wooden coffin (solemnly draped with a Cuban flag) receives daily rays of sunlight.
This is in response to a remark made by Martí in one of his poems that he would like to die not like a traitor in the dark, but with his face turned towards the sun.
The marble vault bears on the outside the figures of six women bearing the symbols of the Cuban provinces of the time.
In the mausoleum is buried soil from each of the Latin American countries inspired by Martí to help in the struggle for independence.
The guard of the mausoleum, which operates 24 hours a day, is replaced every 30 minutes, with great pomp and ceremony.
The Tomb of Fidel Castro
The remains of the legendary leader were buried there on 5 December 2016 following a procession across the country that retraced the 1959 revolutionaries' victorious march.
Although the funeral took place early in the morning and was closed to the public, thousands of people gathered outside the cemetery gates and sang the national anthem after a 21-gun salute broke the morning silence.
A huge round rock with Castro's ashes inside bears a simple black plaque with a single word – "Fidel".
Other Personalities
The cemetery is also the final resting place of many other famous people, including:
Carlos Manuel de Céspedes
Emilio Bacardí (1844-1922)
Compay Segundo of the Buena Vista Social Club (1907-2003)
First President of Cuba
Tomás Estrada Palma (1835-1908)
Many of the supporters who fought in Angola & Southern Africa
María Grajales, widow of independence hero
Antonio Maceo
Mariana Grajales, Maceo's mother…
11 of the 31 generals of the independence struggles
The father of Cuban independence, Carlos Manuel de Céspedes (1819-74)
Santiago de Cuba on Social Networks
Here are the best social networks to find out more about Santiago de
Cuba news
El Chago Santiago