Heart of Guatemala: A Photographic Journey Through Time and Tradition
Heart of Guatemala: A Photographic Journey Through Time and Tradition
Get ready to embark on a photographic adventure that's as tantalizing to the senses as it is to the lens. Imagine the taste of authentic Guatemalan cuisine, rich with flavors and spices, as you dine in the heart of Antigua. Feel the thrill of capturing the majestic explosions of Acatenango Volcano, where the warmth of the lava contrasts with the cool mountain air. Inhale the rich aroma of freshly brewed coffee at a local farm, and let the vibrant colors of Chichicastenango market dance before your eyes. Hear the gentle lapping of Lake Atitlan as you snap a golden-hued sunset, and touch the intricate fabrics woven with centuries of tradition. From the mystical ruins of Tikal to the lively streets of Flores, every moment is a blend of excitement, wonder, and joy. You'll not only come back with award-winning pictures but a heart filled with unforgettable memories and connections. This is not just a tour; it's a sensory feast that celebrates the beauty of Guatemala, and it's waiting just for you.
Panajachel
Lakeside town with vibrant culture
San Antonio Palopó
Colorful lakeside village known for ceramic handicrafts
Río Dulce
Scenic river surrounded by lush forests and limestone cliffs
Livingston
Garifuna community with Caribbean vibes
Flores
Island city with ancient Mayan heritage
Acatenango Volcano
Majestic volcano with panoramic views
---
Country
---
Thematics
---
Group Size
---
Included
---
Not Included
---
Minimum Deposit
---
Payment Options
Your Tour Guide
Tristan Quevilly
Tristan has been to over 40 countries in his quest for the perfect adventure. He has biked all Guatemala, trekked alone across the Triglav in Slovenia, travelled through all the Amazon by boat. He also has worked and leaded tours in Senegal, Morroco, Croatia, Greece, Cuba, Colombia, Brazil and many more. Remote Expeditions is the fruit of his love for people and travel.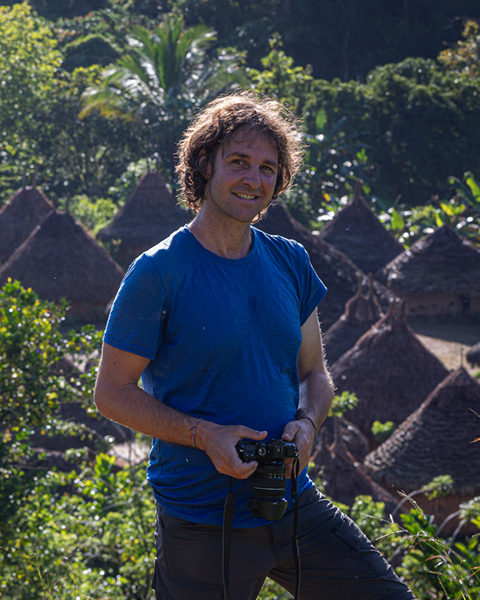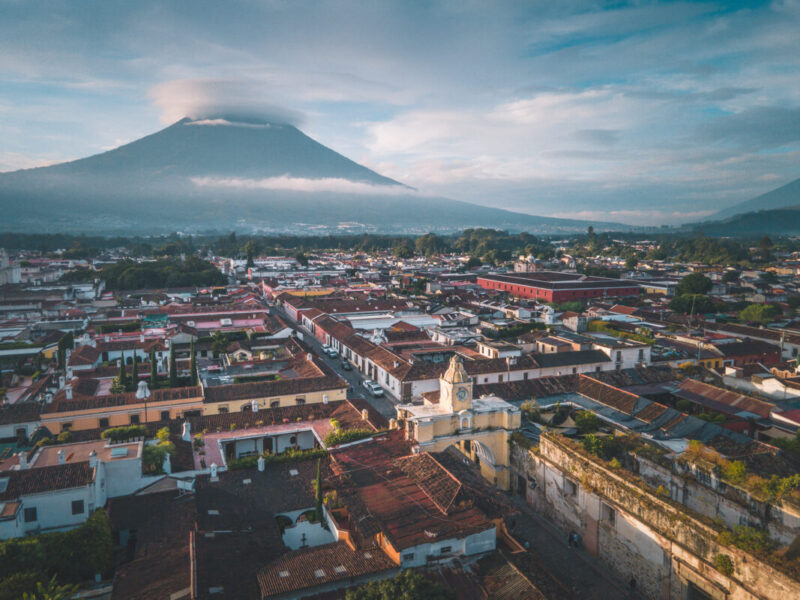 DAY 1
Welcome to Guatemala
Welcome to Guatemala! Upon landing at Guatemala Ciudad Airport, we'll transfer you to the enchanting city of Antigua Guatemala. Join us at 5 pm in the hotel lobby for a group orientation and a captivating slideshow led by Tristan. He'll highlight key aspects of the itinerary and provide valuable photography tips. Afterwards, unwind and explore the beauty of Antigua with a delightful photo walk through its picturesque streets. As night falls, we'll gather for a delicious dinner at Guatelaria, offering a taste of authentic Guatemalan cuisine.
Read More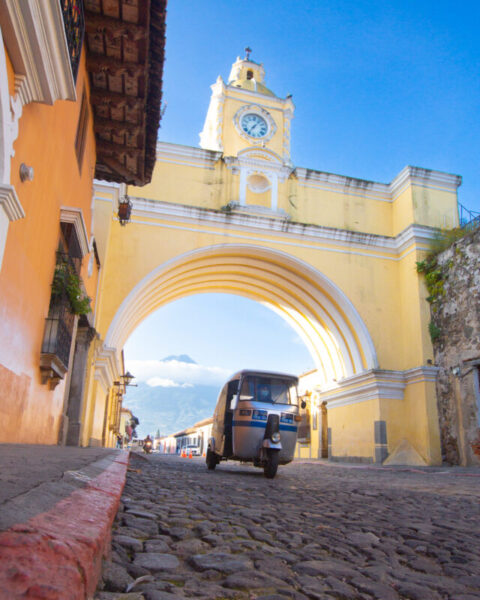 DAY 2
Antigua Guatemala
Awaken your senses with a sunrise photo shoot at the stunning "Cerro de la Cruz," where the early morning light paints a magical picture. Next, capture the charm of Santa Catalina Arch, using a Tuk Tuk to add a local touch to your photographs. Wander to "Parque Central" to snap the city as it springs to life, followed by a special meeting with Maya, our models for next hour. After breakfast, explore the divine Catedral San Jose, the intriguing Santa Clara, and the captivating Doors & Streets, Jade Museums, all before indulging in a typical local lunch at the bustling Market. In the afternoon, the adventure continues with a one-of-a-kind event: Bariletes Gigantes. Finally, the night culminates with a delightful dinner at Casa Escobar.
Read More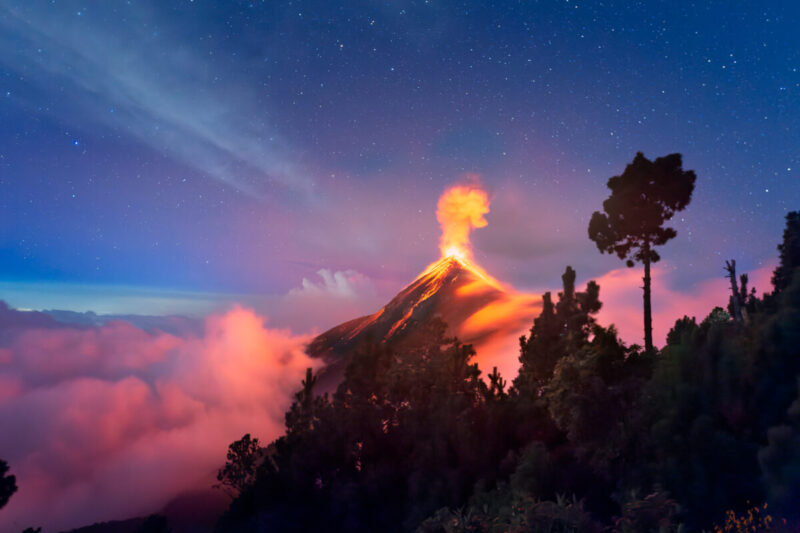 DAY 3
Acatenango Volcano
Begin your day with an enlightening trip to San Antonio de Aguas Calientes, delving into the intricate art of weaving that's an essential part of Guatemala's rich heritage. Then, as the afternoon approaches, buckle up for a thrilling 4×4 transfer to the awe-inspiring Acatenango Volcano. Feel the excitement build as you prepare for an epic ascent, followed by a comfortable one-hour hike to the campsite (walking grade suitable for all levels). Once settled, explore the surroundings of the campsite, seeking out beautiful compositions for our photography collection. As night falls, prepare yourself for an unforgettable experience – shooting the Volcan Del Fuego at the mesmerizing blue hour. Every ten minutes, the sky will be ignited by majestic explosions of lava, offering an unparalleled spectacle for both your eyes and lens.
Read More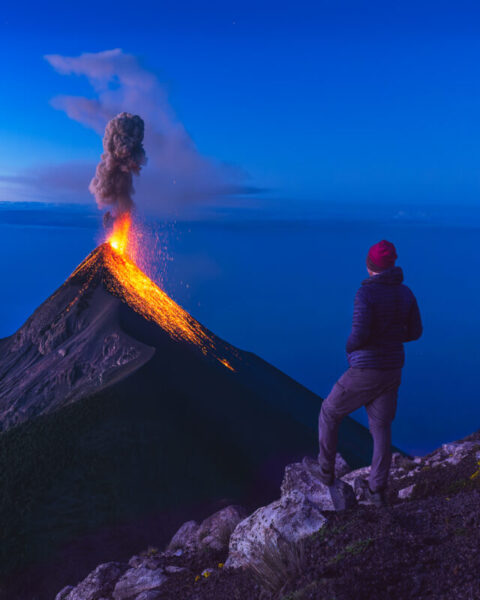 DAY 4
Acatenango Volcano – Antigua
Embrace the day with an inspiring sunrise at the volcano, offering two exhilarating options tailored to your fitness level: either hike to the summit for an unmatched view or explore the surroundings of the campsite, chasing beautiful compositions with your lens. Following this invigorating start, transfer back to Antigua for a well-deserved lunch, refueling for the adventures ahead. In the afternoon, immerse yourself in the rich aroma and tradition of a local Coffee Farm, learning about the cultivation and process. Then, as the blue hour sets in, capture the ethereal beauty of Parque Central, allowing the soft light to frame your shot perfectly. End your day with a scrumptious dinner, reflecting on a day filled with exploration, creativity, and the unique charm of Guatemala.
Read More
DAY 5
Chichicastenango – Atitlan
Start your morning with a transfer to Chichicastenango, a vibrant place brimming with culture and color. Here, you'll explore the bustling local market, where sights, sounds, and scents come alive, offering an extraordinary opportunity for vivid photography. Wander to the Santo Tomas Church, capturing its historic grandeur, and then onto the Museum of Masks, where you'll uncover the unique and mystical tradition of mask-making. After enjoying a delightful local lunch, embark on an afternoon transfer to Atitlan, a stunning destination known for its natural beauty. The day's highlight awaits at Panahachel Keys, where a sunset photoshoot with a Mayan model will provide unforgettable moments framed in golden hues.
Read More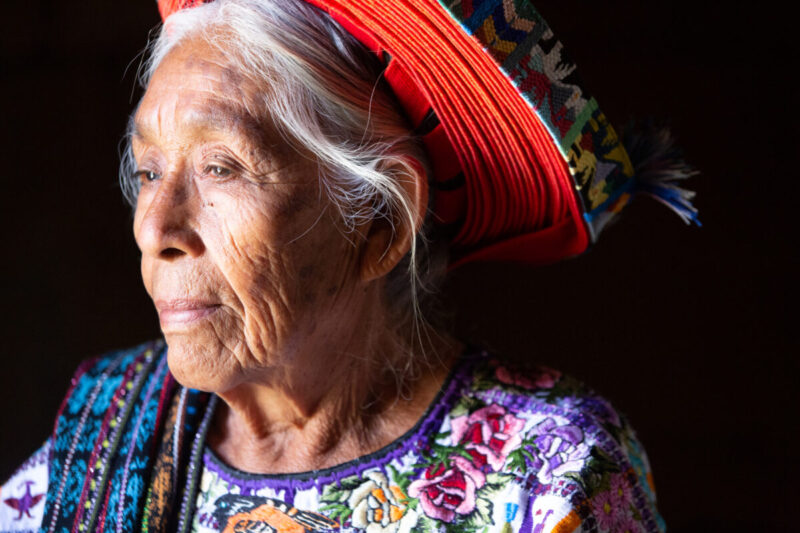 DAY 6
Lake Atitlan: Santiago Atitlan – San Antonio Palopo
Set sail on a mesmerizing boat trip to Santiago Atitlan, where a day of cultural immersion and artistic discovery awaits. Start with a visit to the enigmatic Altar Maximon, a place shrouded in tradition and spirituality. Next, wander through the bustling Market Santiago Atitlan, capturing the vibrant daily life. The journey continues with a visit to the house of a special Mayan model, forging a connection that goes beyond the camera lens. After a satisfying local lunch, embark on a boat transfer to San Antonio Palopo, where the art of photography meets craftsmanship. Engage in a photo activity with local artisans, highlighting the intricate beauty of traditional fabrics that tell a story of heritage and skill. As evening approaches, prepare for an extraordinary photo activity focusing on cityscape photography at blue hour. From a special location, watch the city transform into a tranquil haven bathed in soft, ethereal light.
Read More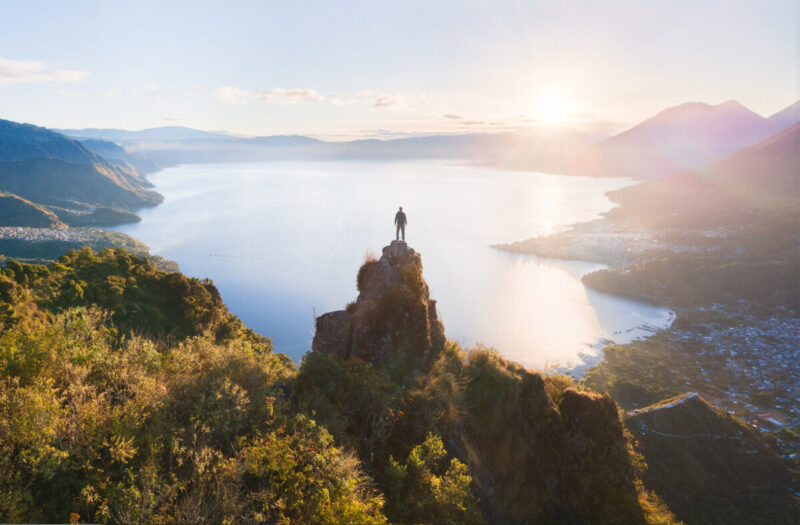 DAY 7
Sunrise Rostro Maya – Solola – Flores
In the morning, uncover the charm of Solola village, a vibrant meeting point during market days for locals from the region. Witness a colorful parade of traditional clothing and a rich array of regional products, an authentic celebration of culture and heritage. Then, set out on the Inter-American highway towards Guatemala City, where an adventure awaits. Prepare to embark on a flight to the Peten region, the heart of the most majestic ancient Mayan cities.
Read More
DAY 8
El Remate – Yaxha – Tikal
Enjoy a free morning to take advantage of the natural surroundings of your hotel (with numerous activities available on site). In the early afternoon, you will explore Yaxha —a truly heart-stirring experience. Imagine temples buried in the jungle, the howls of monkeys, and the songs of tropical birds, all punctuated by an unforgettable sunset from the top of the Red Hands Temple.
Read More
DAY 9
Tikal – Flores
Today, embark on one of the highlights of your journey: the discovery of Tikal at sunrise, undoubtedly one of the most magnificent and awe-inspiring ancient cities of the entire Mayan world. Located deep within the jungle, you'll have the opportunity to observe numerous animal species: howler monkeys, spider monkeys, coatis, agoutis, toucans, hummingbirds, trogons, and more. The serenade of wildlife and the ethereal glow of dawn over the ruins will provide an experience that transcends mere sightseeing. In the afternoon, transfer to the island of Flores, situated on Lake Peten Itza. This part of your adventure opens the door to further exploration and wonder, leaving a lasting impression of the beauty and mystique of the region.
Read More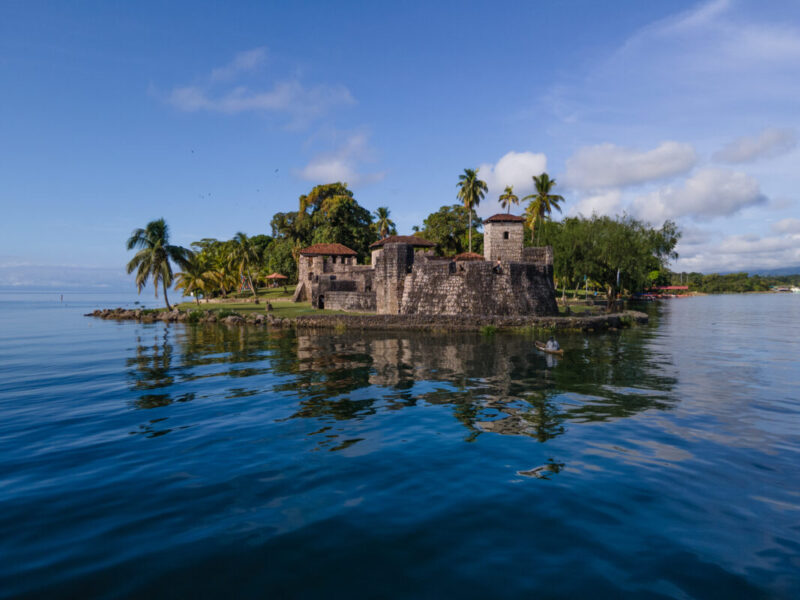 DAY 10
Flores – Rio Dulce – Livingston
This morning, set off for the Caribbean coast of Guatemala. In the afternoon, enjoy a boat ride on the Rio Dulce, taking in sights such as the Fort of San Felipe, the aquatic garden, and the canyon, before arriving at Livingston. This sleepy little village is home to the Garifuna community, descendants of African slaves. The blend of natural beauty and rich cultural heritage makes this part of your journey an enriching and unforgettable experience.
Read More
About the Country
Guatemala is located in Central America, known for its rich Mayan heritage, colonial architecture, and stunning natural beauty including volcanic landscapes, rainforests, and diverse wildlife. It's a paradise for adventurers and culture enthusiasts.
Reasons to Go
Explore ancient Mayan ruins in Tikal.
Enjoy vibrant city life in the colonial city of Antigua.
Adventure through the stunning landscapes of Lake Atitlan and Semuc Champey.
Discover traditional Mayan culture in colorful indigenous markets.
Experience wildlife in natural reserves like Biotopo Monterrico-Hawaii.
Country Facts
Official Name: Republic of Guatemala
Location: Central America, bordered by Mexico to the north and west, Belize and the Caribbean to the northeast, Honduras to the east, El Salvador to the southeast and the Pacific Ocean to the south.
Time zone: Central Standard Time
Capital: Guatemala City
Population: Approximately 18 million
Official Language: Spanish
Government: Unitary presidential republic
Economy: Agriculture, remittances, manufacturing, and services sector form the backbone.
Regions at a Glance
Guatemala is divided into various regions each with its unique charm. The Central Highlands houses Guatemala City, the capital and the heart of the country. The Peten region is famous for the ancient Mayan city of Tikal. The Western Highlands is known for its indigenous cultures, landscapes, and colorful markets.
Tourist Attractions
Tikal National Park, a UNESCO World Heritage Site
Colonial city of Antigua, a UNESCO World Heritage Site
Lake Atitlán surrounded by volcanoes and indigenous Mayan villages
Colorful Chichicastenango Market
Semuc Champey's natural limestone bridge and turquoise pools
Money Matters
Currency: Guatemalan Quetzal (GTQ). ATMs are widely available in cities but may not be reliable in remote areas. Credit cards are generally accepted in cities and tourist areas.
Packing List
Lightweight, breathable clothing and sturdy shoes for hiking.
Sun protection: hat, sunglasses, sunscreen.
Bring or buy a reusable water bottle to reduce plastic waste.
Culture
Guatemalan culture is a blend of its Mayan heritage and Spanish colonial influence, seen in everything from its architectural styles to its traditional clothing and food. Indigenous markets and festivals provide colorful showcases of Guatemalan culture.
Accommodation
Hotels range from budget hostels to luxury resorts.
Costs vary significantly by region and season.
Safety: Use reputable booking platforms, consider reviews, especially for solo female travelers.
Visa Requirements
Travelers will need a valid passport. Visa requirements vary depending on the country of origin, check Guatemala's Ministry of Foreign Affairs for more information. Vaccination against Yellow Fever required if arriving from a risk area.
Emergency Contact Numbers
Police: 110
Medical Assistance: 120
Firefighters: 122
Cultural Etiquette
Respect local customs and traditions, especially in indigenous communities. Drug laws are strict and punishments severe. It's illegal to take antiquities out of the country.
Electricity, Plugs, and Voltage
Type A and B outlets, 120V. Travelers from countries with different standards will need a plug adapter and possibly a voltage converter.
Climate
Guatemala has a tropical climate. Rainy season runs from May to October. Pack lightweight, breathable clothing, a good raincoat, and sturdy shoes.
Public Transportation
Buses are the main form of transportation. Taxis, ride-shares, and private drivers are available in cities. Rental cars are an option but be aware of potential road conditions.
Language Spoken
Primary language: Spanish. Basic English phrases known in tourist areas.
In remote regions, many indigenous languages are spoken, with little English.
Sustainability Tips
Respect local traditions and customs.
Stay on marked trails to protect natural areas.
Support local economy by purchasing local crafts and goods.
Useful Apps & Websites
Traveling in Guatemala offers a rich cultural experience combined with breathtaking natural beauty. For a safe and enjoyable trip, always respect local customs, be aware of your surroundings, and don't forget to explore beyond the typical tourist routes. Enjoy the diversity of experiences Guatemala offers and let the Land of Eternal Spring surprise you!
GET STARTED
Simply enter your details in the enquiry form to start personalising your experience or if you have any questions about booking this tour.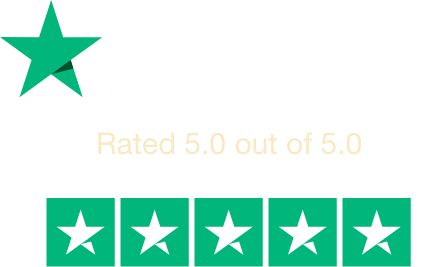 Secure Payment

Related Tours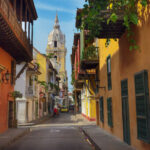 FROM $5595 USD
Colombia: Terre Prometida
FROM $1200 USD
Alpamayo Mountain 6 Days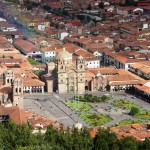 FROM $999 USD
4-Day Peru Exploration
FROM $950 USD
7-Day Ausangate Trek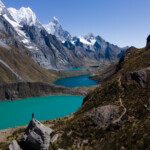 FROM $1599 USD
Classic Huayhuash Trek in 10 Days