What to pack for Cuba: Full Packing List
Papers : Passport, Cuban Tourist Card (visa), Cash (preferably euros), Health insurance, Photocopies of all important documents
Luggage : Suitcase or backpack, Light back pack for the day, Packing cubes, Dry bags (for dirty clothes, shoes or electronic devices)
Clothes : Tennis or Shoes, Walking sandals, jacket ( for dry season nov to April), Rain Jacket (rainy season may to October), Poncho or Ombrella (rainy season may to October)
Accesories : Sunhat, Sunglasses
Beach : Microfiber towels, Swimwear, Sunscreen, Snorkel gear
Trekking : Hiking shoes
Medical Kit : Hand sanitizer, First aid kit, Water filter bottle, Mosquito repellant
Tech Gear : Power adapter, Portable charger, Cellphone / camera
Photography Gear (for afficionates) : Camera, 50mm lens, Versatile lens like 18-200mm, SD or Flash cards, Hard drive for backing up, Laptop, Multiplug,
Books : Travel guide, Spanish-English phrasebook, note pad
What to pack for Cuba : Papers
Passport and tourist card (visa) : Something important that without it you can't get through Cuban customs. If you don't know how to get the visa we explain you the best and cheapest ways to get the visa.
Cuban currency : The use of credit cartds is in the stores is scarce so it is important that you change currency for your trip to Cuba.
Health Insurance : In order to enter Cuba, it is mandatory that you have health insurance. You can get one before leaving the customs.
Passport & visa
Passport with +6 month
Cuban Tourist card (mandatory)
Health insurance
Photocopy of your passport that you will bring with you throughout the day
Copies of you passport on the cloud
Money
What to Pack for Cuba : Essential Luggage
Bags for clothes : For us it is an article that is never missing in our suitcases so you can organize yourself better with the steps of the days in Cuba.
Sunscreen : It is very important that you do not forget this because not all stores sell it and it is a somewhat complicated item to find.
Mosquito repellent : If you travel to Cuba and also like to make some route by interior and to disconnect of the beach, you do not forget the repellent of mosquitoes because there are many and arranged 24 hours to bite you.
What to Pack for Cuba : dress
Remember that Cuba is kept at a temperature all year round between 25 and 28 degrees and an average of 80% humidity.
Hats for the sun : Very necessary when you spend so many hours on the island you get a little tired of so much sun. So it's very necessary to protect yourself from so many hours of exposure to the sun
Sunglasses : For Cubans it's a luxury item, you won't find almost any store that sells it. So don't forget them and then miss them.
Sneakers : Try to make them fresh and useful to walk a lot because in Cuba you will walk a lot.
Swimwear : I think you'll fill your suitcase with swimsuits. Here in Cuba, you have to show off your best swimsuit finery. And please don't forget that otherwise you won't be able to enjoy the crystal clear waters of your dreams.
Remember that depending on your dates to travel to Cuba it varies what to take to Cuba.
If you travel between the months of May to June, July, August, September and October are seasons of rain this way adds:
Umbrellas
Light rain jacket
If you come to Cuba in the dry season of November, December, January, February, March and April, it is not necessary to take an umbrella and raincoat to Cuba.
Which shoes to visit Cuba?
We advise you to take at least two pairs of shoes with you on your trip to Cuba. The first is a pair of sandals or barefoot shoes, ideal for strolling on the beach and getting dressed casually in the evening, especially for dancers.
What to Pack for Cuba : Best luggages
Backpack or suitcase, that's the question…
In truth,
it all depends on the length of your trip and the type of trip you plan to make.
For a long trip, a suitcase offers more space, but is much less practical to carry than a backpack, so if you plan to travel a lot from city to city, it is better to use a backpack.
The streets of Cuba's cities are often in poor condition, which is not very practical to carry a suitcase.
On the other hand your backpack will be more convenient to carry in buses and taxis.
What to Pack for Cuba : Technological devices
Camera : Since in Cuba you will find paradise and you will want to have a portrait to see it every day at home, don't forget your camera to take your best pictures.
Power adapter : If you don't know which one is right for you here is a very complete article on which power adapter to take and which one is necessary.
Travel guide : If in addition to our website you need more information, it is always good to bring some paper information.
Offline maps : Download our maps of Cuba offline as there is no very good internet connection in Cuba.
Phone with your charger : It doesn't have to be a Smartphone, because you can get a lot out of it with the little telecommunication connections.
GPS : If you are thinking of renting a car or moving around the island you need a GPS to always be oriented because you think that the roads in Cuba are not like those in Europe.
What to pack for Dry Season
Jacket for the cooler nights
Pair of hiking boots as it is the ideal period for trekking
What to pack for Rainy Season (may to October)
During rainy season, be aware that you may be exposed to heavy rain.
They usually last only a short time, but they're big enough to give you a hard time if you're not sure what to expect.
Rain Jacket
Large umbrella or rain poncho
Rain protection for your backpack
Dry bags if you have camera equipment
Rainy season is also hotter, so you will not need any jacket for the night.
The dry season in Cuba
It is often said that this is the best season to visit Cuba. During the dry season, the average temperature is around 25°. This temperature is ideal for people who can't stand the heat but still want to take advantage of the sunny climate to visit the island's unmissable natural sites.
However, you should still bring some clothes in the evening because the temperatures are cooler, and something to protect you from the rain (frequent at the end of the dry season). In December or January, it is also common to encounter cold fronts. Even if the weather is always mild, it is better to bring a small jacket to protect yourself!
Female Packing List for Cuba
What clothes for women to bring to Cuba? In Cuba, summer reigns supreme all year round. Women can therefore bring light and
Light clothing with little coverage. From Tank tops and t-shirts are perfect, but shorts,
Mid-length skirt or Bermuda shorts
Vest or a jacket for parties that can be a little cooler.
Nice dress and heels if you like to dance salsa
Pair of pumps or sandals
Pair of sneakers or tennis shoes, perfect for walking all day on any type of terrain.
Pair of hiking boots if you plan to go hiking in the tropical forest
Male Packing List for Cuba
What men's clothes to take to Cuba? The same advice applies to men who have to take summer clothes in their luggage.
A t-shirt or even a tank top will be fine for the top.
A dressier shirt will be welcome for the dances.
For the bottom, it is not advisable to bring jeans that will be heavy and not very pleasant, especially in the rainy season…
Choose shorts and Bermuda shorts instead to be comfortable.
A Lightweight pants, for example a chino, can be worn on cooler evenings.
A small sweater or jacket is always useful at the end of the day.
What accessories to bring in order to help Cubans ?
If you want to be of service to the Cuban people, bring things you no longer use. It will be a lot of fun. If you organize a little in advance, it is very easy to collect from your family or friends. You will be able to make useful gifts throughout your trip.
Eyeglasses
Clothing (T-shirts, pants, etc…)
Baby clothes
Accessories and spare parts for musical instruments (guitar strings, reeds for wind instruments)
Medicines (Aspirin, ibuprophene, etc…)
Cuba : Import Regulations
Finally, read carefully the Cuban import regulations and the answers to your most burning questions about what you can legally bring to Cuba.
If you want to know more about what to expect in a Cuban airport, take a look at our walkthrough of Havana Airport.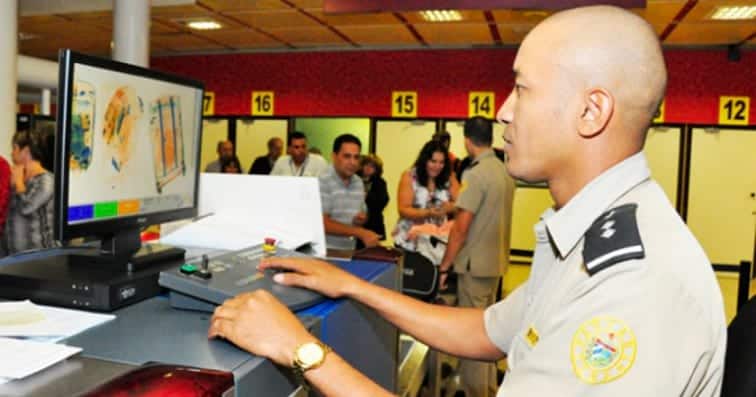 What is exempt from payment of fees
Up to 10 kilograms of medicine.
Products, which as a temporary import, are brought by foreign travelers in their capacity as artists, sportsmen, specialists, scientists, journalists and filmmakers, passengers in transit and those who arrive in the country in special circumstances.
Wheelchairs for invalids
scientific, technical, art and literature books
musical scores
Discs
tape recorders
prosthesis equipment, books or materials intended for the blind
Adult disposable boots
What is not allowed to enter the country
Psychotropic or hallucinogenic substances
Precursor substances.
Explosives.
Blood products.
Drugs and narcotics.
Literature, articles and objects that are obscene or pornographic or that are against the general interests of the nation.
Air conditioners with a capacity greater than 1 ton or 12,000 BTUs;
Induction cookers, or of any model and whose electrical consumption does not exceed 1500 Watt, per bulb;
Electric ovens, except microwave ovens, and whose electrical consumption does not exceed 2000 Watt.
Electrical resistances of any kind.
Light motor vehicles (cars, motorcycles and bicycles with combustion engines).
Motors and bodywork of cars and motorcycles.
Products of animal origin (cattle, pigs, sheep, goats and all species of ungulates) susceptible to be carriers of diseases.