How to get Around in Cuba : things to know before you travel to Cuba
Transportation is one of the country's black spots , due to the embargo.
Lack of fuel, outdated cars and buses and mechanical problems make it very difficult for Cubans to travel.
To cope, they innovate and work hard to find solutions: hitch-hiking, bicycles, horse-drawn carriages, old trucks.
Everything is good to move forward !
As a tourist, you won't be bothered as long as you can afford to pay, of course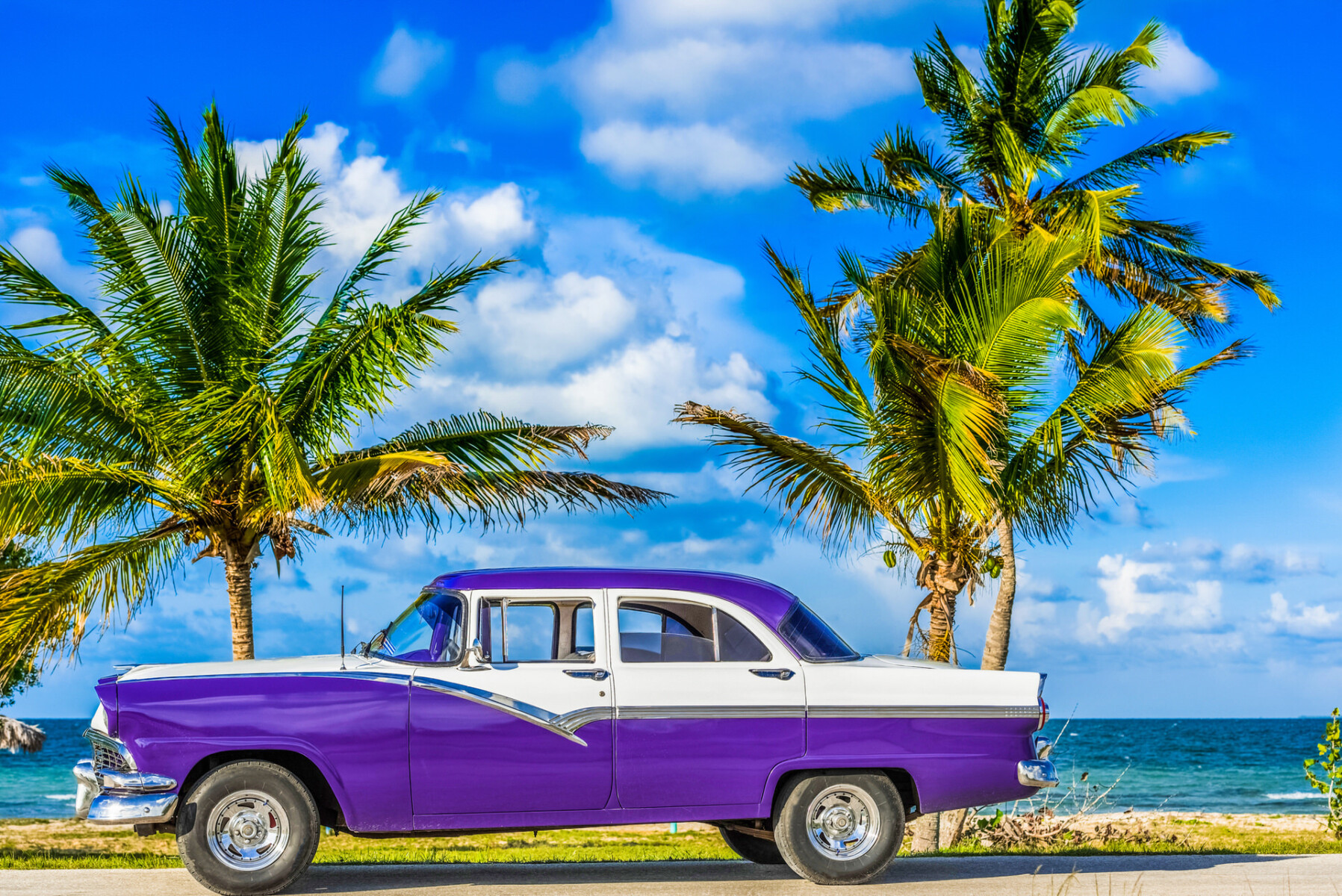 How to Get Around in Cuba : walking
Seems pretty easy to walk, right ?
But to find specific location you should Get your bearings first.
In Cuba, if we give you as address: calle 4, no. 306, apto 46e/15 y 17, Vedado.
it means that the number of the building is 306, that it is located in the portion of 4th street, between 15th and 17th streets.
The apartment has the number 46, all located in the Vedado district.
Apto means that it is an upstairs apartment, Esq (esquina = corner) that the house is located at the corner of two streets. Thus, the 2nd floor corresponds to the first floor in France, the ground floor being considered in Cuba as the 1st floor.
The cuadras : are blocks of houses. When you ask for directions, you are told that the street you are looking for is x cuadras away.
In some neighborhoods, such as Vedado or Miramar, the numbers or letters that designate the streets are indicated on small pyramid-shaped markers placed on the ground, at street corners, or inscribed on posts.
These numbers and letters are sorely lacking in poetry, you might say… This system, which sacrifices the pleasant for the useful, was introduced in Cuba during the era of the pseudo-republic (1902-1958).
The old colonial Havana has kept its good old names, often very suggestive; other streets have been rebaptized and renamed several times, as in our country: each era honors its own!
In the countryside, where directions are often lacking, you will always meet someone to show you the way.
Get around in cuba by plane
With nearly 1,000 km between Havana and Santiago de Cuba, the plane can be very useful.
The most major cities in the country have an airport, and even some cayos.
However,
it remains a means of transportation quite expensive, much more expensive than the bus Viazul in particular.
On the other hand it can be convenient on very long distances where the bus journey is actually exhausting, like between Havana and Santiago de Cuba where it takes 16 hours by bus to get to go from city to city against only An hour and a half by plane.
Two domestic airlines to choose from for your domestic connections:
Cubana de Aviacion
Aerocarribean
Cubana de Aviacion
At the corner of Infanta and the Rampa Calle 23, n° 64 – Vedado LA HAVANA – LA HABANA
+53 7 834 4446
ventas_online@cubana.avianet.cu
Open Monday to Friday from 8:30 am to 4 pm, on Saturdays from 8:30 a.m. to noon.
Aereocarribean
Calle 23 n° 64, corner of Infanta – La Havana
Tel : +53 7 879 7524 / +53 7 879 7525
Open from Monday to Friday, from 8:30 am to 4 pm, on Saturdays from 8:30 to 3:00.
Domestic flights to Havana, Santiago de Cuba, Camagüey.
Get around in cuba by bus
Viazul : The Bus Company for Tourists
The Víazul Company (www.viazul.com) serves all the largest cities on the island.
Schedules and prices indicated in the guide, but they can change. Also, confirm the schedules when you buy your tickets.
The buses are comfortable, air conditionned, and sometimes late but overall, the system works Good.
Important :
On most journeys, it is advisable to book your ticket for one or two days at in advance before you leave for the station of bus.
You will be able to buy the ticket or enter your name for the reservation but a presentation of your passport is now mandatory for any reservation or ticket sale.
On the day, you must go to the Víazul bus station one hour before departure.
They will inform you of the arrival of the bus and will give you your ticket and luggage ticket at the same time.
Prices : to get an idea, count 50 Cuc for Havana Santiago
Pro Tip
remember to cover yourself; a little fleece is welcome because he can really make cold, especially if you take a night bus.
Astro : The Bus Company for Nationals
The other national company, Astro, which you will surely see, is reserved for Cubans and offers much cheaper prices than those in Viazul.
The comfort is slightly below the Viazul buses and you will not normally have access to it .
But against a tip at the ticket office, it is always possible to make an arrangement! It depends on who you actually meet…
An Astro bus trip can save you a lot of money, even with a tip.
Picirore : Public Trucks
If you run out of vehicles, the state often uses trucks as public transport.
Dozens of passengers pile up in huge dumpsters for a few Cuban pesos.
See on the central autopista (highway) the guys in yellow (punto amarillos) in charge of stopping state vehicles and ensuring that operations run smoothly.
You can try the experience but be aware that it is not comfortable at all …
But at least you will travel Cuban style.
Get around in cuba Train
You might as well be warned, don't have any illusions and Cubans will tell you themselves: the train is the worst means of transport in Cuba.
Electricity failures, train breakdowns, crowded wagons and cockroaches as surprise guests…
You will be entitled to almost anything! The only positive point: it is the opportunity to meet Cubans. Two types of trains run on the entire railway network.
The timetables are unreliable and the journeys are really much longer than with the Víazul buses.
The tren francés, the fastest, the least uncomfortable (air conditioning, reclining seats) and the most expensive of the trains. It was sold by the SNCF in Cuba, hence the name "French train", but it is pretty old.
Pro Tip
Remember to bring water and food, as there is nothing on the train for this purpose. Another possibility, the so-called regular trains, even slower (there, it's really a priesthood) and that we advise against.
Get around in Cuba : Rent a Car
You will need your passport, your national driving licence and your bank card.
Most rental agencies have offices in the city's major hotels.
However, making a reservation on the internet before your departure can significantly lower the rates.
Also plan to have your vehicle watched over for the night by locals for 1 CUC or 2 CUC.
On the infrastructure side, road signs are extremely bad.
Make sure you have a good map, which will nevertheless often be insufficient once you leave the main roads. Do not hesitate to call on local people to find your way.
A central highway connects Pinar del Río, Havana and Santiago de Cuba, almost the entire island from west to east..
Highway code
Cuban traffic laws require you to stop in front of every pedestrian crossing, even if no one crosses.
Stop signs in Cuba are represented by a triangle with the apex at the bottom.
It is white with a red line and is crossed out with the word "PARE" (stop).
Every police checkpoint on the side of the road requires that you pass in front of it at less than 40 km/h.
Beyond that you will be stopped, even if there is no sign indicating this and even if it is a four-lane road.
If you receive a fine, be aware that you do not have to pay it to the police officer who stopped you, but to the car rental agency.
Driving at night. Avoid driving at night because of holes in the road, Cubans driving with headlights on at all times, children playing on the side of the road, and lack of directions.
Be very careful on the road and drive with great caution
Roads in Cuba are in fairly good condition, but the problem is often pedestrians crossing anywhere at any time.
You should honk your horn to let them know you are coming and that they should not cross.
That's the local practice.
Finally, you should know that if you injure a Cuban in a car accident, whether you are at fault or not, you will be imprisoned.
We have not been able to find out the exact length of this stay, but according to our investigation, it can be very long…
We were simply told, to reassure us, that the tourists were in proper prisons, not with the killers …
To avoid the experience of Cuban prisons, drive very carefully and don't drink mojitos before taking the wheel !
Beware of scams on the road
Road checks are quite rare on the road. However, some drivers have a trick: they take an outfit that says "Seguridad" and give you big signs to stop.
Don't fall for it, their only goal is to take you to a site to visit where a juicy commission will be paid to them after your passage …
So go on your way without even stopping.
The real policemen are easy to recognize because it is written Policía on their vehicle and they have a real police uniform.
The same holds true if you take hitch hikers on the road
Get around in Cuba With Official Taxis
Companies like Cubataxi cover long distance intercity routes.
They can be found near bus terminals and major hotels.
Attractive prices from 3 or 4 people. Vehicles equipped with meters, always preferable to avoid possible scams, however rare.
But, meter or not, even with an official taxi, it is always possible to agree on prices.
Therefore, it is essential to negotiate with the driver before getting into the vehicle.
Good to know
official taxis have blue license plates
Get around in Cuba by Private Taxis
With the massive development of self-employment following Raúl Castro's 2010 reforms to boost the Cuban economy, it is now possible for any citizen with a driver's license and a vehicle to become a private driver, or a self-employed taxi driver!
He has to pass a specific (but relatively easy) exam and then he is issued a licence which he has to display in his car.
Normally, the vehicle is safe, as it has been checked beforehand by the relevant authorities.
However, take a look inside the vehicle before boarding and check, among other things, that the car is in good condition.
Be aware, however, that you will only find seatbelts in modern cars; with Russian or American cars, they are usually non-existent, so don't be surprised!
The advantage of private taxis is that they are often much cheaper than official taxis and you can negotiate the fare in advance. This is an opportunity to ride in old cars which can be superb, like some American models, but also more dilapidated like many Russian vehicles less glamorous (and sometimes less reassuring too).
Getting Around in Cuba : Coco-taxi
Resolutely original, these motorized tricycles circulating in the capital have a rounded yellow shell with a shape reminiscent of a coconut.
Two seats in the back and the driver who moves in front like a beautiful devil.
Count 5 or 6 CUC to connect the end of La Habana Vieja to the Vedado in Havana.
Get around in Cuba by illegal Taxi
No licence, no meter, not even a handle to open the door inside the car.
The police have the right to arrest and punish them. As a tourist, you risk nothing except being forced to get out and take another taxi.
To avoid confusion when paying, ask for the price of the journey you want to take before you get in.
However, since it has become possible to become an official self-employed taxi driver, clandestine taxis are tending to disappear, as most of them now have an official licence.
However, since they have to pay a licence fee to the state, some continue to take clandestine taxis to make more money or simply because they cannot afford to pay for the official examination required to obtain the licence.
Get around in Cuba : Renting a Bike
In popular language: el chivo (the goat). Since the período especial, cycling has become widespread.
It is possible to rent one from Cubans for the day, week or month.
Bicycles are very valuable on the island, so you will need to use an anti-theft device and park your bike in a guarded bike park, especially in the big cities.
An antitheft device alone is not enough, as professional thieves travel around with all the necessary equipment to steal two-wheeled vehicles.
You have been warned!
Get around in Cuba by Bicycle taxi
With the terrible economic crisis of the 1990s and the shortage of fuel, Cubans have brought back bicycles.
Authorized by the state, these two-seater bicycle taxis – cousins of the Indian rickshaw – roam the streets of Havana and the country.
Prices : Count between 1 CUC and 4 CUC depending on the race and the distance covered.
Get around in Cuba : Hitchhiking
A lot of Cubans opt for the botella, the local name for hitchhiking.
Those of you more broke will imitate them. Keep in mind, however, that traffic is still limited.
Also, Cubans might be surprised to see a foreigner lifting his thumb, the locals waving their hand, their arm outstretched.
So it's up to you to decide what you want to do, according to your own schedule and wishes.