Best Things to do in Colombia : Essentials
If you're coming up with a list of where to go in Colombia, it's important to know the country's must-do trips to make an informed decision.
The list we compiled is consists in the destinations that people most search for, inquiry about and ultimately go on.
Let us give you a quick survey of the places you should really consider visiting, and some of the main attractions when visiting in Colombia.
Best things to do in Colombia n°1 : Discover Cartagena's old city
Cartagena has a lot to offer as Colombia's most important Caribbean city.
With proximity to beautiful islands and beaches, some of the best bars and restaurants in the country, and a rich history, you will never run out of things to do here.
Also, aesthetically speaking, it is one of the most impressive cities in South America.
Sitting on the coast of the Caribbean, Cartagena is also surrounded by about 8 miles of colonial stone walls and full of amazing historical buildings to admire.
Cartagena is a great destination for anyone looking to relax on the Caribbean Coast, learn about Colombian history, and enjoy the pleasures of a popular city.
Best things to do in Colombia n°2 : Whale Watching on the Pacific Coast
There are few activities as breathtaking as being in the presence of 100-foot long whales swimming around you.
From late June to mid-October, humpback whales migrate from the Antarctic to the Pacific Coast to breed and have their young in warm waters.
Colombia is one of the few places in the world where you can watch this take place.
For this reason (and many others), the coastal towns of Bahia Solano and Nuquí are popular destinations for people visiting Colombia.
Especially those who want to be in proximity to nature and wildlife.
In addition to watching these magnificent and impressive creatures, you can also swim, snorkel, surf and relax in thermal baths.
Best things to do in Colombia n°3 : Amaze yourself with the 5 color river: Caño Cristales
Cano Cristales is considered to be the world's most beautiful river. It is truly a unique place that cannot be compared to anywhere else.
Also known as the "river of 5 colors" and the "rainbow river," it has been called as the 8th wonder of the world.
Caño Cristales was actually off limits for decades while it was under the control of the guerrilla but now it is safe to visit and and becoming an increasingly popular destination.
You can only see the five colors of aquatic plants from July to November, when the raining season has passed and the water is shallow enough for the sun to penetrate it and reveal the vibrant colors.
There also also sections of this river to swim in, waterfalls to enjoy and many great hikes.
Best things to do in Colombia n°4 : Admire the tallest palm trees in the world in Cocora Valley
The wax palm is the tallest tree in the world (about 200 ft) and can only be seen in a few places in the world. One of these is in the Cocora Valley, at the base of Los Nevados National Park.
This is an amazing destination for trekkers and anyone who also wants to explore Colombia's coffee region.
Travel back in time to the Archeological site of San Agustin
Located in the Andes Mountains, San Agustin is an incredible destination for anyone who loves history and is looking to see Pre-Columbian treasures.
With well-preserved tombs, sculptures of gods and animals, and burial mounds from the 5th century, San Agustin is truly a special place, stuck in time.
Even though San Agustin's archaeological sites are dated, the infrastructure for visitors is modern and accommodating.
With great hikes, views, and hotels, you will have plenty to do on your trip!
Best things to do in Colombia n°5 : Visit the jungle-lined beaches of Tayrona National Park
In Tayrona National Park, you can experience the pristine beaches of the Caribbean and the tropical jungle all in the same place.
The sunrises and sunsets are breathtaking, and you will also get to know the city of Santa Marta.
You can spend as little as one day in the park or go on a 3 or 4 day trek if you want to tour around the beaches and really immerse yourself into the park.
If you choose to spend time time in Tayrona, you can sleep in hammocks, scuba dive, and hopefully see all wildlife native to the jungle.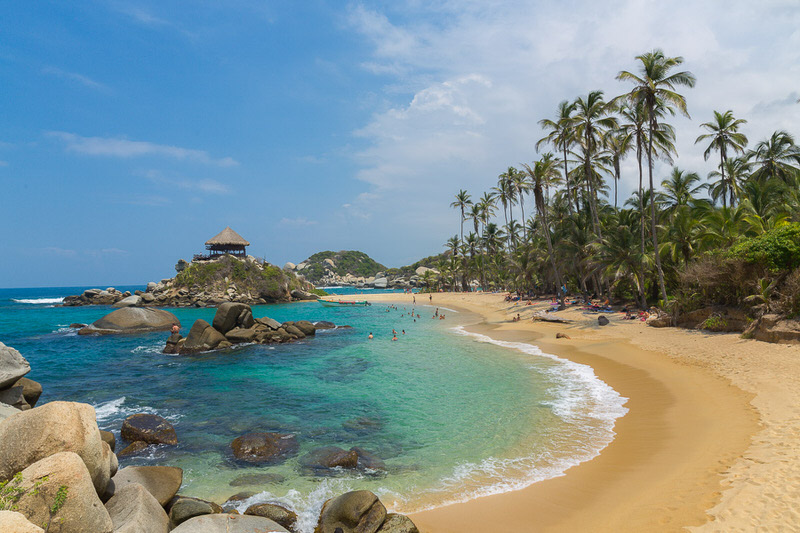 Best things to do in Colombia n°6 : Spend Semana Santa in the white city of Popayán
Popayan is famously known as "the White City", for its well-preserved and beautiful colonial architecture.
It is Colombia's second most impressive city in this regard (only after Cartagena).
That being said, Easter time is the best time to go to Popayan to learn and witness the religious and cultural traditions of Colombia.
Also known as Semana Santa ("the Holy Week"), this celebration takes place the Tuesday to the Saturday before Easter every year.
These are some of the oldest colonial traditions of the country and were declared an Intangible Cultural Heritage of Humanity by UNESCO.
Also, Popayan, has some of the best food in the country, is close to the region's largest national park – Purace National Park – and an ancient pre-Columbian pyramid called el Morro de Tulcán.
Best things to do in Colombia n°7 : Go on an adventure down the Amazon river
The Amazon rainforest is home to over 200 types of mammals, 185 reptiles and to the longest river in the world This is the ideal trip for anyone interested in seeing exotic animals and plants in their natural habitat and fully immerse yourself in nature.
The town of Leticia is a great base for safaris, hikes, boat rides, and the opportunity to learn about the culture and the people who live in Colombia's Amazon rainforest (the least populated region in the country).
Best things to do in Colombia n°8 : Experience Medellin's rich art, architecture and nightlife
Medellin, Colombia's second largest city in Colombia, has quickly become the country's most dynamic and popular city. Nicknamed "the city of eternal spring," Medellin is famous for its pleasant weather year round in addition to its wealth in cultural activities, museums, theaters, art galleries, and night life (especially the tango).
Once a dangerous place to be in for its association to drugs and violence, Medellin has really turned itself around in the last fifteen years and has become very safe, progressive and intellectually stimulating.
Best things to do in Colombia n°10 : Trek to Colombia's magical Lost City
The Lost City is located in the heart of the Sierra Nevada de Santa Marta, the highest coastal mountain in the world.
This mythical archaeological site inherited from the Tayrona people is full of spectacular landscapes, great hiking and an overall magical experience.
The Lost City was built around 800 AD which means that it actually predates the famous Machu Picchu.
The fact that the Lost City isn't as famous also means that it is well preserved and a less touristy destination.
Anyone who is up for spending 4-5 days trekking needs to visit Colombia's Lost City.
Notable mentions
La Guajira desert
La Guajira is Colombia's largest desert, on Colombia's northernmost point on the coast
Cali
Cali is famous for being the capital of salsa and an upbeat culture