Minca Colombia Essentials
Best things to do in Minca : Visit Marinka Waterfall, Hike to Cerro Kennedy, Visit a Coffee Farm, Permaculture Tour, Birdwatching in Mundo Nuevo, Chill at sunsets
Best Hotels in Minca : Mundo Nuevo, Casas Viejas, Minca Glamping, Siembra Minca
Best time of the year to go to Minca: Best time for Sun December to March Best time for sunsets: April to November
High Season: December 15th to January 15th
How to get to Minca: Colectivos from Santa Marta's Market ($ 8000 Cop) or Taxis ($ 50.000 Cop)
Rainy Season: September to end of November
Where to eat in Minca : Lazy Cat, Mundo Nuevo Vegeterian Restaurant, Siembra Hotel, Donde Orfi, Asadero Camaritas
Safety in Minca: Completely Safe
Minca in a few words
Ecological Capital of Sierra Nevada, Minca is a tiny village located 15 kilometers from Santa Marta, 1 hour drive and the change of scenery is assured.

The village does not present a priori little interest, one comes there especially to lodge in the heights and to benefit from the exceptional environment of this small end of Colombia.

You will enjoy in Minca its incredible diversity of birds and its luxuriant flora. You will understand why it has become one of the favorite destinations of many travelers, and a must if you travel to Colombia.
Things to Do In Minca
Choosing your experiences will make your stay an unforgettable memory… or not!
Some places in Minca are crowded with tourists, while others are less crowded and of unequalled quality.
Discover here the best things to do in Minca
Pozo Azul
It is the most known plan in Minca, Pozo Azul is a large water hole for swimming in the river.
It is important to know that it is crowded on weekends and holidays, it is an outing for Colombian families.
There are other water holes a little further up the river.
Don't try to walk there by road, you will waste your time.
Getting there :
Duration to get there: 1h on foot / 20mn by transport.
Mototaxi (one way): $10.000/pers.
4×4 (one way) : $40.000 (4 pers. max)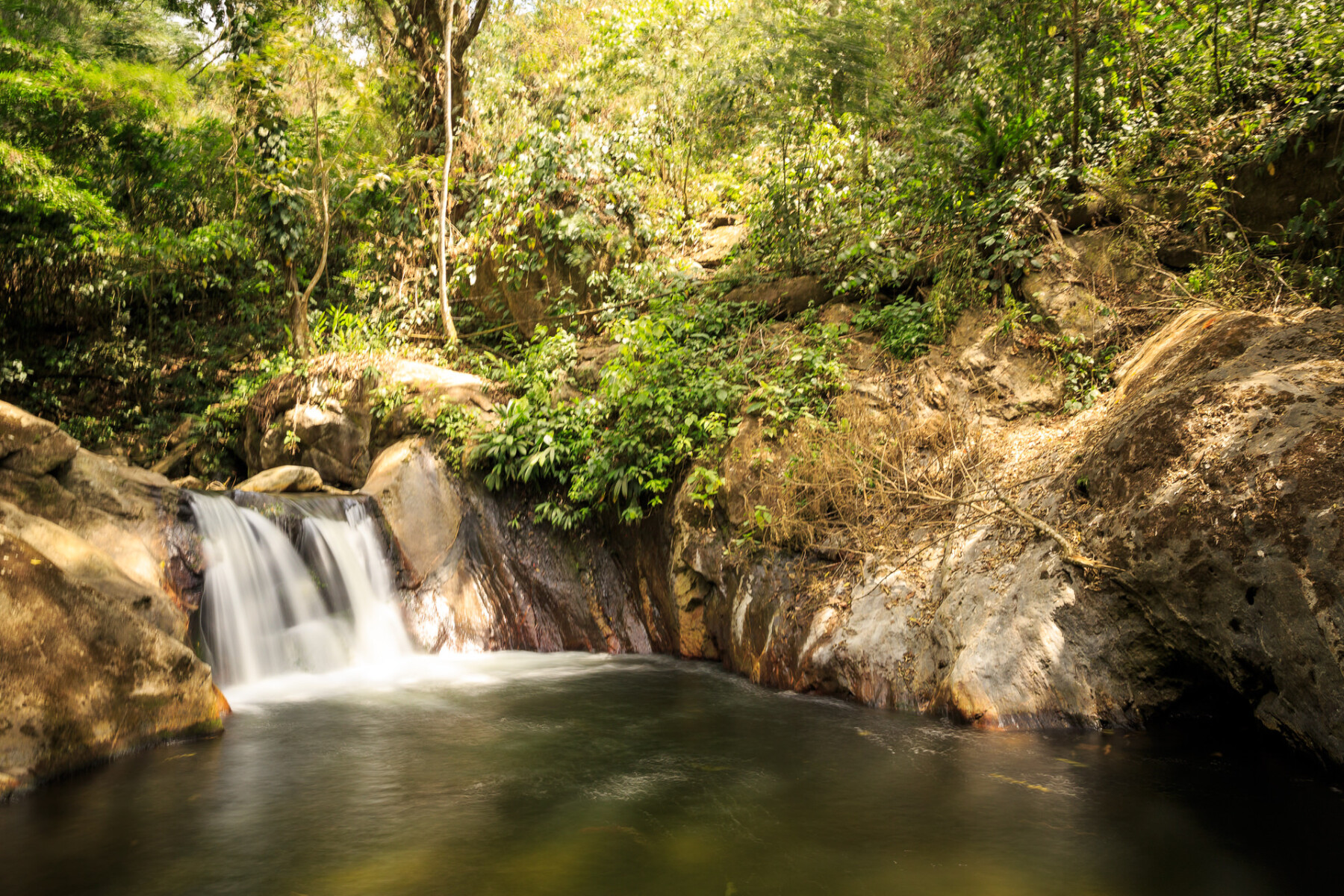 Marinka Waterfall
Here is the other most famous activity to do in Minca : go and enjoy the Marinka Waterfall.
There is a small restaurant there.
Getting There :
Walking : 1h walk
Mototaxi (one way): $10.000/pers -15 min
4×4 (one way) : $40.000 (4 pers. max) /20mn by transport
Entrance fee: $5000
Trekking to Cerro Kennedy
The Cerro Kennedy is a summit is one of the most spectacular viewpoints in the Minca region.
This viewpoint is still pretty unknown.
In fact, before you could not reach because there were the Farcs, but now there is a military base to protect the TV antenas.
To do this trekking the best is to sleep 1 night in Casas Viejas.
On the second day, you can start the hike to Cerro Kennedy and sleep another night in Donde Moncho.
then in the early morning you ascend to the Cuchilla San Lorenzo and assist one of the most spectacular sunrize of your life.
Duration: 9h walking/3h by transport
Mototaxi (one way): $80.000 / pers.
4×4 (one way): $450,000 (4 pers. max)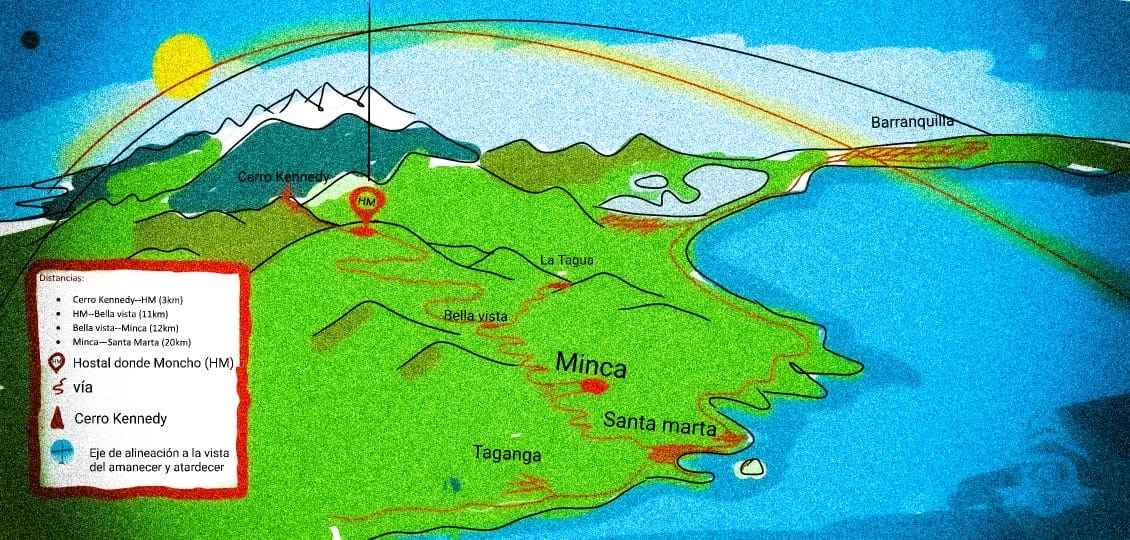 Bird watching
Minca is famous, like all of the Sierra Nevada, for the richness of its fauna and flora, and this can be an opportunity for bird lovers to do some Bird Watching!
There are several possibilities, of which the best known is certainly to call upon Jungle Joe, old man with 30 years of experience in bird watching ;-).
Duration : 3h
Rate: 30,000 pesos
Phone : +573107364337
Email : cristianmanriquep@gmail.com
Visit a Coffee / Cacao Factory
Finca la Victoria
It is one of the oldest finca cafetera in all Colombia, a true institution that offers an organic coffee culture and is a model of social development in Minca.
Duration of the tour: 1 hour
Price of the tour: 15 000 pesos
Duration to get there: 2h30 on foot/45mn by transport
Mototaxi (one way): $15.000/pers.
4×4 (one way) : $80.000 (4 pers. max)
Finca la Candelaria
The best Cacao and Coffee tours in Minca.
Ana & Eugenio receive tourists with incredible kindness.
The tours will show you the whole process of Coffee or chocolate from the seed to the cup of Chocolate. A delight for your taste buds.
Duration of the tour: 1 hour
Price of the tour: 25 000 pesos
From Minca : 1 hour on foot/30mn by transport
From Mundo Nuevo : 15 Min walking
Mototaxi (one way): $15.000/pers.
4×4 (one way) : $80.000 (4 pers. max)
Contact : elparaisodetuki@gmail.com
Whatsapp : 3215887985
Phone : 301 451 60 91
Sunset in Mundo Nuevo
It has become an activity in its own right. Indeed, these two places have become so well known that even those who don't live there want to go and discover them. It is therefore possible to simply go for a drink at Mundo Nuevo to discover their ecotourism project or at Casa Elemento to enjoy its giant hammock.
Duration : 1h00 on foot / 15mn by mototaxi
Mototaxi (one way): $20.000/pers.
4×4 (one way) : $100.000 (4 pers. max)
Museum of the memory of the Sierra Nevada
A very small museum for a great history. An interesting visit to learn the history of Minca and the Sierra Nevada.
The team also acts socially at the local level and with young people, so it's a nice initiative to encourage by going there!
Price: free but you can leave a tip to support their action.
Getting there: go to the Tienda Café Minca, and take the path away from the main road.
Hikes in Minca
There are plenty of great hikes to do in Minca,
But making an ill-prepared hike, or choosing the wrong route can quickly become a hassle.
Here are all the hikes to do with precise maps, walking times and elevation changes.
When you don't know, you can easily find yourself walking along the road or pass all the cars & motorcycles, or get lost in the forest.
Hike Minca Cascada Perdida (Easy)
Powered by Wikiloc
Hike Minca Cerro Kennedy
Hike Minca Pozo Azul Los Pinos Marinka
<br
Top 5 Best Hotels in Minca
When it comes to plan your trip, the choice of your hotel can make or break your journey
You will learn here all the best places to stay in Minca
Thanks to the fact that Minca has become such a touristic place visited by foreigners and Colombians, there is a great variety of offers to stay.
Prices ranging from $25,000 in a shared room to $160,000 in a private room, or Even 700.000 for private houses.
Here are the 5 absolute best hotels in Minca :
Mundo Nuevo is considered is ranked by the lonely planet in the Top 5 hotels in All Colombia.
The Eco Lodge houses a sustainable farmhouse with a restaurant, bar, shared lounge and garden.
Many activities around such as Birdwatching, Cocoa or Coffee Tour, excellent massages, visit of the traditionnal Indigenous Village and more.
The sunsets are simply spectacular: to be able to contemplate the mountain, jungle and the sea at the same time, is simply unique.
The team is very dear, attentive and very professional, the food with products from the garden, is fantastic !
A very calm place where the only music is that of nature. And there are hundreds of birds 😉
Ideal to spend a few days and reconnect with nature.
100% Recommended
Casas Viejas is another Must see in Minca, and has been elected by Hostelworld as one of the best hostels in South America.
Variety of activities such as hiking, horseback riding, bird watching, a tour of the surrounding area and an old coffee factory, and swimming in the surrounding rivers and waterfalls. You can sign up for a two-day hike to a 3,000-meter peak. Massage services are available on site.
You will love it !
Located in Minca, Siembra Boutique Hostel – Minca features an exceptional and original swimming pool, a bar, a shared lounge and a garden.
This 4-star hotel offers room service and a tour desk. It has a terrace and offers free Wi-Fi and private parking.
Guests can enjoy a variety of activities in and around Minca, such as hiking.
The location is quiet, the view in the middle of nature. The setting is very beautiful and the decoration is well done. Very comfortable bedding. The music playlist is well chosen.
Siembra's Restaurant is one of the best in Minca.
Minca Glamping
One of the best rated on Booking, Minca Glamping is a real experience, a magical place in the heart of the jungle!
The location in the middle of nature is ideal for the quietness, but still close to the center of Minca and on the way to the Marinka waterfall.
You will love the spaciousness and comfort of the accommodation in a Tastefully decorated Eco Lodges
Superb bungalow with all comfort. Perfect for a restful stay. The owners and the staff are also very attentive and available
And finally, an excellent breakfast!
La Casita Minca
Located above Minca, Casita Minca provides breathtaking views over the mountains, Santa Marta and the Caribbean ocean.
You'll hardly find such an ideal location in the area : the house stands at the crossroads of the village of Minca, the cacao farm La Candelaria, Mundo Nuevo hotel farm, treks pathway…
The luxury of the house is about the view it has to offer. All the spaces have been designed to enjoy the best of it. The spacious living space sits between your 2 suite rooms for more peacefulness and intimacy. This central space is intentionally open to immerge yourself in nature and embrace the plunging view. You're not at ease with open spaces? Don't worry, the suite rooms are closed.
Instagram page : https://www.instagram.com/lacasitaminca/
How to Get to Minca ?
Travelling with all your luggage can be a bit stressful, especially when you don't know the city,
Right ?
Here you'll get all the detailed information on how to get to Minca : by bus, taxi or Moto Taxi
Getting to Minca from Santa Marta
MiniVans 'Colectivos"
Take a Minivan from the "mercado publico" of Santa Marta to Minca.
Company: CooTrasMinca
Departures: every 30 minutes
Price: 8000 pesos
Duration: about 1 hour
Getting to Minca from Palomino or Tayrona Park
Take a bus from Palomino to the "mercado" of Santa Marta.
Price: 10,000 pesos
Duration: about 2 hours
Then take a minivan from the mercado of Santa Marta to Minca.
Price: 8000 pesos
Duration: about 1 hour
Getting to Minca From Santa Marta Renting a car
If you want to take a road trip from Santa Marta, and have the freedom to visit Taganga, Minca, Palomino and Tayrona at your own pace, a good idea is to rent a car. Here you can compare the available offers and rent a car at the best price.
Be aware though that road are in a bad state in Minca, and you may need to park the car in the village and then take a 4×4 or a motorbike taxi.
Getting to Minca From Santa Marta Renting a Motorcycle
If you would like to visit the area in an adventurous style and go off path, another good idea is to rent a motorcycle. We partner with Adrian who runs Colombian Riders, a motorbike Rental agency
How to Get Around in Minca
Most hostels are a bit lost in the mountains, so when you arrive in Minca, consider hiring a Moto Taxi to avoid a long walk with your luggage on your shoulder
Right close to the arrival/departure of the busetas, you will see Motomink (motorcycles) and 4×4 Minca (cars) which offer transportation to all accommodations and to the main points of interest. You will see the prices displayed.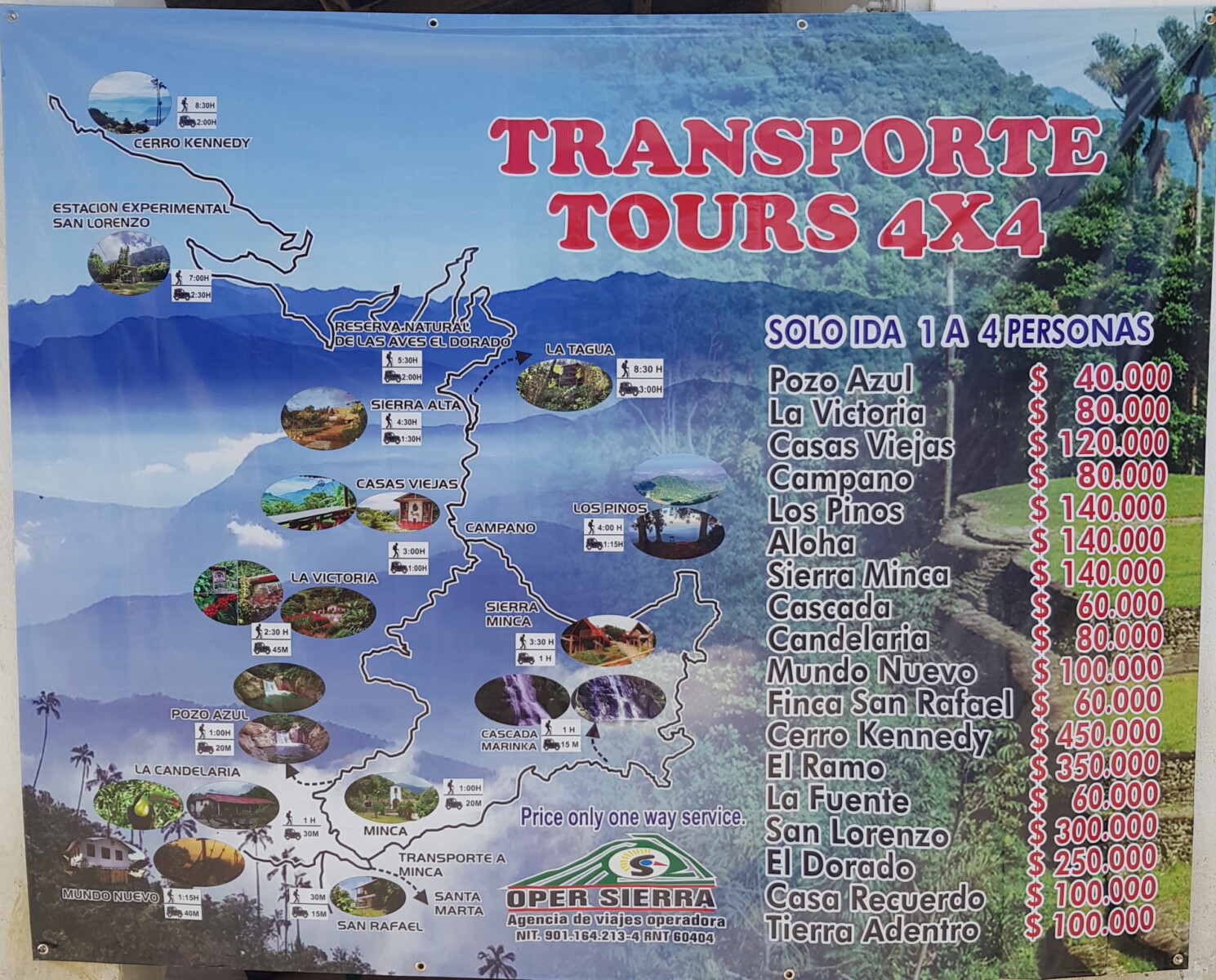 Beware
If you are loaded, you will need a motorcycle for yourself and a motorcycle for the luggage.
Getting around in Minca renting a 4×4 with Driver
If you prefer safety, traveling with an experienced 4×4 driver is essential in the Sierra Nevada de Santa Marta. The roads are often in an incredibly bad state, and in rainy season things get worth. With a private driver, you can drive to your hotel, get Cerro Kennedy or visit remote communities. Here you can contact our partners, we have partnerships with several excellent drivers in the area
Best Restaurants in Minca
Despite Most Hostals propose their own food, Minca's gastronomic offer is quite varied.
Many foreigners have settled there to open cafes, bars, restaurants, etc.
Eating a real French baguette or a chocolate chip brioche in the Sierra Nevada is the experience offered by the French baker located in the church street. You won't miss it, everyone will tell you to go there.
Mundo Nuevo's Vegetarian Restaurant
Asadero Camarita
Camarita is definitely one of the greatest figures of Minca culture.
He offers grilled meats and sausages, and if you like desserts, ask him "el Postre", you won't be disappointed!
an obligatory step if you go up to Los Pinos
Camarita's place on Google Map
Siembra Hotel's Restaurant
One of the finest kitchens in the region, you can taste its homemade sushi with your eyes closed.
Siembra Boutique Hotel on Google Map
Pro Tip
Hotel Siembra has a private waterfall called Cascada Escondida, one of the most beautiful and quiet waterfalls in the Minca region. So If you go for a lunch you may have access to the natural pools.
Restaurant Lazy Cat
Very good service, good globalized cuisine, reasonable prices between 15,000 and 30,000 pesos and the very good advice of the waitress
Adresse : Google Map
Fqcebook: https://www.facebook.com/lazycatminca/
Pro tip : go the hidden terrasse close to the river, the view is amazing and you'll be more quiet
Best places to have a drink or see live Music
Sonidos Selva Live Music
Si vous voulez voir des petits concerts de musique locale, je vous recommande fortement d'aller à Selva Sounds & Music sur Minca.
The concept is very cool. Chris is a former producer from New York who moved here to Minca. He invites local bands to his garden and offers them to record their live session for free in order to make an album. Indeed, the goal is to use the good vibrations of the place to develop creativity, which is felt in the recordings. He has received bands such as Bomba Estereo in Minca!
Ils organisent des concerts toutes les fin de semain
Casa Loma
Autre très bonne options sur Minca est Casa Loma. Ils font des petits concerts en live tous les samedis et des DJ les vendredi
Top Travel Tips & Advices for Minca
You want to have a perfect trip ? So pay attention to this section :
Avoid arriving to Minca at night or taking walks without lights, just for your peace of mind.
There are annoying sunflies at sunset. Many people will tell you to use lot of repellent, but it is not ecological. Instead get ready to wear pants and socks use pants from 4:30 pm, it is much more efficient.
Get ready to wear a hat and protect yourself from the sun during the hikes
Have cash to pay for motorcycle cabs or tours offered by the locals
Bring enough cash for all your stay, You can withdraw in the village but they charge 10% fee.
Use comfortable tennis shoes for long walks
Carry hydration with you, preferably a thermos so you can repackage
If you plan to save on transportation and walking, keep in mind that you must carry your luggage uphill during the entire trip, so take only what you need
Minca Wiki
Inhabitants : 800
Altitude of Minca : 580m over sea level
Department : Magdalena
Origin of the Name : The minka (mink'a or minga in Quechua, is a pre-Columbian tradition of voluntary community or collective work for a social utility or reciprocal purposes, as a shared garden for example.
What to do After Visiting Minca?
Minca Travel FAQ
What is the Climate in Minca ?
The temperature remains pleasant all year round in Minca. However, the sunniest months are December, January and February, as well as July and August. But this is also the high season. In the rainy season, it is sunny in the morning, and usually rains for an hour or two around 1pm. The sunsets are beautiful in the rainy season.
Is Minca Safe for Tourists ?
There is absolutely no danger for tourists. The inhabitants are very nice and open people. You can walk around with peace of mind, you will have no worries
Best Hotels in Minca ?
The absolute best 5 hotels in Minca are :

–
Mundo Nuevo
(great 360° view, excellent restaurants, small indigenous village next door)
– Casas Viejas by Masaya (Great view, great restaurant and big pool)
– Siembra Hotel (Super relaxing hotel, with one of the best restaurants in Minca)
– Minca Glamping (The must for lovers, best breakfast in the area, great welcome)
– Casita Minca (Beautiful house with open spaces and a great view of Santa Marta)
Hotels not to be recommended:
– Hotel Sierra Minca. Tourist factory : 300 meals per day and loud music that scares the birds away. But good for those who lie to make selfies on Instagram.
Is There Atm in Minca ?
No there is no ATM, but there is a cash point in town. They charge 10% per withdrawal. Often hotels charge a 4% fee. So remember to bring plenty of cash.
Where is the Hammock in Minca ?
The hotel where there was the giant hammock no longer exists, it was called Casa Elemento. But all the hotels have taken over, and you can now find giant hammocks everywhere, it's like living in a giant instagram. Instead, go to
Mundo Nuevo
, they have a mini lost city.
Is there Dengue in Minca ?
No, there are no worries about Dengue in Minca. But on the other hand there are Sunflies at sunset time. So think to put on pants and socks from 4pm, the mosquito repellent is useless in Minca, and moreover it pollutes.